I walked up to the cross and selected a medium-sized, grey stone. The cold rock in one hand, a sharpie in the other, I took a deep breath inhaling the cool mountain air and wrote one word on the stone. I placed it at the cross and returned to my seat in the outdoor amphitheater beneath a canopy of stars that can only be found in the majesty of God's creation.
One week earlier my family arrived at Forest Home, a Christian family camp in the Southern California mountains boasting 75 years of history. Although I had been to similar camps in high school, which I viewed primarily as a great way to get away from my parents, find a way to fit in, and meet cute boys, I had never really thought of attending a family camp with my husband and family. Compared to other all-inclusive vacations that whisk you off to tropical paradises or never-been-traveled terrain, the familiarity of a local mountain camp seemed a bit too normal for the cost of a weeklong getaway. When the opportunity presented itself to head to Forest Home this past summer, I can't say that I had exceptionally high expectations. After all, I had already snagged the cute boy I was in search of a few years back, I couldn't really get away from my own children, and (as if no time had passed since high school), I still worried about fitting in. Doubts started to creep in. What was the point of heading to a family camp in the mountains where I couldn't even get WiFi? What if my youngest (who suffers from severe food allergies) couldn't get the right foods to eat? What if I didn't get along with my kids or I was embarrassed in front of other families about how we seemed to argue and fight all the time? Or worse of all, what if I went up into the mountains, laid my soul bare before God and His creation, and felt nothing in return?
Note: Faith based camps operate throughout the entire nation allowing adherents to a variety of religions the opportunity to escape the day-to-day life with time for reflection toward God in a natural setting. Family camps encompass this same goal, with the added benefit of spending quality time with your family away from it all.
From the moment we arrived at Forest Home, something changed. I could say it was the refreshingly cool mountain air, the exceptionally delicious food we enjoyed that first dinner, or the friendly faces and neighbors we met upon arrival, but I know it was the hand of God moving at Forest Home that made the biggest difference. The changes that began that night continued throughout our week at Forest Home.
My fears of fitting in began to melt away. The amazing families we met weren't perfect Christians. They too had struggles; they too had moments when they felt like they couldn't hack it as moms; they too felt inadequate, incapable, inefficient in their role as parents. I stopped worrying that my girls would argue at dinner, and I just started to enjoy the company of new friends. I actually began loving the time I was spending with my family. The organized activities, games, craft centers, and CCA Program that offered free, quality, nightly babysitting service for young children made our time together purposed, fun, and meaningful. We bonded at the lake while rowing kayaks through water fountains; in the craft room while painting, gluing, and creating beautiful mementos; in the workroom while packing food for kids in Haiti; and on the high ropes course and zip lines full of adventure. My kids didn't want to leave. We weren't a perfect family, but we truly enjoyed each other's company and grew closer together during our time at Forest Home.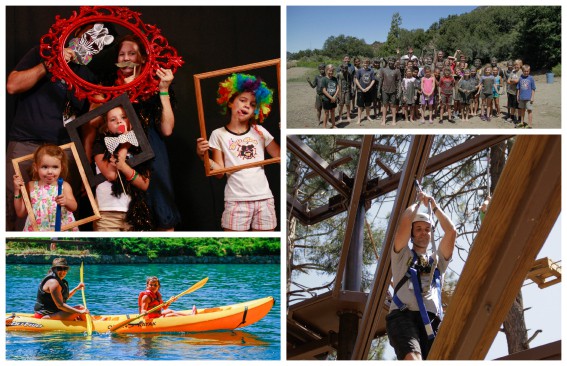 I had no reason to worry about my daughter's food allergies. The food was not only delicious, it was prepared on site every day with quality ingredients offering a worried mom the trust I needed to allow her to eat safe food. In addition to knowing the ingredients to every food item, they also offered common allergen free alternatives at every meal, including kid friendly selections that were just perfect for my three-year-old.
I even had no reason to worry about my relationship with God. I had been wrestling with some doubts and insecurities about God's involvement in my life. Although I have had a relationship with God for most of my life, I had been allowing some fears to cripple my day-to-day. It seemed trite to me that God would speak to me or affirm me while at Christian camp, but He did. Through the influence of the quality pastors and speakers, the amazing friendships I made, the chance to be alone and unplugged from daily life in His creation, and even those who shared their own doubts and fears with me, my relationship with God was stirred and moved. I am forever grateful.
Each Friday night at Forest Home ends with a visit to Victory Circle. There you can reflect on the week, on your growth as a family, and on your growth toward Christ. After listening to a few worship songs, we were prompted to lay down a rock that we had been carrying around. I walked up to the cross and selected a medium sized, grey stone. The cold rock in one hand, a sharpie in the other, I took a deep breath inhaling the cool mountain air and wrote one word on the stone: "DOUBT."
My doubts had been many. Doubts and insecurities about myself and my family, doubts about safety and the plans of the future, and even doubts about my relationship with God. Before leaving that night, we were able to take another rock, a small pebble, as a memento for the week. On it, I wrote the word Faith. I replaced my doubt with a renewed faith in God through the vision, work, and purposed mission of Forest Home, and I recommend that any family hoping to achieve a greater connection to each other, to His creation, and even to God himself, make the journey to Forest Home Christian Camp this coming summer.
Read my full review of Forest Home, including an overview of all activities, recreation, food, spiritual development, accommodations, and the unexpected bonus: kid free couple time!
Registration is beginning now for the 2014 Summer Season. Visit www.foresthome.org for more details. For a promo of the 2014 Summer Family Camp Season, watch this video: