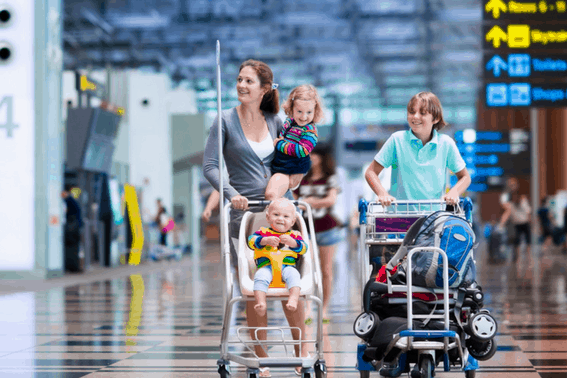 Photo By BigStock/famveldman
Recently, while traveling to Florida with my son on American Airlines, I opted to fly with a carry on to avoid paying the $25 baggage fee on each leg of our trip. Flying with kids forces parents to make many choices about how to travel.
Since I'm not the best packer, it was necessary for me to pack two 20" suitcases for our three night trip.
That morning I left the house with:
Two 20" suitcases
A stroller
A laptop bag
A diaper bag
A purse
A 17 lb. convertible car seat
A three-year-old
From the moment I arrived at the airport, until the time I boarded the plane, it was all bad. I learned a huge lesson that day ~ don't be too cheap or you'll pay the price!
How It Went Down
It was nearly impossible to push my son in his stroller while at the same time manhandle two separate suitcases. At the security checkpoint, while loading my six items on the conveyor belt, removing my laptop from its case, removing my shoes, and removing my child from his stroller, the retractable handle on my new suitcase broke and became stuck in a partially extended position. Unfortunately, this did not go unnoticed by the TSA agent, but after a few failed attempts to fix my case, he decided to allow it to run through the x-ray anyway.
A second TSA agent pulled aside my other suitcase and threw out a new bottle of lotion and can of bug spray. By the time I got moving again, I could hear the airline broadcasting my name during its final boarding call. I stacked a suitcase on the handle of my son's stroller and ran.
When I reached the gate, I was informed that all strollers over 20 lbs. must to be checked at the ticket counter! What's a mom to do? I lied and promised her my 26 lb. stroller was under 20 lbs. I was then asked if my son's car seat was approved for air travel. To which I replied, "Of Course!" (A week later I checked online and my son's car seat was indeed approved for air travel.)
It took two flight attendants to help me carry my gear on the plane and none of them were sympathetic. In fact, they were annoyed. Then it happened…the stewardess noticed the handle of my suitcase wouldn't fully retract. She almost made me get off the plane, but by the grace of the travel gods, she let it pass and stowed it.
My final task was the joy of belting my son's car seat to the plane's seat while other passengers violently stared at me for being a hot, disorganized mess.
What I Learned
On the way home from Florida, I paid $50 to check in my suitcases. Being cheap did not save me money and in fact, cost me a lot of face.
Currently, Southwest Airlines allows passengers to check in two bags, free of charge, each weighing less than 50 pounds.
Jet Blue allows passengers are charged $25 for the first checked piece of luggage and $35 for the second.
It's safe to assume most other domestic flights charge a fee to check in baggage unless you're active military, a frequent flyer, or are flying business or first class. 
Have Stroller Will Travel
It's important to do your homework before you fly. All airlines have different rules. For example, here's the subtle difference between domestic baggage fees on United and American Airlines:
United Airline baggage fees as of 2017:
Bag # 1 – $25
Bag # 2 – $35
Quoted from United website: When traveling with a child, you may check one stroller and one car seat free of charge.
Parents flying with United Airline may board the plane with 1 bag and 1 personnel item.
The following items are not counted toward your one bag and one personal item limit:
 Coat
Umbrella
Reading material
Pet carrier (fees apply)
Car seat approved for air travel
 Diaper bag
Duty-free merchandise or food purchased in the airport
 Assistive devices (crutches, wheelchair, cane, portable oxygen)
Breast pump (Hallelujah!)
American Airlines baggage fees as of 2017:
Bag # 1 – $25
Bag # 2 – $35
If you are traveling with a stroller and a car seat, American Airlines will also check them in for free.
Parents flying with American Airlines may board the plane with 1 bag and 1 personnel item.
*Additional items that will be allowed above and beyond the restrictions listed above include:
Outerwear
Reading material
Snacks
Approved car seat
Pillow or blanket
Umbrella stroller
Diaper bag
Assistive devices
Since this article was first published in 2009, then updated in 2013, it looks as thought airlines are trying to offer the same accommodations to stay competitive.
Strollers that are large, non-collapsible or over 20 lbs. must be checked at the ticket counter.
Don't Get Bullied
A lot has changed since this article was first published in 2009. There seems to be that air travel can be a hostile environment and daily we read about new complaints and monstrosities while flying. People tend to be more stressed, and stuck in a large silver bullet (aka a plane that you can't get out of while flying) with people with a short temper can be frightening. But the truth is, we are all in this together. Kindness begets kindness. Take a deep breath, smile at the passengers next to you, and remember we are all trying to get to the same place.
With that stated, as long as you've paid for your child's seat and your car seat is approved for air travel and your child is within your car seat's weight and height limits ~ you have the right to bring it on the plane and use it!
I can't tell you how many times I've had a snippy stewardess turn to me and say, "Your child is old enough to fly without a car seat." It makes me so angry I could scream.
Before you travel, consider bringing a print out of The Federal Aviation Administration's Advisory Circular regarding Use of Child Restraint Systems on the aircraft with you. The Car Seat Lady does a great job of explaining the circular here: The Car Seat Lady – Before you fly, know your rights!