Navarre Beach, Historic Milton, and the Blackwater River are all part of Santa Rosa County, Florida, located between Pensacola and Destin. I have lived less than 45 minutes from Santa Rosa County for years but I haven't done a lot of exploring in the area.  During a tour of the area where I got to play tourist for a long weekend, I was excited to visit some old tried and true favorites but I was also surprised to find some family friendly activities that we hadn't yet visited.
Navarre Beach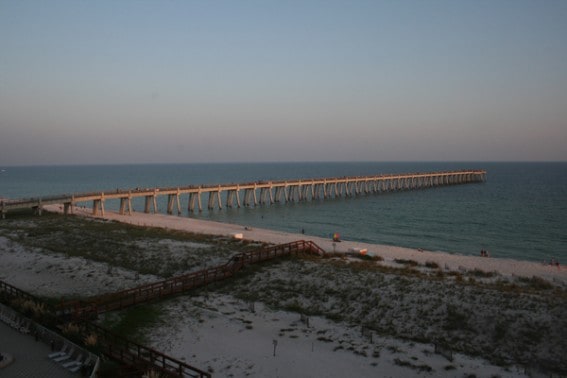 During our visit, we were hosted by Resort Quest by Wyndham Vacation Rentals at   Summerwind West.  The  condo we stayed in made me want to sell my house and move out to the beach.  The three bedrooms were tastefully decorated and the living area was comfy and welcoming.  The kids immediately claimed the room with bunk beds for their own.  Both the master bedroom and the living area had large sliding glass doors that opened up to a beautiful balcony overlooking the beach and the pier.  We had a fully stocked kitchen and had we been there longer, we would have brought groceries to save money. Though there are many property choices on Navarre Beach, we liked the location of Summerwind Resort.  We were just a few steps away from the Navarre Beach Pier and several restaurants.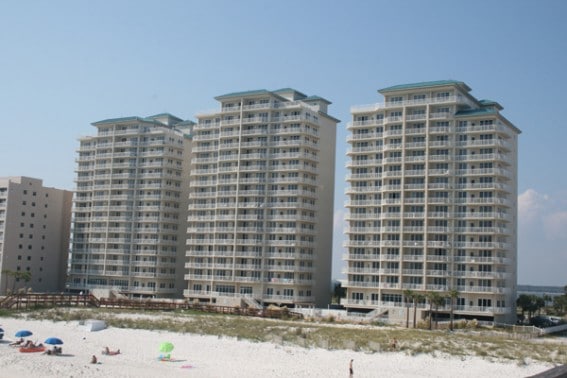 Read my full review of Summerwind West.
The Navarre Beach Fishing Pier is the Gulf of Mexico's (and Florida's) longest pier at 1545 feet.  My kids loved walking along the pier and over the ocean.  We spent time looking for turtles and sting rays but all we found were fish.  We wandered up and down the pier and watched the fisherman pull up their catch.  There is a restaurant at the beginning of the pier that serves up a pretty good fish sandwich, but be prepared to wait for your food if they are busy.  Throughout the year there are various festivals that are held at the beach.  We happened to be there during the Navarre Beach Sand Sculpting Festival.  Staying in Summerwind Resort allowed us to wander over and watch the sculptures progress from piles of white sand into amazing works of art throughout the weekend.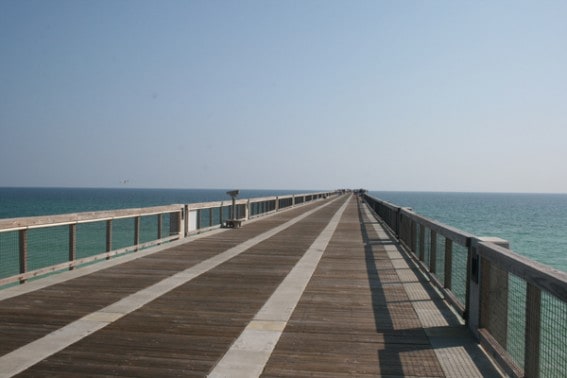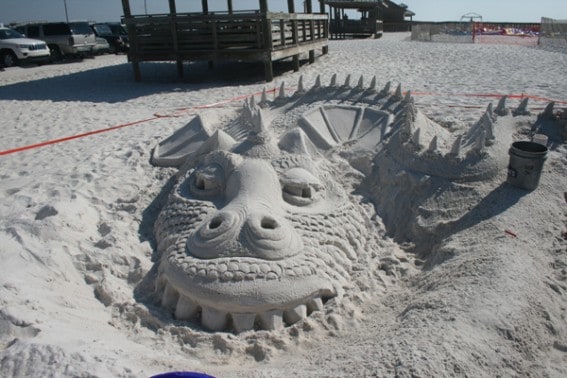 Just over the Navarre Bridge, there are a number of restaurants, shops and one of our favorite places to visit in Navarre, the Panhandle Butterfly House.  From April or May to Labor Day, the Panhandle Butterfly House is open to the public where you can learn about butterflies and watch over 200 seasonal species float around you.  In October, celebrate the monarch migration with the Monarch Madness Festival.  During the summer months, visit the splash pad next door and there is also a gigantic playground perfect for entertaining the kids year round.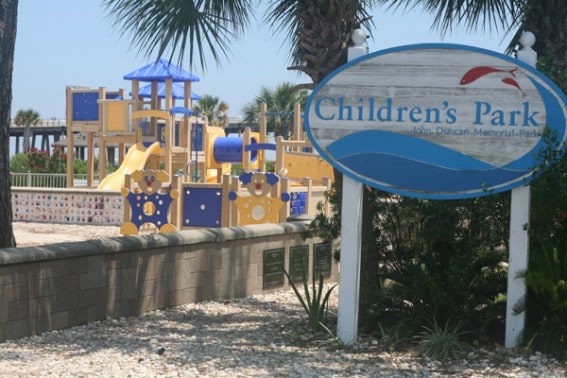 The Gulf Breeze Zoo is located just a short drive from Navarre Beach down Highway 98.  After sustaining major damage during a hurricane, the zoo is now under new management.  This was my first visit to the zoo in months and I was pleasantly surprised by the growth and cleanup that has occurred since the last time I was there.  Feed the baby goats in the petting zoo or the giraffes.  Ride the train or walk the boardwalk to get a better view of some of the animals.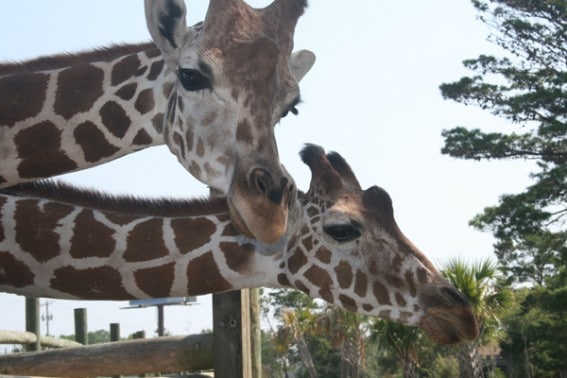 Historic Milton
Milton is one of the oldest towns in the Florida panhandle, established in 1825 as a trading post on the Blackwater River.  As you drive into Milton, you can't help but find yourself slowing down a little bit.  We love to explore nature in Milton at Arcadia Mill.  Arcadia Mill is one of the largest antebellum complexes in Northwest Florida.  There was a silk cocoonery, a sawmill, textile mill and much more but the structures are no longer standing.  As you wander over the boardwalk that surrounds the grounds, stop and read the signs to learn more about this complex and enjoy walking over  a small swinging bridge.  There is also a visitor center and museum with guided tours available.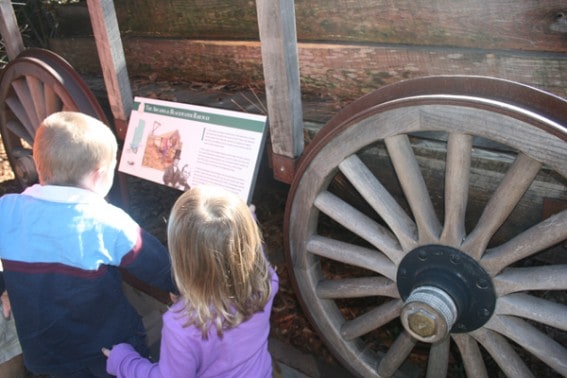 If you have a child fascinated with all things trains, you won't want to miss the West Florida Railroad Museum.  This small museum pays tribute to the depot and the trains that traveled through Milton over the past 100 years.  There is a large model train display where children can watch the trains chug along on the tracks and railroad cars that kids can climb in and see as well as a children's steam engine ride.  The steam engine ride doesn't run every day so call ahead.  Our favorite part is timing our visit to watch a real train zoom by the depot on railroad tracks that have been there for years.
Blackwater River State Forest
There are lots of hiking opportunities in the Blackwater River State Forest as well as a number of swimming options.  Our personal favorite is a trip down Coldwater Creek in an inner tube, a kayak or a canoe!  You can camp but if tent camping isn't for you there are cabins that you can rent.  I have yet to try the more adventurous tour, a guided canopy tour where you zip line across the river with Adventures Unlimited.  Our kids haven't reached the height requirement for this activity yet but when they do I am going to muster up the courage to try myself!
It might have taken us years to do some in-depth exploring of Santa Rosa County, but I can assure you it won't take us years to drive back over that county line to explore some more.
Thank you to Santa Rosa County for hosting me on this tour.  All opinions are my own with no outside influences.
---
Travel with kids to: CA |CO | DC | FL | HI | IL |MA | NC | NY | OR | PA | TN | TX | VA | WA