Until recently, I had never seriously considered traveling to Iceland with kids. I've walked on glaciers before in Alaska – spotted puffins too. And, I've taken my kids to Yellowstone to see the Old Faithful geyser erupt. I didn't feel the need to cross the Atlantic to see glaciers, puffins, or geysers. However, as a photographer and an Instagram user, the recent barrage of beautiful waterfall pictures from Iceland sparked my interest. When I researched one-way tickets home from Europe and found that my cheapest options included flights from Reykjavik with a stopover in Iceland, I was sold. I planned 3 days traveling in Southern Iceland in August with my kids. It was amazing! I can't wait to go back.
Before you head to Iceland check out the ultimate packing list for Iceland.
Look for current hotel deals in Iceland
Traveling to Iceland in August: 3 Days in Iceland with Kids
To Tour or Not to Tour while Visiting Iceland in August with Kids?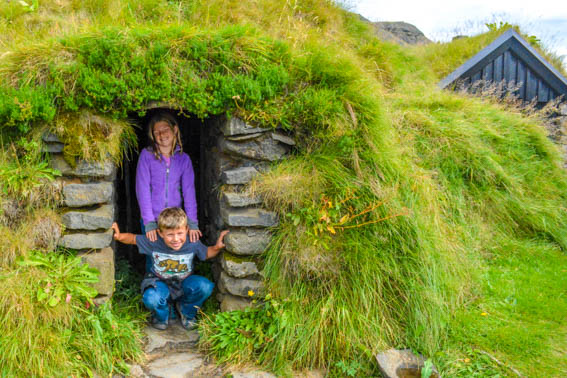 With kids ages 7 and 8 already weary from a month of travel, I decided against booking any tours that would require us to be somewhere at a certain time. My kids were too young for most of the unique adventure tours that Iceland has to offer anyways. With only 3 days in Iceland, we didn't have much time for tours that would take a few hours or more. (Also, to be honest, there really wasn't much cash left in our budget for tours after a week in Switzerland.) Ultimately, we rented a car with the goal of driving to Vik and back, but upon arrival in Iceland we were graced with a forecast of beautiful clear skies and 60 degree weather and decided to drive all the way out to Jökulsárlón Glacier Lagoon.
What Type of Families Should Consider a 3-4 Night Icelandair Stopover?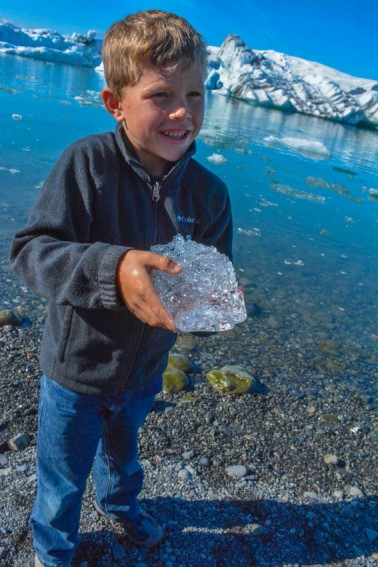 If you have teens, you'll surely want to get out and do some of the popular tours like walking on a glacier and need more time. However, with elementary school age kids, 3 days in Iceland with kids is perfect amount of time to explore one region and get a feel for the country. You'll likely be hooked and want to return when everyone in the family is old enough to adventure. Flights from Reykjavik to the US are plentiful, and as I found, often come at a better deal than a direct flight home from Europe. Take advantage of these prices to explore this beautiful country.
But, I've heard that food is so expensive!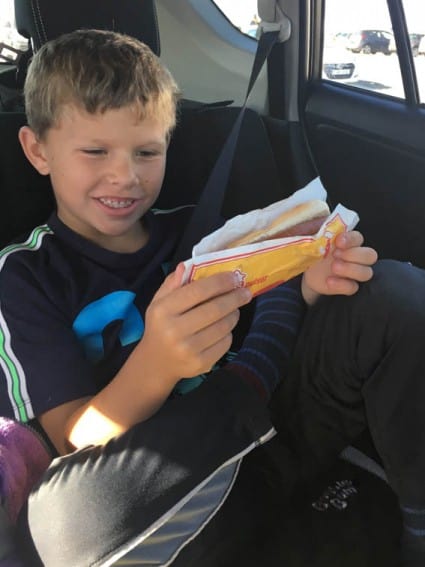 We flew from Geneva, Switzerland to Iceland with kids. I felt that the prices for food and lodging in Iceland and Switzerland were roughly similar — though in Iceland you'll have less options and certainly want to book hotels months in advance. Twice we ate at Skalli, a neighborhood fast food pizza and burger joint. The first time we ate there, we ordered way too much food because the food prices were actually more reasonable than I expected. As Iceland isn't really a foodie destination, you can survive for a few days on pizza and hot dogs without feeling like you're missing out on anything.
Traveling to Iceland in August Day 1 – Fly into Keflavik International Airport and Pick Up the Rental Car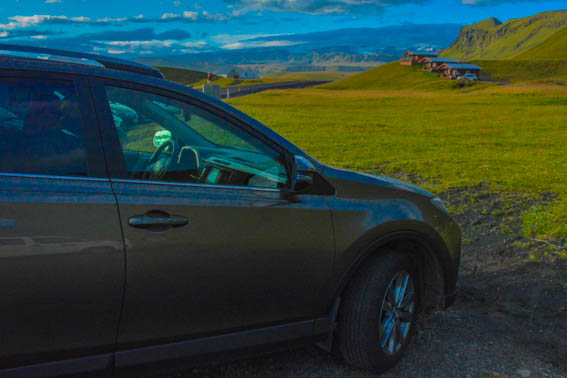 Most flights from Europe arrive late in the day. We had enough time to pick up our rental car, drive the desolate landscape towards Reykjavik, find our hotel in a neighborhood outside the city and eat at the neighborhood Skalli nearby.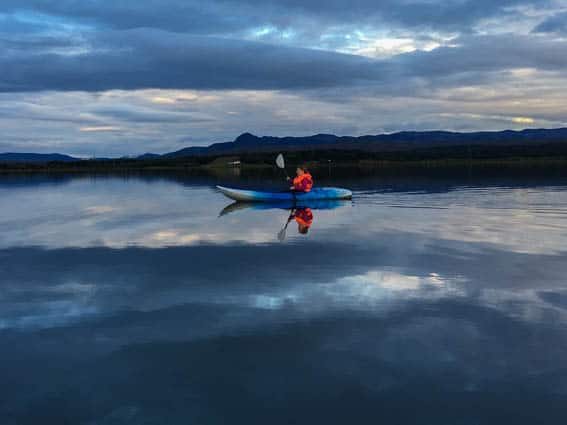 Upon returning to the Hotel Kruines after dinner, the owner of the hotel recommended that we take a sunset paddle in a kayak on the lake behind our hotel. Apparently, the weather was as good as it gets: warm, dry, and not windy. Paddling our kayaks as the sun set (around 8-9PM in Iceland in August) turned out to be my kid's favorite memory from our entire time in Iceland. Turns out, it's those simple things that make the memories.
Traveling to Iceland in August
Day 2 – Drive the Iceland's Ring Road from Reykjavik to Kirkjubæjarklaustur or Vik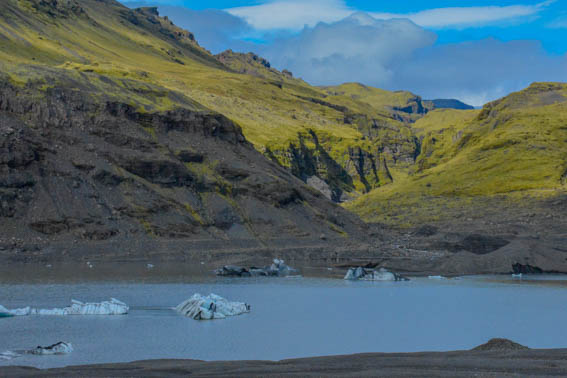 Our 3 Day Iceland with Kids Itinerary – Day 2
Our first full day in Iceland in August we drove from our hotel, Hotel Kruines, in the suburbs of Reykjavik to Vik stopping at both the Seljalandsfoss and Skógafoss waterfalls, the Sólheimajökull glacier, and Vik's famous Reynisfjara black sand beach. If you are planning to continue on to the Jökulsárlón Glacier Lagoon the following day, I highly recommend driving past Vik about an hour to Kirkjubæjarklaustur.
Traveling to Iceland with Kids – Leaving Reykjavik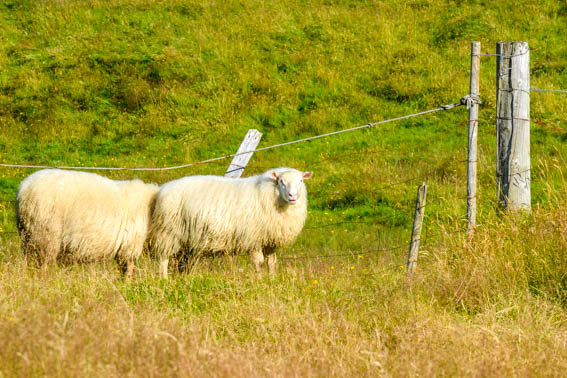 Soon after leaving Reykjavik and its suburbs, buildings and roads become more sparse and most traffic follows the Ring Road traveling southeast out of the capital region. Only 15 minutes or so past the suburbs, the Ring Road climbs through a mountainous area with geothermal activity and steam rising up from the ground; it's not particularly scenic, and we didn't see any places to pull out for a stop along the road. It's best to keep going because there's a lot more beautiful things to experience in Southern Iceland in August.
Tip for older kids: If I return to Iceland in August when my kids are just a couple years older, I would consider making a day trip out to the Thrihnukagigur volcano about 10 minutes south of the Ring Road to take the Inside the Volcano Tour which involves a moderately strenuous hike up the side of the volcano and an elevator ride down inside the dormant volcano.
Driving in Iceland in August Past the Eyjafjallajökull Volcano
After passing through the mountains, my children marked the next hour or so of driving by counting Icelandic horses and brown, wooly sheep. This would be the region in which to ride Icelandic horses if that interests you. Again, it's not the most scenic stretch of road, and you'd best press on to the more interesting landscape to come instead of stopping. As you begin to approach the Eyjafjallajökull volcano — yes, the one that disrupted air traffic all over northern Europe in 2010 — there is a new museum, the LAVA Centre. We did not take the opportunity to stop, but if it's anything like the new Perlan Museum in Reykjavik, it's definitely worth the price especially for families looking to educate their children about Iceland's volcanic activity.
Read Trekaroo's Road School: Visiting Volcanoes with Kids for more resources to make your journey to Iceland with kids an educational one.
First Stop – 120km to Seljalandsfoss Waterfall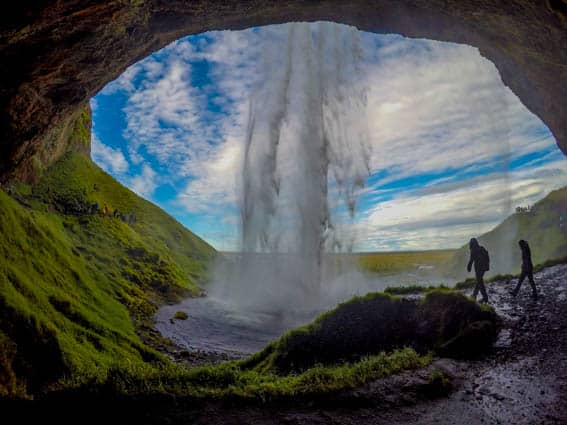 Finally, after about 90 minutes of driving, Seljalandsfoss (and a parking lot full of buses and cars) appears on the left side of the road. Put on your rain jacket and get those kids covered from head to toe in waterproof gear. We visited on a relatively warm August day so the soaking mist from the walk behind the waterfall didn't chill us much, but I can only imagine how cold it would be on a particularly cool, windy day. Even if you walk down to the nearby Gljúfrabúi waterfall and climb around a bit, this stop won't take more than an hour tops.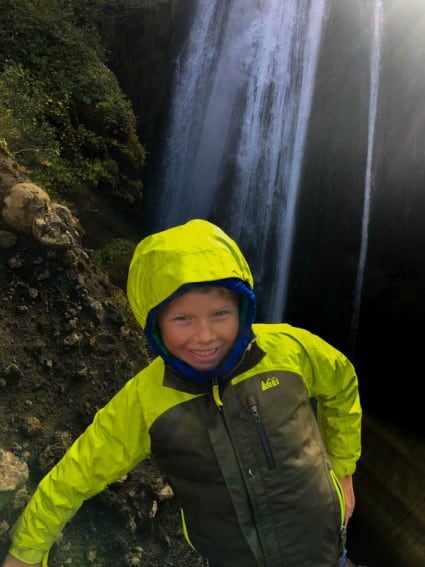 We couldn't figure out how to get back behind the rocks to view the Gljúfrabúi falls from the ground — instead we climbed over the rocks for a view. It was slippery and treacherous – but after my 7-year-old watched a group of young adventurers do it, he couldn't be deterred.
 Second Stop – 29km drive to Skógafoss Waterfall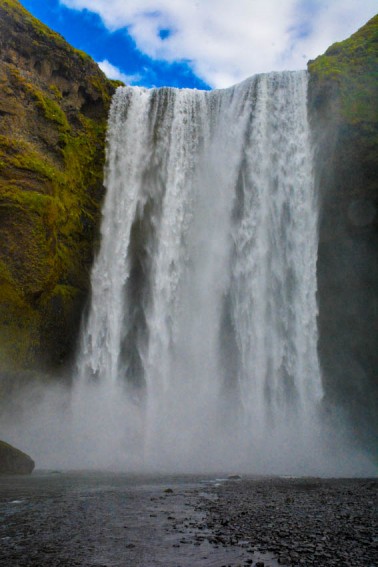 From Seljalandsfoss to Vik, the views from the Ring Road are generally stunning — enjoy! The next stop all the tours take is at the Skógafoss waterfall. While not as wide as Niagara, you can walk right up to the drenching mist of the the powerful Skógafoss waterfall. It takes only 15-20 minutes to walk from the parking lot up to the waterfall, get completely soaked, snap a selfie and return to the car. However, there is also a steep staircase off to the right of the waterfall that leads to a trail following the river upstream into the hills. We climbed the staircase, but we weren't prepared to hike the trail — what a mistake! It looked like a beautiful place to visiting when traveling to Iceland in August.
Check for hotel availability in Iceland
Skogar Museum, Skógasafn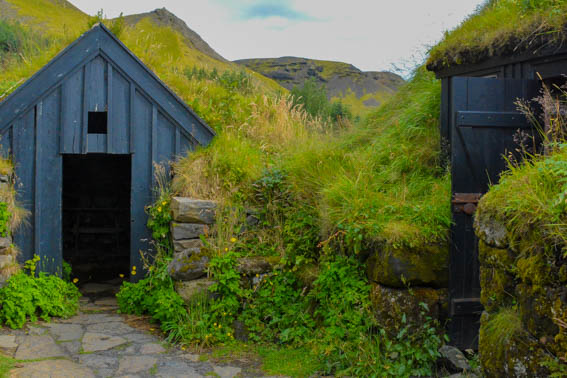 Instead, we returned back down the stairs, found some lunch nearby, and decided to visit the Skogar Museum, Skógasafn. It was interesting to see the houses that Icelanders had lived in over the years and take in a bit of history — though on a nice warm day in August, our time was probably better spent exploring outdoors. I've also read, since visiting, that there is another waterfall that we missed out on visiting in Skogar, Kvernufoss; apparently, it's located behind the museum.
 Third Stop – 12km to Sólheimajökull Glacier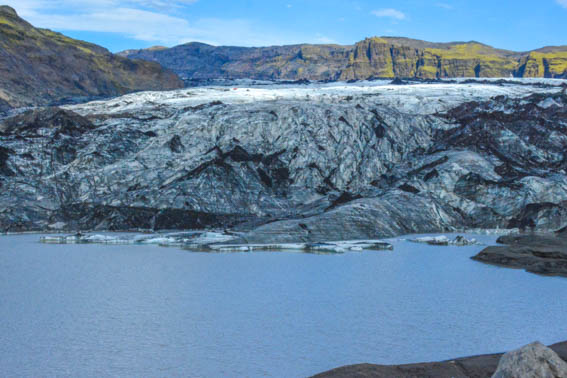 Less than 10 minutes past Skogar is the turn off for the Sólheimajökull glacier. Assuming that you're not taking an organized tour to hike on the glacier (which my kids were sadly too young to do,) this is only a 20 minute stop to hike out to a safe viewpoint and back. (Okay, I admit it, I walked with my son way past the point where signs indicated that we should stop – ultimately stopping just short of the glacier. I wanted a better picture…)
Want to learn more about glaciers before traveling to Iceland in August with kids? Check out Trekaroo's Road School: Teaching Kids about Climate Change by Visiting Glaciers.
Fourth Stop – 31km to Reynisfjara Beach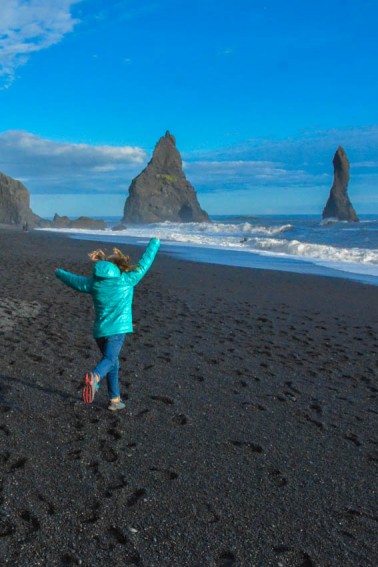 There are a few roads and trails that go out to the black sand beaches around Vik. The most photographed beach is Reynisfjara Beach; it's the one with the basalt columns that people, including my children climb around upon. We spent about an hour at the beach on our trip to Iceland in August. We walked on the black pebbly sand, climbed the rocks, looked at birds and watched the huge waves crash on the shoreline.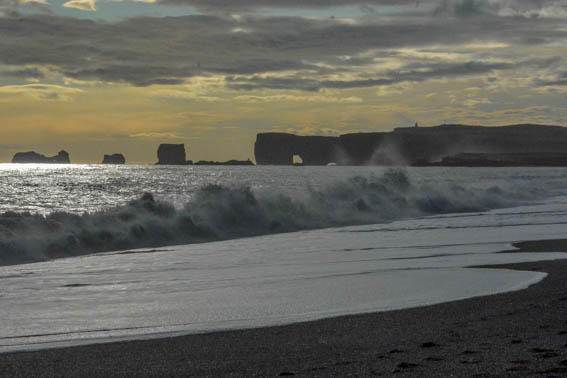 From the size of these waves, you can tell that they're dangerous. There's also plenty of signage and people sternly warning their children about getting too close on the beach itself. So do keep in mind that you'll want to always keep an eye on the water and all children.
 Fifth Stop – 10km to Dinner in Vik at Strondin Bistro and Bar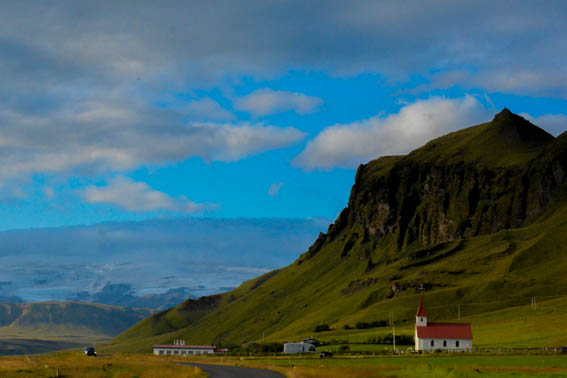 Whether or not you plan on spending the night in Vik, I recommend eating dinner in Vik because there are at least couple of decent restaurants from which to choose. We chose the Strondin Bistro and Bar just across the the Ring Road from our hotel the Icelandair Hotel Vik. We split a few entrees between two children and two adults including the chicken bites and penne pasta with tomato cream sauce, burger, and Atlantic Char. Overall, the food quality was good, the atmosphere was cozy and comfortable, and it was the best meal we had during our short visit to Iceland in August.
We were also happy with our stay in a family room at the Icelandair Hotel Vik. My kids loved their loft with separate twin beds. The biggest downside to the hotel was that the restaurant was just too expensive for dinner and breakfast (especially for the kids) — so that meant we had to go out and find meals elsewhere. Also, I really wish that I had picked a hotel further along the Ring Road to the east closer to Jökulsárlón on our trip to Iceland in August.
Here's a first-timer's guide to lodging in Europe.
Traveling to Iceland in August
Day
 3 – Kirkjubæjarklaustur (or Vik) to Jökulsárlón Glacier Lagoon and Back to Reykjavik on the Ring Road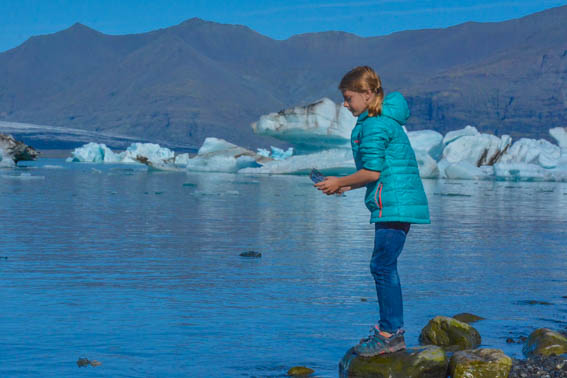 Our 3 Day Iceland with Kids Itinerary – Day 3
We drove straight from Vik out to Jökulsárlón Glacier Lagoon (pictured above) first thing in the morning saving additional stops for our return journey. On our way back we stopped at the Fjallsárlón Glacial Lagoon, Svínafellsjökull Glacier, Fjaðrárgljúfur Canyon and then made the long drive back to Hotel Kruines just outside Reykjavik.
Traveling in Iceland with Kids – Driving  to 68km Kirkjubæjarklaustur and Onward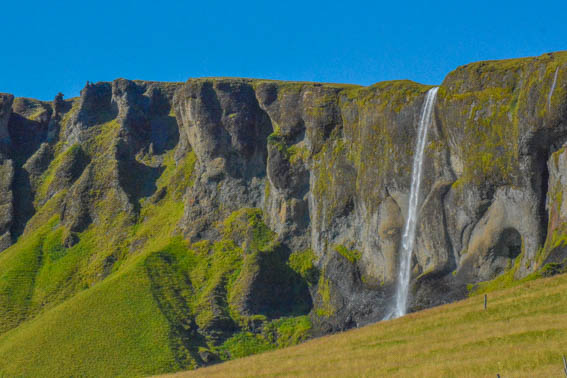 The drive from Vik to Kirkjubæjarklaustur is across a desolate landscape that is not particularly inspiring. After that first hour, however, the drive from Kirkjubæjarklaustur all the way to Jökulsárlón becomes much more interesting; on a clear day in August, the Svínafellsjökull Glacier and Hvannadalshnúkur peak loom in the distance as you drive past waterfalls (like the one pictured above) just outside of the town of Kirkjubæjarklaustur on the Ring Road.
First Stop – 6km to Fjaðrárgljúfur Canyon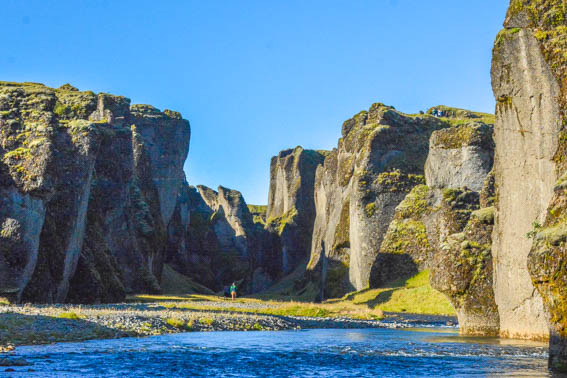 The picturesque Fjaðrárgljúfur canyon, which has become quite the Instagram sensation, is located about 50 minutes east of Vik; the turn-off is just before Kirkjubæjarklaustur coming from the west on the Ring Road. We visited this canyon in the late afternoon in August and the light was simply all wrong; it didn't help that my kids were not interested in hiking after a long day of exploring and that there is now a tacky looking guardrail to keep the tourists away from the cliff edge and prevent erosion.
We took a few pictures, dipped our feet in the chilly stream water at the bottom of the canyon, and got back on the road within 20 minutes. I imagine there is a time of day when the light is just right and the canyon looks as stunning as all those pictures on Instagram, but that time certainly isn't late afternoon in August.
Second Stop – 77km to Svínafellsjökull Glacier in Vatnajökull National Park
Families spending only a day or two in Southern Iceland in August will not have the opportunity to explore Vatnajökull National Park much – if at all. Our only stop in in this huge national park was in the Skaftafell region at the Svínafellsjökull Glacier.  It is possible to access the glacier from the Skaftafell Visitor Center via a 3.7km round trip trail; the popular Svartifoss Falls trail, a 5.5km round trip, also begins from the visitor center. Instead, we accessed the glacier via a rough dirt road exiting the Ring Road about 5-10 minutes drive to the east of the Skaftafell Visitor Center.
After parking our car, we took a steep and rocky 5-10 minute walk via a trail to an overlook of the glacier. It was the bluest, most beautiful glacier that we saw our entire visit in Iceland in August  and totally worth the 5-10 minute drive on the rough dirt road.
 Third Stop – 47km to Fjallsárlón Glacial Lagoon, Jökulsárlón Glacial Lagoon and Diamond Beach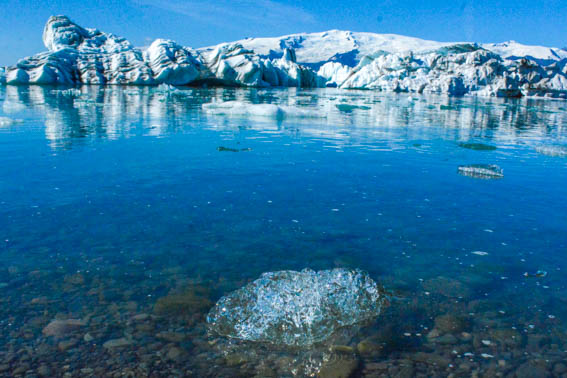 The first glacier lagoon that you pass driving eastward on the Ring Road is the Fjallsárlón Glacier Lagoon; like it's neighbor the famous Jökulsárlón Lagoon, just ten minutes or so down the road, the glacier lagoon features beautiful blue icebergs, big and small, floating in a lagoon of glacial melt. At Fjallsárlón, the glacier itself is the highlight; it covers the entire mountainside in a blanket of blue ice cracked with fissures and crevices. The viewpoint (pictured below) is only a five to 10 minute walk from the large parking lot, and boat tours are available.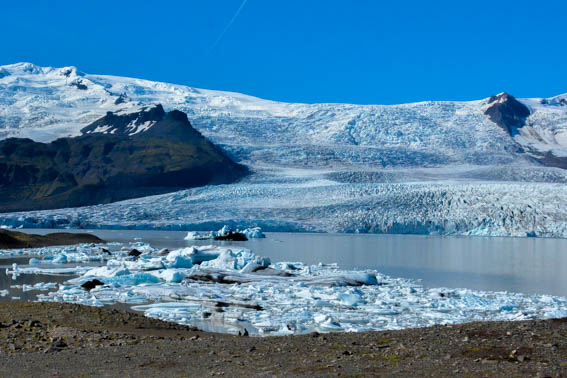 Jökulsárlón Glacial Lagoon
The highlight at the much more popular Jökulsárlón lagoon (pictured below) is the icebergs themselves – the glacier is barely visible behind all the pieces of ice floating around. These icebergs are not just big; they are huge, the size of a small house possibly. As the ice melts and cracks, the icebergs roll about in the lagoon in the most impressive fashion. We most enjoyed pulling pieces of ice out of the lagoon – as big as we could lift; of course, they were all so much larger than we could see from the surface.
As the pieces of ice were first pulled to shore, they sparkled so brilliantly in the sun. We spent hours searching for pieces of ice and watching seals play in the lagoon; by the time we left, we were soaked from the knees down from retrieving pieces of ice in the lagoon – fortunately it was a sunny day in August.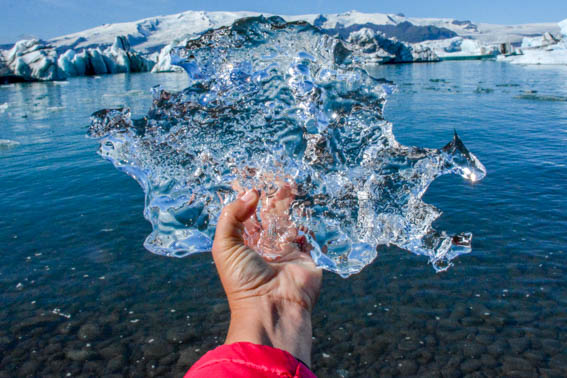 A variety of tours are available at Jökulsárlón, but we didn't take any of them. Nor did we walk the famous Diamond Beach opposite the lagoon on the Ring Road. Supposedly, there are all sorts of icebergs washed up on the black sand beach where the water in the lagoon washes out to sea. We had had so much fun at the Jökulsárlón Lagoon itself that we couldn't afford any more time playing with ice before beginning our return drive to Reykjavik.
Look for the best hotel prices in Iceland
The Long Drive, 363km, Back to Reykjavik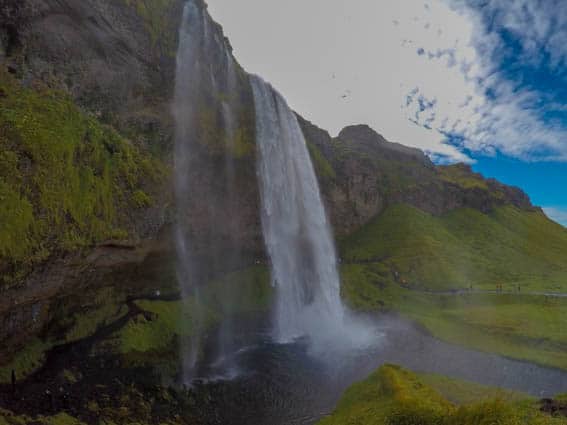 If you only have 3 days in Iceland, you're headed back to the Reykjavik area on the Ring Road – just the way you came. So, it's best if you saved a few of the stops for your return trip. If not, you've got a long 4.5 – 5 hour drive ahead of you. (Seljalandsfoss Waterfall is pictured – of course, you'll pass by it on your way back too.)
Traveling to Iceland in August: 
Day 4 – Explore Reykjavik and Head Home on Flights from Reykjavik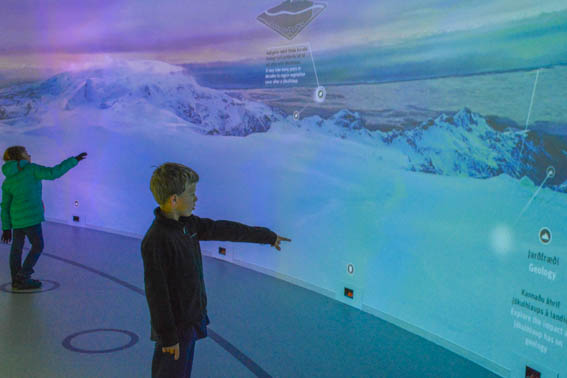 Depending upon when your flight leaves, you may have the opportunity to visit one museum on your way to the airport. We had a gloomy day and a late afternoon flight so we opted to visit the new Perlan Museum. It was a bit pricey, but it was the perfect choice for my children. As of August 2017, there are two main parts to the museum, a glacial Ice Cave and a modern, fully interactive exhibit on Glaciers.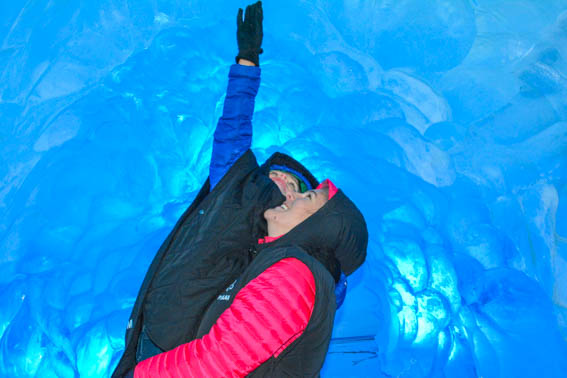 Groups are taken into the Ice Cave, which is kept at a chilly 14 degrees Fahrenheit for about 10-15 minutes at a time. The Ice Cave is composed of ice from glaciers around northern Europe – there are some pieces from Iceland and others from other parts of Scandinavia. The museum has many digital exhibits about the types of glaciers found in Iceland. It nicely complemented what we had learned out on the road the previous two days in Iceland with kids.
Explore More: Five great Family-Friendly Activities in Reykjavik
All photos by Melissa Moore
Have you ever thought about visiting Finland with kids?
SaveSave
SaveSave
SaveSave
SaveSave
SaveSave
SaveSaveSaveSave
SaveSave
SaveSave
SaveSave
SaveSave
SaveSave
SaveSave
SaveSaveSaveSave