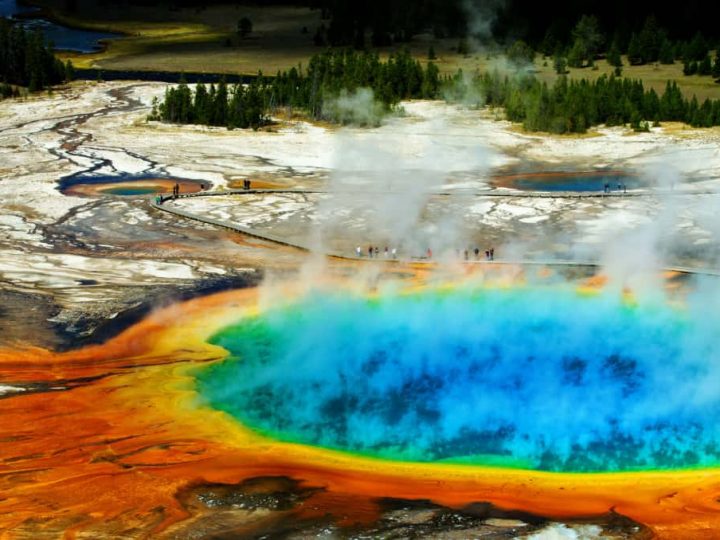 Witnessing Old Faithful erupt is a definite Yellowstone National Park rite of passage. Once you've seen the iconic geyser blow don't forget that there is still an entire park left to explore! Here are five less popular but equally fun things to do in Yellowstone National Park with kids.
Swim in a Boiling River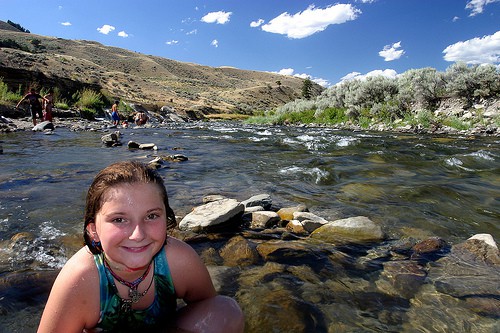 Photo by Flickr/gregw66
Who needs an expensive "spa vacation" when Mother Nature provides a natural hot tub in Yellowstone's Boiling River Hot Springs? This spa experience can be found at the 45th parallel bridge just north of Mammoth Hot Springs, and is one of the few places where swimming is permitted in the park. Here kids will think it's pretty cool to soak in a geothermal heated pool while the freezing Gardner River rambles by.
Play "I Spy" at Barronette Peak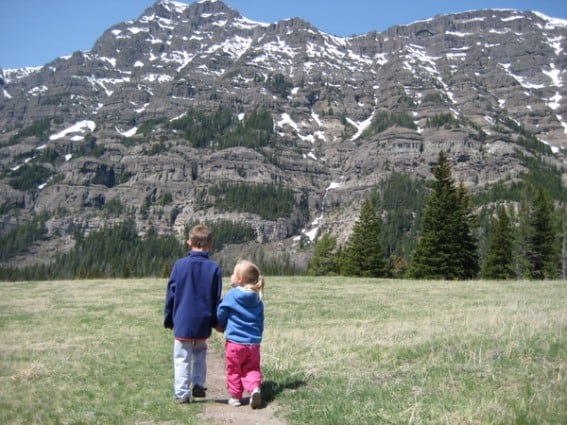 Photo by Ann Anderson
So many tourists zip through Yellowstone in their cars and only stop to view wildlife when it's obviously present. What's more fun? Jump out of the car and enjoy a game of "I Spy" with the kids of course! I would recommend you rent or purchase a good spotting scope or binoculars in order to make the most of this game. Stop anywhere in the park and scan rocks, hills, mountains, or meadows with the scope. Kids will be amazed to learn that the rocky face of Barronette Peak conceals mountain goats that can hurdle across pillars of stone. Continue playing "I Spy" in both Lamar and Hayden Valley where ever-present wolves and grizzly bears can be viewed safely from a distance behind the lens.
Find the End of the Rainbow at the Brink of the Lower Falls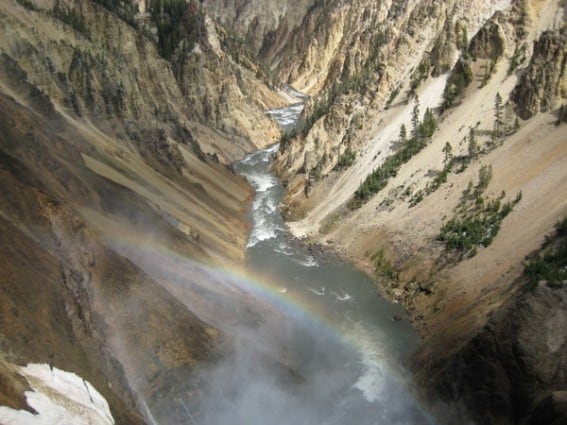 Photo by Ann Anderson
Inspiration Point offers a breath-taking view of "The Grand Canyon of the Yellowstone" and the Yellowstone River's majestic lower falls. However, Inspiration Point is usually swarming with camera touting tourists clambering for a photo of the park's largest waterfall. Luckily, families can take the road less traveled by hiking the short, albeit steep, trail leading to the brink of the lower falls. At the brink, kids can feel the roar of the river as it bends and drops 308 feet, and see the light refract through water mist to form a colorful rainbow.
Explore the Shores of Trout Lake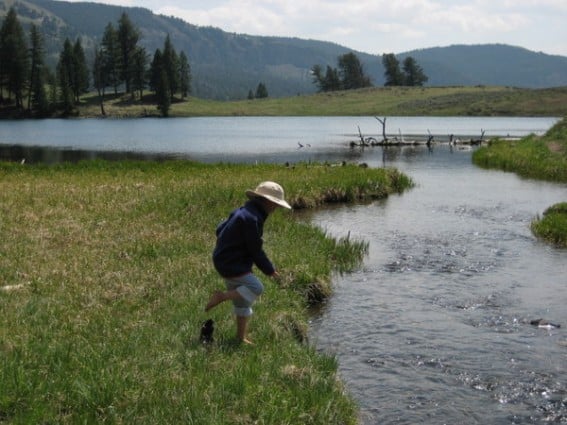 Photo by Ann Anderson
With a myriad of lakes and streams teaming with wildlife, it often takes bare feet to truly experience Yellowstone. Trout Lake, near the park's northeast entrance is one of those waterways that kids should explore sans shoes. Getting to Trout Lake requires a short family hike. Once you arrive, walk around to where the stream feeds the lake, kick off your shoes and look for minnows, frogs, water bugs, and river otters along the marshes. Bring a fishing pole, a national park fishing permit, and you might even catch a Cutthroat trout!
See Mother Nature's Palate at the Artist Paintpots

Photo by: Flickr/Alaskan Dude
While all the crowds linger at Old Faithful, step off the beaten path and enjoy some kid-sized geothermal features at the Artist Paintpots near the Norris Geyser Basin. This short loop trail leads families along Mother Nature's palate bursting with color. See mud boil, smell sulfur dissipate, and hear some howling vents while walking along the boardwalk surrounding this unique art gallery.
A Few "Off the Beaten Path" Tips for Visiting Yellowstone with Kids
Tower Fall is the best place to treat the kids to ice cream. Yes, frozen treats are sold at all of the stores throughout the park but this store happens to dish up the biggest scoops!
Be sure to walk over Fishing Bridge and take the time to peer below. Kids will be amazed how many fish they can count while gazing into the clear mountain water below. Keep your eyes peeled for river otter, pelicans, and herons as well.
The Old Faithful Inn is located within steps of Old Faithful is just as spectacular as its namesake geyser. Order a cup of hot cocoa, find a chair on the outdoor patio, and admire the eruption from a distance.
There are some nice small picnic areas on the shores of Yellowstone Lake. The best thing about these shoreline spots are the kid-sized rocks just begging to be thrown. It's amazing how a pile of rocks and a pretty lake can entertain kids.
If kids get bored with the wildlife viewing, turn it into a game. We made up our own game called "critter cash" and pay the kids pennies when they spot a new animal. By the end of our trip, the kids usually have enough money socked away to purchase a souvenir.
Have you visited any off-the-beaten-path spots in Yellowstone National Park? Tell us about them in the comments.