When winter hits in Minnesota, it comes in the form of ubiquitous, big, wet snowflakes–like the ones falling right now. As it accumulates, my kids get out their sleds and snow-block makers and head into the winter wonderland, coming in only for a cup of hot chocolate and clothes-drying session.
As much fun as simple playing in the snow can be, it's not the only fun to be had in winter here in Minnesota. And while those who live in or travel through the upper Midwest in the winter months must always be aware of the weather and ready to change plans, winter doesn't mean we have to stay at home for six months straight. These are some of our favorite activities to cure the winter blues.
Visit a Waterpark
When it's 20 below, the steamy environment of an indoor waterpark can help us forget the chill of the air outside. Waterpark of America in Bloomington, Minnesota, is billed as the nation's largest indoor waterpark, but several other waterpark hotels are scattered throughout the state. Pick a weekend to forgo the snowpants for a swimsuit and enjoy getting wet instead of frosty.
Read reviews of the Waterpark of America.
Find family friendly lodging in Bloomington, MN — in fact, enjoy an entire vacation here!
Attend a Holiday Festival or Parade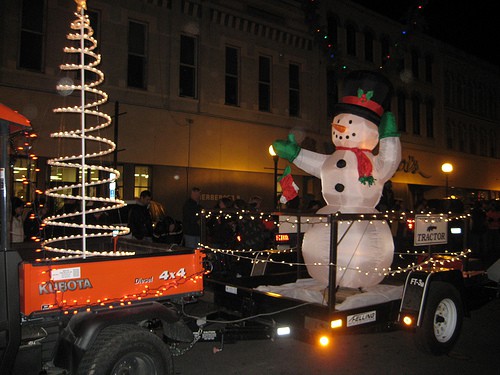 Photo cminnemom
We like to see the annual Parade of Lights in New Ulm, Minnesota on the day after Thanksgiving. Other popular winter events include Holidazzle in downtown Minneapolis at Loring Park and St. Paul's Winter Carnival. Have you ever wanted to attend a Championship Cat Show? Winter Carnival has one that's the cats pajamas! There are also 36 ice palaces, an autonomous snowplow competition, and parades. One of the most unique parades in the state is the Fish House Parade in Aitkin, Minnesota. Ice shanties herald the coming of frozen lakes in Minnesota — you'll see these little shacks (or extravagant big structures) out on the solid water as soon as there is enough ice to hold them! Who says we can't have fun in winter?
Go for a Ride
While the outdoor amusement parks are closed for the season, Nickelodeon Universe at Minnesota's Mall of America is open year-round and the temperature is always just-right at this indoor park–the largest in the country. It's not uncommon to come across a favorite character for a photo opp within the park. From kiddie rides to roller coasters, there's something for everyone, and you can easily squeeze in some shopping if you need a break from the fun–or a trip to Sea Life Aquarium, at the other end of The Mall.
Read reviews of Nickelodeon Universe and Mall of America.
Check out a Museum
The Minnesota History Center can inspire wonder for great feats of the past–new and visiting exhibits can range from chocolate to prohibition and are sure to make history come alive for your kids. My son is begging to go see the model trains at Bandana Square. Another great choice that isn't quite a museum — it's more of an interactive cultural center and has great holiday events for winter is the American Swedish Institute.
Read reviews of the Minnesota History Center, Minnesota Children's Museum, the Science Museum of Minnesota and the Twin City Model Railroad Museum.
Embrace the Season
Visit the Forest History Center in Grand Rapids to learn what life was like in the logging camps during the winter. Find a sledding hill or tubing hill or ski slope for some winter exhilaration. Learn how to cross-country ski. Many state parks provide beautiful hiking and even winter birding (and none of the crowds!)
There's really no need to hibernate just because it's winter. We're tough up here in the frozen north, and winter's just one of the things we have to deal with. Besides, in a few months, we'll be complaining that it's too hot and humid, and we'll wish it were winter again.
Linda (minnemom) writes about family travel at Travels with Children. Her family enjoys finding fun things to do in Minnesota and beyond, any time of year. We here at Trekaroo think she's pretty swell!