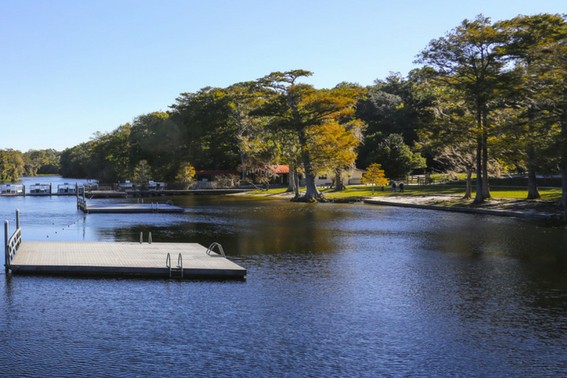 Photo by: Bigstock.com/Phojo-Frog
Having lived the better part of my childhood in the Midwest, once fall is upon us in Florida, I begin to wish I could trade our glorious sunshine, blue skies, and palm trees in for cooler weather, colorful leaves, and the season that is well know as autumn up north. While fall might be short lived in the Sunshine state, it does exist. Visitors just have to know where and when to look. October and November are some of the best months to be outside in Florida. The crowds are smaller and humidity seems to have finally begun to drop. Venture into the northern part of the state to where the trees begin to resemble pictures from the northeast and the air is beginning to feel cool and crisp. Drive south into the heart of the state you'll see Florida's natural beauty come alive as you wake up early to fish, hunt, bike, kayak, or just enjoy the scenery that is fall in Florida. Slow down this fall and take a good look around wherever you are to admire Mother Nature, painting her canvas with vibrant colors and changing scenery. Here are five places I would visit for a wonderFALL Florida vacation!
Tallahassee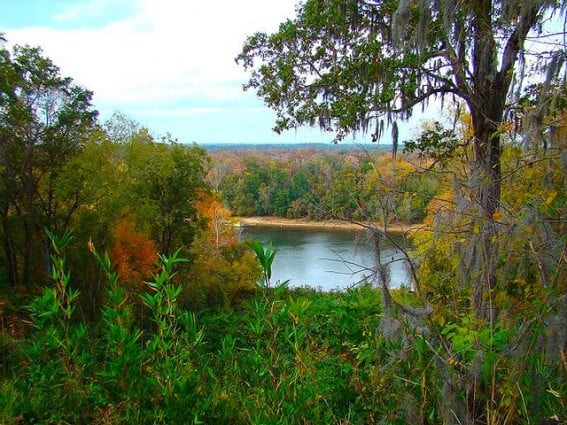 Photo by: Flickr/johnandmary.F
Yes, Florida is most known for it's palm trees and not maple trees, but there are a few places to visit to see fall foliage. Along the I-10 corridor, you'll stumble upon a fantastic route for fall foliage drives in Florida. Leading you into the panhandle, visitors will want to visit Torreya State Park. The high bluffs overlooking the Apalachicola River make Torreya one of Florida's most scenic places. Named for an extremely rare species of Torreya tree that only grows on the bluffs along the Apalachicola River, it's a perfect place to see the leaves changing color during late October and into November. While in Tallahassee, take advantage of the greenways, trails, and rivers by spending some time outdoors. Explore Wakulla Springs State Park by foot or by bike as is the perfect place to see the vibrant colors of the changing leaves. It's not everywhere in Florida that this will happen!
Ritz-Carlton Grande Lakes Orlando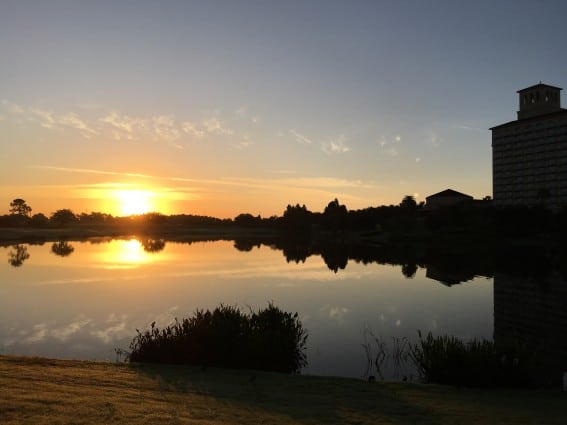 Photo by: Marisa Langford
Hidden in Central Florida along the headways of the Everglades is the Ritz-Carlton Orlando, Grande Lakes. Wake up early to take the Sunrise Safari with their Master Naturalist to experience the beauty of the 500 acres that are home to some of Florida's most beautiful flora and fauna, especially during the fall months.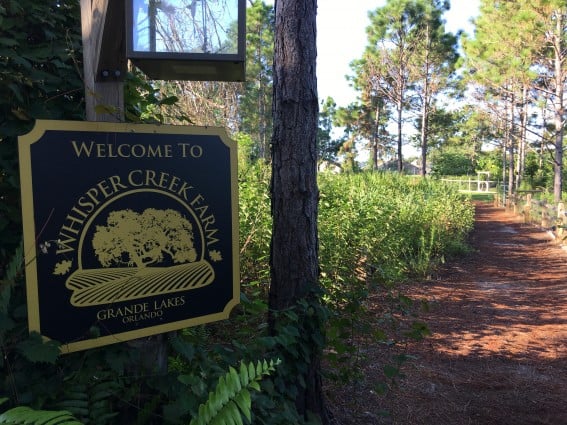 Photo by: Marisa Langford
Take a tour of Whisper Creek Farms, a 7,000-square-foot fruit and vegetable garden that provides farm-to-table ingredients for Highball & Harvest. Being on a farm always reminds me of harvest season during the fall months. The apiary on site is also maintained by chefs who are trained in the art of bee behavior and honey harvesting. They use harvested honey in dishes at The Kitchen, Highball & Harvest, and PRIMO. Fall in love with Florida at this perfect family-friendly resort and take advantage of the perfect weather – neither too hot or humid, to enjoy all of the outdoor amenities the Ritz-Carlton has to offer. Private shuttles are offered to Disney World and Universal Studios too! Escape to Orlando during the best time of the year!
Mount Dora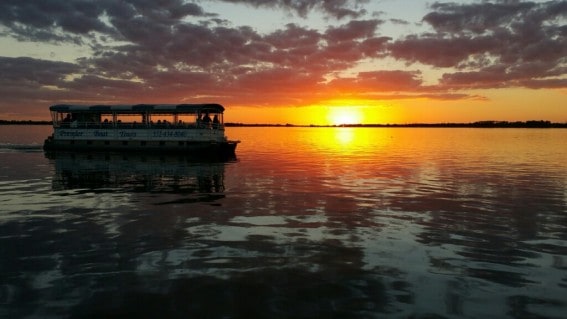 Photo Courtesy of: Premier Boat Tours
Families will find this quaint, charming village about 40 miles northwest of Orlando. Off the beaten path and tucked away, this small historic town is full of B&B's, lakes, creeks, mossy oak trees, and southern hospitality. An eclectic mix of annual music, art, and antique events attract visitors from all over for weekends of relaxation. Kayak along Blackwater Creek where the shore lined with cypress trees turns to gold and orange. Take a canal tour of the "most beautiful mile of water in the world" along The Harris Chain of Lakes and Lake Dora. Sit for a moment on a cool fall weekend and enjoy the autumn sunset over the Lake Beauclair. Kids will love taking a seaplane to see the view from above or a train to see the rolling hills and foliage later in the season. (Christmas in Mount Dora is amazing too!) Fall never felt so good.
Orlando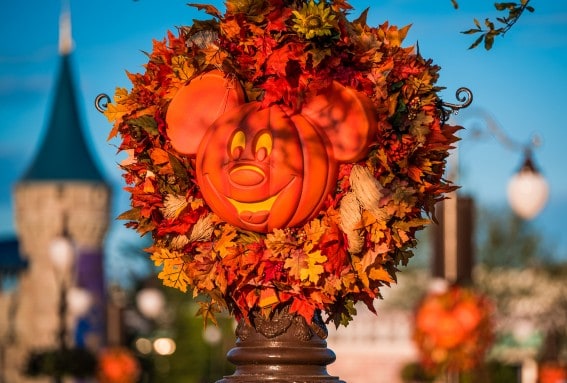 Photo Courtesy of: Walt Disney World
Fall is the perfect time to take advantage of shorter lines and cooler temperatures at some of the many hot spots in Orlando. While the fall foliage may not be as natural, you'll start to feel more in the spirit of the season by visiting some of the ever popular theme parks decked out in full fall fashion. At Walt Disney World Mickey's No So Scary Halloween Party, there are over 4,000 pumpkins and decorations. It takes over 750 hours to decorate every nook and cranny of the park with leaves, wreaths, and more. Halloween-themed treats grace the Main Street shops and it even smells just like fall! The Epcot International Food & Wine Festival (Sept. 14 – Nov. 14) at the Walt Disney World Resort, is a chance to sample and savor foods and wine from some of the world's most famous wineries and celebrated chefs as they line the World Showcase. Be on the lookout for great fall deals too! Stay at the Waldorf Astoria Orlando to experience its Food & Wine Weekends (Sept. 16 – Nov. 13). Events include a variety of chef created menus and pairings. Orlando is the perfect getaway during the fall, especially with kids!
Streamsong Resort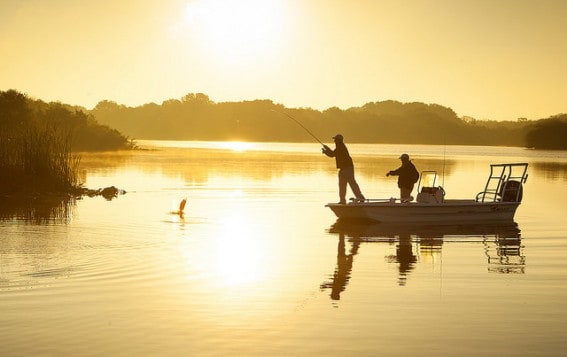 Photo by: Flickr/Visit Central Florida
Located in the heart of Florida, families will drive through small towns and desolate roads to finally arrive at Streamsong Resort where they can explore 16,000 acres of solitude and nature. It's the ideal setting for one of Florida's best fall recreational activities, golf. Meanwhile outdoor enthusiast unplug, head outside, and enjoy the true beauty of the fall season in all its colorful glory. Steamsong Resort was built on tens of thousands of acres that were mined for phosphate leaving tremendous amount of sand, the perfect base to reuse and build golf courses, three world class golf courses to be exact. Wake up early to golf or head out on a private, guided bass fishing excursion on some of the best lakes in Florida. Visitors can head out for sporting clays while shooting over a variety of ravine landscapes from multiple stations. Mother Nature paints a beautiful picture as you view it from the balcony of the Fragmentary Blue, the perfect place for watching sunsets. (This quiet retreat is also ideal for a weekend getaway for Mom & Dad.)
For a beach vacation, check out Marco Island, Florida just south of Naples.
Featured photo by: Bigstock/Phojo-Frog