Up until last summer, I associated Park City with only two things: the Olympics and snow. So when I was planning our cross country road trip I only booked a stay in Park City in hopes of getting a good deal at an off season resort while breaking up the drive between the Grand Tetons and Bryce Canyon. It turns out that Park City was the biggest surprise of our trip!  I had no idea this mountain town had so much to offer families outside of the ski season. Here is a taste of the summer fun that you on a family vacation in Park City:
Ride a bobsled at

Utah Olympic Park



Riding in a bobsled is said to be one of the most intense experiences a thrill seeker can experience. Anyone at least 14 years of age can take on 15 curves at 70 MPH with a trained professional in the pilot's seat at Utah Olympic Park.  If the bobsled seems like too much of a thrill, children (and their parents) weighing at least 50lbs can try out the Ultra Zipline which follows the freestyle skiing hill and will still provide a safe, exhilarating thrill.  While at the park, be sure to take a free self-guided tour of the Olympic competition sites.  Its a great way to get a close up view of the place where so many Olympic dreams were reached.
Spend the Day at

Park City Mountain Resort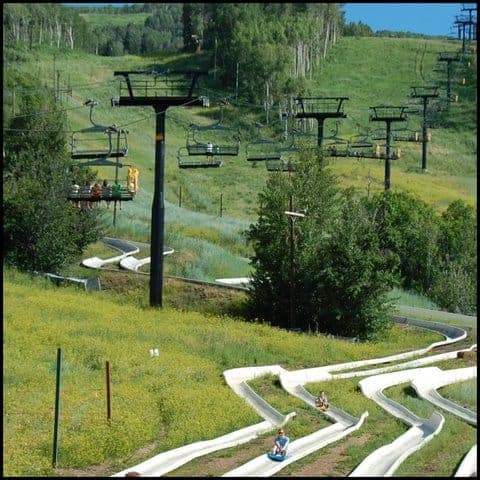 I couldn't believe how much there was to do during the summer at this winter ski hot spot. When the snow melts, Park City Mountain Resort takes on a new identity. Chair lifts take guests up to zip lines, alpine slides, and alpine coasters. I am not sure who had more fun whizzing down the mountain on the alpine slide- me or the kids!
Back at base there are also kiddie rides in the Little Miners Park area, mini golf, a legacy launcher (those trampolines you jump on while harnessed in), and a rock climbing wall. I only wish we would have set aside a full day to spend at this resort because we definitely enjoyed the time we did have to spend there.
Take a Hike or Ride a Bike:
Chair lifts can give hikers a head start on their way up to scenic vistas and help bikers skip the grueling ride up and get right to the fun of riding down the mountain. The Town Lift on Main Street will take your family straight up to where the action is and trail guides are available at the chair lift ticket windows. There are trails for all skills and abilities, and the fresh mountain air is perfect for enjoying the great outdoors. The Beaver Creek Trail is a good family friendly off-road trail that is fairly flat and perfect for beginning mountain bikers.
Golf the Day Away
My son may only be three, but he is already an obsessed golfer. As he grows older, I have a feeling more and more of our vacations will include him getting in 18 holes with his dad. Last year both Ben and his dad sat on our patio at the Hotel Park City and drooled as families teed off on the ninth fairway. There are two public courses in the city (and 5 private) and both  are worth a visit for just the scenery alone. Luckily for me, my daughter has inherited my lack of interest in golf so I will always have someone to keep me company on a hike or at the spa while my boys chase that little white ball around.
Giddy Up in the Wasatch Range
While my son stares longingly at golf courses, my daughter dreams of life on horseback. The Stillman Ranch is a highly acclaimed horseback riding facility and guest ranch just outside of Park City. Families with children as young as six can enjoy riding around the 9,000 acre ranch on trail tours ranging from one hour to overnight. For those of us who have children who are still too young to ride horseback but crave a horse related experience, a wagon ride with dinner through the gorgeous countryside will fit the bill just nicely.
Has your family spent time in Park City?  Share your experiences with Trekaroo families by reviewing all the hotels and activities you have enjoyed.  Let's spread the word about this great family friendly destination!