Born and bred in the UK & Germany, travel is in Anna's blood and she has traveled extensively throughout Europe, Asia, Australasia and America. Now the mother of three young children, she is the co-founder of adventure travel specialists www.tourdust.com. This is a story about one of their many journey's as a family. This time their travels had taken them to North Carolina.
After spending a few weeks by the ocean, the Great Smokey Mountains were beckoning, so my husband and I packed our three kids into the car and headed to Asheville for a mountain adventure. In a bid to recapture our backpacking youth, we stayed in a hostel and enjoyed exploring the town with its chilled vibe and great eateries.
Having had our fill of the town, we donned out hiking boots and headed out to the great outdoors. We soon found ourselves on the Blue Ridge Parkway, a beautifully scenic road taking you up past amazing views. But here is where our problems started. You see, we British don't spend anywhere near as much time on the road as Americans – from our house, you drive in any direction for more than about 7 hours and you hit the sea. A long drive for us is 2 hours- you get the picture. Driving along a scenic road was all well and good, but the road was quite long and after driving for a couple of hours we were unsure when to get out the car and where to go for a hike. Add to that the kids were glued to Backyardigans on loop in the back of the car and I was starting to know all the words to the Volcano Sisters. Ouch. After about 5 hours in the car and only a couple of short hikes we returned back to the hostel a little frustrated. What we needed was a darn good stomp. No cars, no people, no Backyardigans.
The next day, we decided to do something a little different. Our guide book mentioned a placed called Cataloochee; an abandoned valley deep in the heart of the mountains. Sounded interesting, so we packed a picnic and headed off. I'll spare you the shrieks (mine) as we drove round hair pin turns on unsealed roads. After a few hours, we arrived safely. As we drove in, we saw one other car driving towards us. He flagged us down – "go to the third house on the left, look out the back door and you'll see a black bear and her cubs", he said. Not sure what to expect, we followed his instructions and sure enough, saw our first wild bear.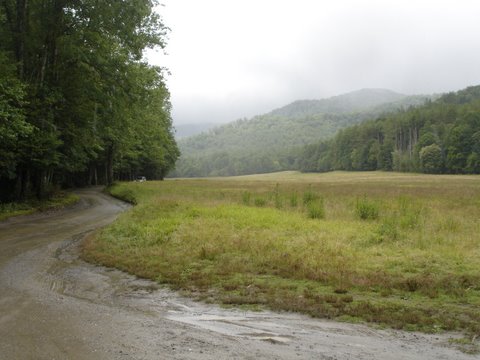 I should probably step back and explain a little about this special place. Cataloochee was abandoned in the 1920's to make room for the establishment of Great Smoky Mountains National Park. Houses were left still standing, as was the school and the church. It is an eerie, yet beautiful place. The houses are full of snake skins and wild turkeys graze in the meadows. Nature plays the lead here.
We had been told about a hike to one of the more isolated houses and decided to follow the path into the woods. The path wound its way through the trees and we were quiet to listen for the birds and animals. It was heaven after the day previously in the car. We had no tv, no engines, and no tantrums. Every now and then, the path was blocked by a stream rushing along and everyone had to take off their shoes and socks and wade through. These were not small streams! The water came up to my knees, but we had a great time finding stepping stones and rocks to climb on. It was a real adventure.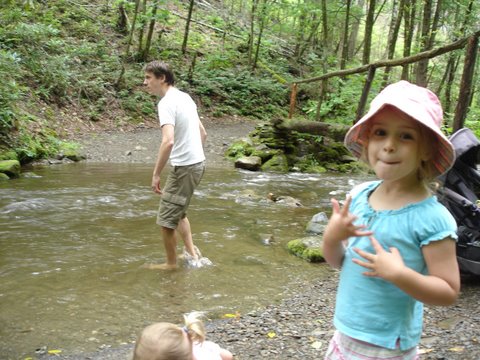 After about an hour and a half, we reached the abandoned farm house and ate our sandwiches on the veranda. What a feeling- not another living soul for miles and miles. In the days of cell phones and Facebook, it's not easy to find this type of peace. Well, with three children under 4 it's not easy to find peace either. But in a snatched few hours, we did.