We travel to a lot of great places, but Farm Stays have a truly special place in our heart and we are always discussing a return visit!"
Many Trekaroo families have stayed at farms across the USA and have fallen in love. In love with the nature surrounding them, the tranquility, and the lifestyle of living on a farm.
A good farm stay doesn't just incorporate a working farm into your vacation, but rather folds a vacation into the farm experience. A family can enjoy a getaway that's relaxing and hands-on, and then can leave feeling as though they've truly rested (even though they've been doing chores!).
[box style="rounded" box border="full"] Sponsored by U.S. Farm Stay Association

The U.S. Farm Stay Association, known for its website www.farmstayus.com, helps to connect travelers, looking for a farm vacation, with U. S. working farms and ranches hosting overnight guests as part of their operations. The stay is an experiential look into family farm life, an eye-opener for many urbanites who feel hugely disconnected from their food and the land. The lodging, the food, the landscapes, the experiences are as varied as the farms and their farm hosts scattered across the country. We like to say, "Real Farms. Real Food. Really Fun!"[/gdlr_widget_box]
WeatherLea Farm and Vineyard
Lovettsville, Virginia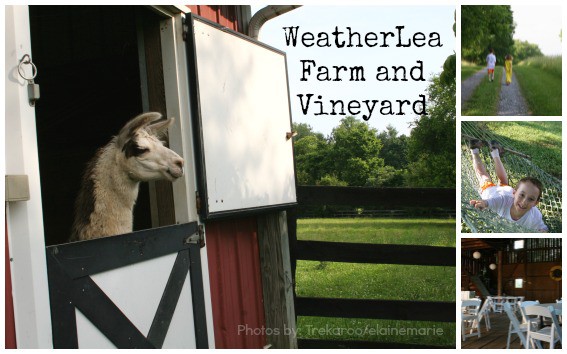 Weatherlea Farm provides a perfect, scenic respite away from DC for couples and families with children. Located near several wineries, Great Country Farms, and an artisan cheese-maker, the farm has sheep, a couple of llamas, a vineyard, ample room for roaming around, and even a pond with a canoe. Breakfast is included, and wine from WeatherLea Farm's vineyard is available for sale. There are plenty of nearby activities to fill a weekend – but just walking around the farm is also fun.

Read our Superoo's complete review on WeatherLea Farm and Vineyard.
Belle Meade Farm
Sperryville, Virginia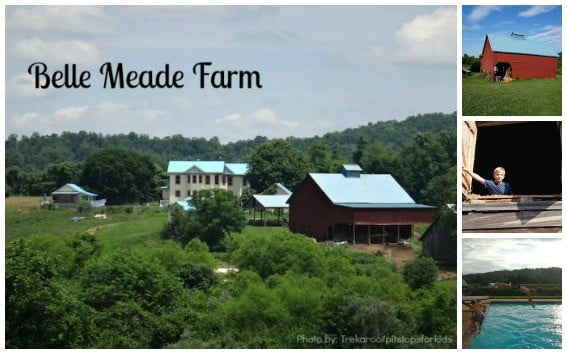 Part bed and breakfast and part school-house, Belle Meade Farm welcomes families alongside couples and outdoorsy-types to its charming Virginia farm. It is more like a B&B than other farms. Families might be able to help with farm chores, but not necessarily. Kids are expected to behave (of course) but also allowed to be kids, and outdoor playtime is punctuated by lessons in farm life. While Belle Meade keeps horses, cattle, pigs, and chickens, it focuses on the beauty of the countryside and recreation options more than the farm chores. Outside activities include a full-sized pool and hot tub, plus a large pond for swimming, canoeing, and fishing. There's a rope swing to try, floating docks, and diving platforms. Nearby, Shenandoah National Park awaits with hiking, scenic drives, and visitor's centers. Breakfast is included in the stay, and is made from fresh, farm-to-table foods straight from the Belle Meade chicken coops and vegetable gardens.
Read Amy Whitley's complete review on Belle Meade Farm.
Willow Witt Ranch
Ashland, Oregon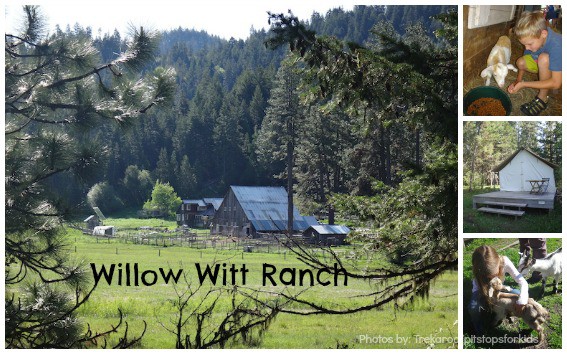 This working goat, pig, and chicken ranch is located in the Siskiyou Mountains of Southern Oregon. There is a range of accommodations from a private ranch house, ranch rooms, or beautiful tent cabins (glamping style) set in the woods. There also is a rustic campground area where you can bring your own tent with a beautiful outdoor kitchen and very nice showers and bathrooms. The owners are happy to allow kids to explore the grounds and meet the animals. They cannot milk the animals, because it's a full-scale automated machine milking production, but they can watch. This farm is especially eco-friendly, and uses all organic feed for their livestock. They have a meat CSA and a full organic garden. Thirty minutes away is Ashland, OR, where families can see a play, raft the Rogue, and get a nice meal for dinner.
Read Amy Whitley's complete review on Willow Witt Ranch.
Liberty Hill Farm
Rochester, Vermont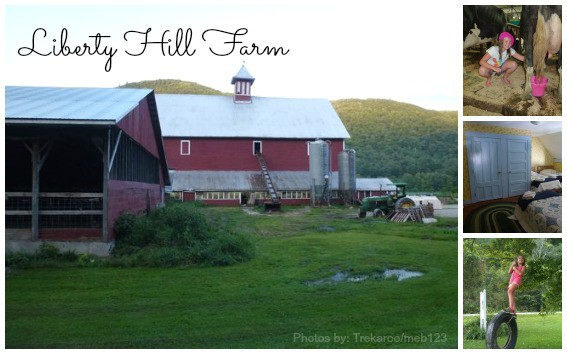 Enter the idyllic, white farmhouse at Liberty Hill Farm and feel welcomed by the fabulously friendly and sincere Kennett family who have been welcoming guests for more than 25 years. This Cabot Cheese Coop dairy farm is a place where guests can milk the cows, stow hay in the barn, or complete other farm chores, all while enjoying the beautiful rural vistas of the nearby forest of Rochester, Vermont. Fresh breakfasts and dinners are served to guests, which allow for periods of reflection and good company. When children are bored with that, they can wander outside to take a twirl on the tire swing hanging from the maple in the front yard, check on the calves and barn cats, or maybe put on the muck boots provided by the Kennetts to tromp around the barn.
Read Michelle Brennan's complete review of Liberty Hill Farm or watch a YouTube video of this trip!
Leaping Lamb Farm
Alsea, Oregon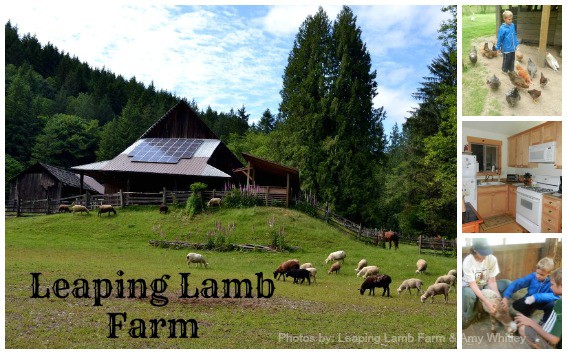 There's so much to do at Leaping Lamb Farm that once you arrive, you may never want to leave the grounds. Guests can collect eggs and let the free range flock in and out, feed the sheep and lead them to pasture, care for the two horses and donkey, and pick produce in season. There are two main chore times and owner Scottie Jones will come get you to assist if you'd like to participate. The kids soon feel as if they know all about the workings of the farm: what to feed which type of livestock, where to let the sheep go to pasture as well as how to feed the chickens and collect the eggs. Families can hike on-site in the coastal range of the temperate rain forest, play in the creeks and pastures, and picnic, in addition to helping out on the farm. One family at a time is hosted at Leaping Lamb Farm and the guest cottage is stocked with everything one would need. Breakfast is included and guests are allowed to graze in the gardens in season. This farm is a retreat from city life with lots of room to roam and explore.
Read Amy Whitley's complete review on Leaping Lamb Farm.
Mississippi Modern Homestead Center
Starkville, Mississippi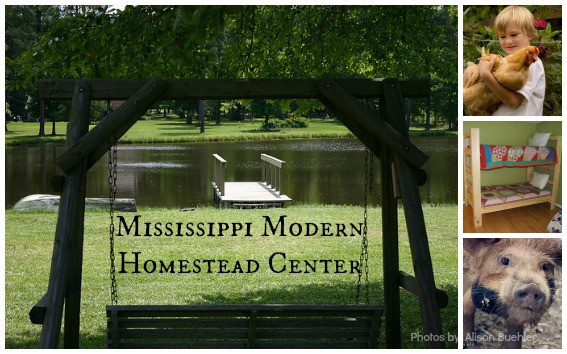 Sustainable, simple living is the hallmark of the Mississippi Modern Homestead Center. It is their goal to recover and share knowledge with guests and fellow Mississippians. Activities and workshops for kids and adults highlight the lost arts of cheese making, gardening, animal care, and many other topics. Guests are welcome to stay overnight in the large house, which has five bedrooms, including two family rooms and two bunk rooms. Families can enjoy the quiet of nature while learning the keys to homesteading. Outdoor adventures include hiking on nature trails, wildlife spotting, catch and release fishing, boating on the lake, and an outdoor swimming pool. Families can walk away with experiences with farm animals and knowledge learned from workshops that they will carry with them the rest of their lives.
Read our Superoo's complete review on Mississippi Modern Homestead Center and the classes that were offered.
Hoehn Bend Farm
Sedro Woolley, Washington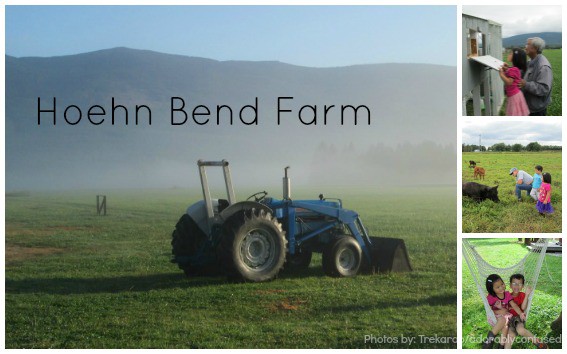 Hoehn Bend Farm is a wonderful place for families. It is a place where kids can pet a chicken, feed a pig, give peanuts to the sheep, follow around the farm cat, run in the fields with the farm dog, and so much more. Farmers Terry and Jean are welcoming to adults and kids and have a great way of teaching them how to get involved in the daily life on the farm. The historic three-bedroom, one-bath Farm House is completely remodeled to offer comfort as well as all the modern conveniences for guests. The kitchen is fully equipped for guests to cook their own meals. Depending on the season, activities abound including gardening, animal care, canoeing and kayaking, berry picking, and apple cider pressing.
Read Carrie Yu's complete review of Hoehn Bend Farm.
---
Other Great Farm Locations
Hull-O Farm, Durham New York.
Jackson Family Farm, Kingsburg, CA
Notes: Thank you to Amy Whitley, Carrie Yu, Elaine Maag, and Dawn Foreman whose stories, words, and photos describing their Farm Stay experiences constructed the bulk of this article.
A huge thank you to Scottie Jones who created the Farm Stays US organization which has given us urbanites a great resource for finding the perfect Farm Stay near us. Thanks to Scottie, our Trekaroo families have been sent to these amazing farms and are now able to share their stories with our readers.
Disclosure: Our Trekaroo Superoos, Guroos, and team members have been hosted at these Farm Stays in order to share their experiences with Trekaroo readers. All opinions are their own and the rave reviews they have given were honest and not coerced.
Featured photo by: Shutterstock