While visiting the Pacific Northwest this summer, we made a three day stop-over in charming Victoria, British Columbia.  Famous for its beautiful scenery and stunning gardens, Victoria offers families with kids much more than just eye candy.
The City of Gardens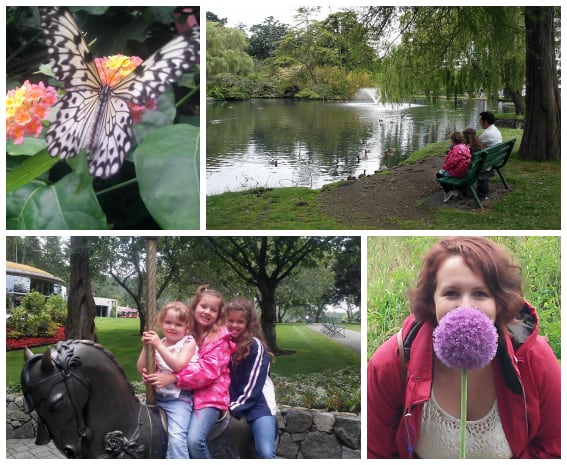 Victoria boasts Canada's mildest climate, making it the perfect place to see nearly year-round blooms and greenery.  From incredible parks to elaborate gardens, the "City of Gardens" is absolutely stunning.  Although captivating to adults, impressive scenery can sometimes be less than appealing to the littlest ones in the family. Rest assured, Victoria offers much more than just a pretty face.  Kids can run and explore through Beacon Hill Park's 190 acres of gardens and wild areas, visit the free petting zoo, attend a festival, play on the playground equipment, or marvel at the wild peacocks that call the grounds home.  Be sure to make a day trip to visit Butchart Gardens, the most famous garden in the area.  The impressively landscaped 55 acres are easily managed with young kids kept busy with take-along guides and activities; the carousel, boat rides, and nightly summertime fireworks are icing on the cake.  Nearby, explore the Butterfly Gardens' tropical jungle environment full of flamingos, tropical plants and birds, geckos, poison dart frogs, and of course, thousands of butterflies!
Read full reviews of Beacon Hill Park | Butchart Gardens | Butterfly Gardens
Watch my video of Butchart Gardens:
Bringing History Alive

As we walked Government Street upon our arrival to Victoria, the beautiful and impressive Legislative Assembly dominated the horizon.  Not too keen on my Canadian history and politics, I wasn't even sure what to call the beautiful copper roofed building in front of me, but I knew we had to move in for a closer look.  We were welcomed to the building by a regularly performing acting troupe that acted out scenes from the history of Victoria. This performance helped me and my three girls better understand the history and importance of the building and why the city is named after an English Queen.  We were also thoroughly entertained.  Complimentary tours are offered on a daily basis to help families seeking to know the ins and outs of the government building, but our kids opted for a trip next door to the Royal BC Museum instead.  This fantastic museum boasts not only a massive IMAX screen (showing both historic and scientific films as well as nighttime Hollywood current releases) and impressive rotating exhibits, but also an amazing display of local British Columbia history.  Our children literally walked through the history of the region.  They strolled past First Nations artifacts and housing, observed as the influence of Europeans came upon the area, panned for gold during the gold rush, and walked the streets of English-influenced Victoria from 100-years ago!  The scale and attention to detail allowed my children to feel immersed in the history, and gave them the curiosity to wonder exactly what was going on at any particular time period in British Columbia's history. (In addition to covering history, the museum also boasts great exhibits on animals, climate change, and space!)
Read full reviews of Legislative Assembly | Royal BC Museum
Local Color & Artisan Eats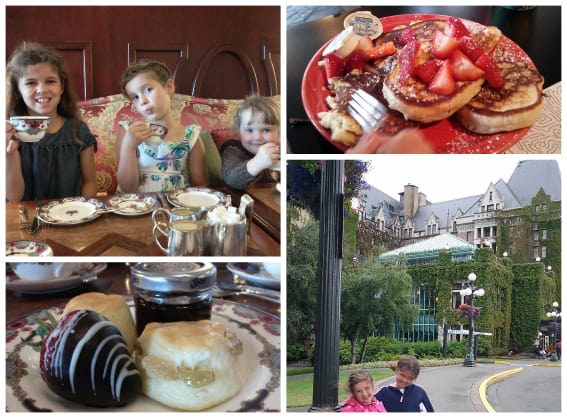 Victoria is known for its quaint old buildings, overflowing flower baskets hanging from the lampposts, and friendly locals.  From the old Parliament building, to the waterfront Fairmont Empress Hotel, Victoria is not short on charm.  Don't miss the Afternoon Tea at the Empress, a tradition since its opening in 1908.  While staying at the hotel, my often less-than-perfectly-mannered children donned their best princess pinkies and sampled on fine pastries, kid-friendly (ie. caffeine free!) tea, and savory little sandwiches.  We were transported back in time.
The Fairmont Empress is the perfect hotel for your visiting princes & princesses.  Check out all my kid-friendly Fairmont Empress tips and recommendations.
Government Street is lined with fantastic dining opportunities and plenty of souvenir shops.  I recommend taking a stroll through the Artisan & Farmer's Market in Bastion Square where you can sample on tasty goods or purchase a one-of-a-kind souvenirs that you won't likely find elsewhere.  Ready to grab a bite to eat?  Head to Willie's Bakery, the oldest bakery in Victoria, boasting both exceptionally tasty dishes as well as a few compelling ghost stories if you ask.
Read kid friendly reviews of Bastion Square | Willie's Bakery | Afternoon Tea at the Empress
Getting There

Because Victoria is on an island, getting to it can seem a bit complicated.  If you are starting your journey from Seattle, be sure to take the Clipper.  The fastest route outside an expensive plane ride, the Clipper will keep your kids entertained on the three hour journey.  From Vancouver, consider a combination ticket from BC Ferries and Pacific Coach Lines that takes you straight from downtown Vancouver (or the airport) via bus to the kid-friendly BC Ferries boat ride across the sound.
Read full reviews of Clipper Vacations | BC Ferries | Pacific Coach Lines
Disclosure: I received complimentary lodging and some activities from Tourism Victoria for the purpose of this review.  I was not required to state any particular view; all opinions are my own.  With a waterfront walk-up location and up-to-date tourist information, Tourism Victoria is a great resource for traveling families.