There's no place like home. No matter how far we travel as a family, I'm always eager to come home to my own bed, kitchen, and space to let my kids be wild. Staying at a hotel can be stressful! I hear myself saying a lot, "Don't run down the halls! It's not your turn to push the elevator button! Be quiet and don't stomp your feet!" Whoever invented the concept of vacation rentals must have spent some time with little kids in a hotel. It's one of the best travel inventions ever.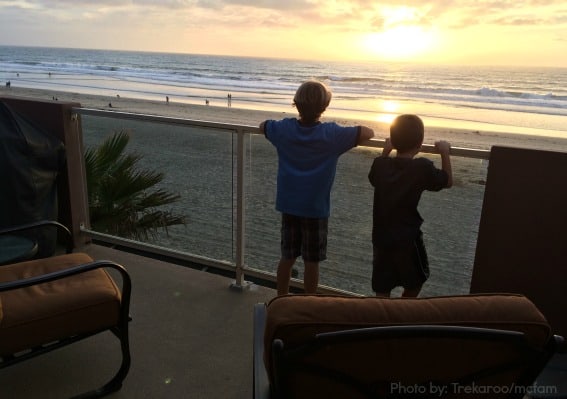 One beautiful October afternoon, when it still felt like summer in San Diego, we walked into a fully decked out home with a large kitchen, living room, bunk beds, individual bedrooms and baths, and a breathtaking view of the Pacific Ocean with the sun setting. This was to be our home-away-from-home for two glorious nights. I had to pinch myself. All the comforts of home and a place to cook meals to save money was ours, and we could spend the whole next day on the sand.
Read my full review of Jersey 4 Beach House on Mission Beach where we stayed, why it was great for my family, and why I wish I could move there.
Multigenerational and Multifamily Travel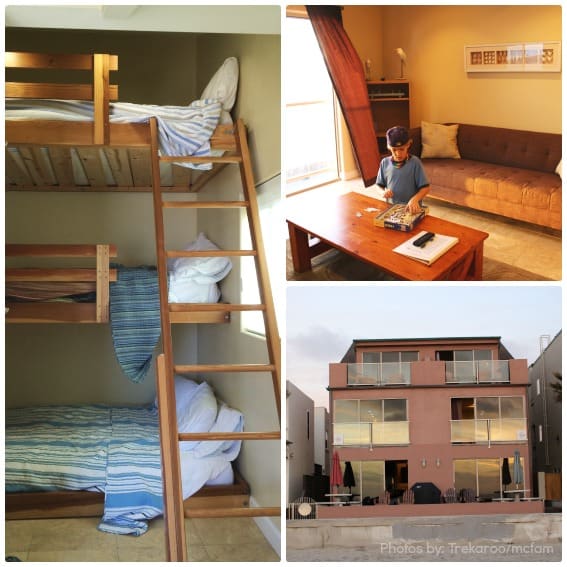 Going on vacation with grandma, grandpa, aunts, and uncles is now a more common occurrence. Many working families don't have a lot of time off, or funds, to take big vacations; sharing a vacation rental with family members can pay off big time. Hotel costs are multiplied with lots of rooms, but vacation home costs can be divided among family members. Many parents love the interaction their kids can have with other family members, plus the added bonus of babysitting for a much-needed night out for mom and dad. Kitchen duties can be shared which cuts down on meal costs and can be a fun way to bond. With extended family groups spread out all over the world these days, many families are finding that their friends are turning into family – or "framily." I love being a "fake auntie" to my friend's kiddos! Several family groups can go to a vacation rental together and can reap the benefits of shared costs and kids having playmates.
How to Find and Rent the Best Vacation Rental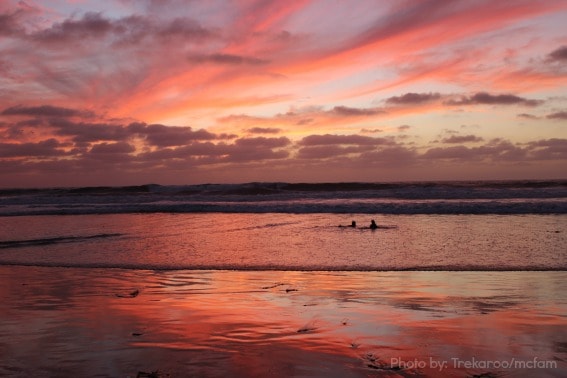 Renting a vacation home does not have to mean that you find a home that someone lives in and then go stay in it while they are away – nor is it a timeshare. Professional management companies, like 710 Beach Rentals that took care of the house we stayed at, work to make each guest's stay as good (if not better) than a hotel stay. We had fresh linens, toiletries, laundry detergent, and a clean and empty home that was ready for guests. If any problems arose, I knew we could call the company and they would come fix it for us – like the DVD player that wasn't working, or if the hot water wasn't coming from the pipes. Management companies that are a part of VRMA (Vacation Rental Managers Association) know that they need to adhere to industry standards, a code of ethics, and good business practices to assure a great stay for all their guests. Discover Vacation Homes is a great website that can help you find your next vacation rental. It's a place to find a vacation rental all over the US run by management companies that provide excellent service. Find your next perfect vacation at a vacation rental, whether you travel with family, framily, or your own crazy kids. I'm so glad we did – because I will never forget seeing one of the most beautiful sunsets of my life while watching my kids swim in the glowing ocean waters.
Disclosure: I'm still pinching myself that we got to stay on Mission Beach in a Vacation Rental. We were given a complimentary stay and I attended the annual VRMA Conference where I learned about the great benefits of staying at a home managed by a company that is part of VRMA. All opinions of mine in this post are just mine.
Related Posts:
Essential Tips for Choosing a Vacation Rental
Renting a Vacation Home for the First Time
Top 10 Family-Friendly Vacation Rental Destinations
Featured photo by: Bigstock/StacieStauffSmith Photos