As a mom with four kids in tow, it takes work to get the family ready for a vacation. I typically spend a full day shopping for last minute items and washing clothes as well as finding, packing, and organizing what we are taking. I need to look into my crystal ball to foresee what the weather will do and what type of activities we are participating in so that I am well prepared for anything and everything.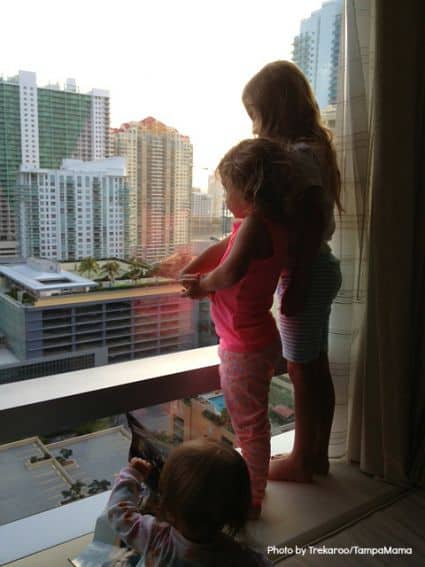 It's not a secret that we are busy with four kids. My Super Mom duties and child wrangling days are exhausting and I barely sit down to eat, much less kick my feet up and relax. I decided to do an experiment. I wanted to attempt to really relax on vacation—the good kind of relaxing, where I get to actually enjoy the time with the kids, sit down, and taste the food on my plate, relax with a cup of coffee in the morning, and have peace of mind knowing that my kids will remember this vacation.
The secret is Four Seasons Hotel Miami.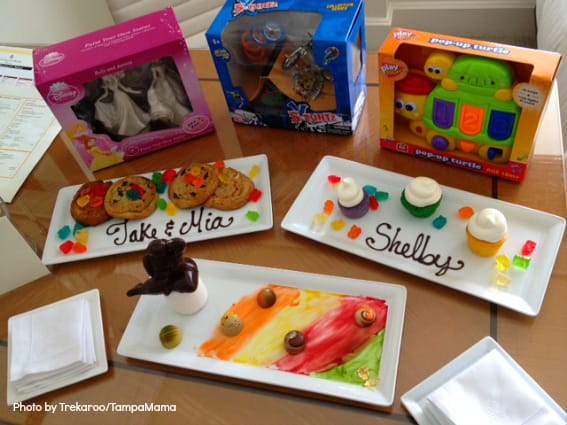 At Four Seasons Hotel Miami, I really did relax. In fact, I completely got lost in the weekend with my family and had the time of my life. Four Seasons Hotel Miami knows that family is important to people and that our time together is precious. I can't thank the staff enough for teaching me how to relax (yes, it really happened) on vacation with our four kids in tow.  Here's why it happened:
1. We didn't over-plan the family vacation.
We headed to the Four Seasons Hotel Miami for a Mother's Day getaway. I hadn't realized that my vacation had actually already begun before I had even left my house. We worked with an associate, who was willing to take control (something I rarely get to relinquish) and help me plan our stay as well as find places to eat, places to go, and fun activities to take in while we were there. She set everything up for us and I didn't have to think twice about what we were going to do or where we should eat. With an insider helping me,  I had was one less thing I had to stress over. You can and should email the concierge desk in advance to coordinate an itinerary that is perfect for your family.
We had one activity per day and that was plenty. After all, anyone traveling with younger kids knows it gets tricky to schedule activities between naps and other needs. At Four Seasons Hotel Miami, we were able to take early excursions, come back for lunch and afternoon naps, and then enjoy the pool before dinner. Our outings included Jungle Island, Miami Seaquarium, South Beach, and Bayfront Park.  All were so close to the hotel! There's also a game room to entertain the family onsite.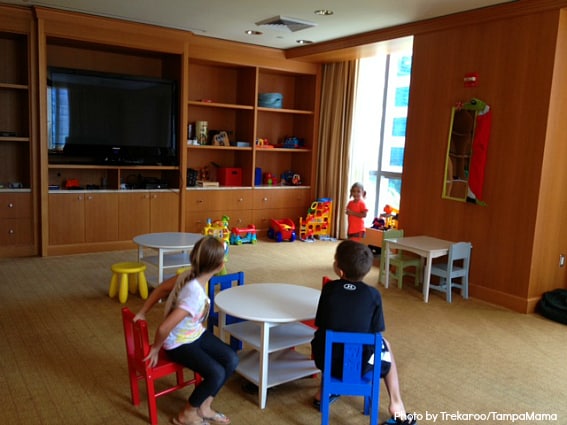 2. We didn't worry about the things we usually worry about.
It's called vacation for a reason. So, I went for it. The Four Seasons Hotel Miami goes above and beyond in this department for its guests. I didn't have to worry about cooking, dishes or laundry. After all, I wanted to relax. I needed to relax. (Child wrangling is hard work and I put in lots of hours!) I took the plunge and let the hotel do the cooking.
My family enjoyed the dinner at EDGE, Steak & Bar. Their contemporary American menu was delicious and received five stars from my little food critics. I felt peace of mind knowing that the meals were so healthy, too! Chef Aaron Brooks uses fresh ingredients from the poolside garden and a farm-to-table approach.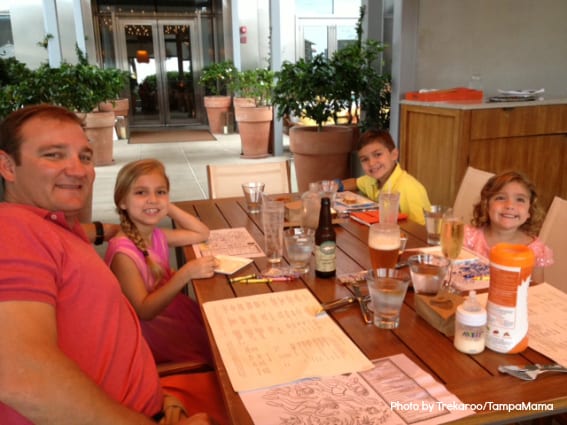 3.  It's called service for a reason.
By far, customer service sets Four Seasons Hotels and Resorts apart from others. Being a mom of four, I wear many service hats for my family. It is often hard for me to remember that when on vacation, I can let this go. But, I decided to sit back and indulge. The staff at Four Seasons Hotel Miami went above expectations and made our stay so memorable for all of us (especially our kids) with pirate themed room service, age appropriate adventures set up for our family, and even turn-down service. The service was first class all the way and very much appreciated (and very welcomed) from Mom, especially on Mother's Day weekend!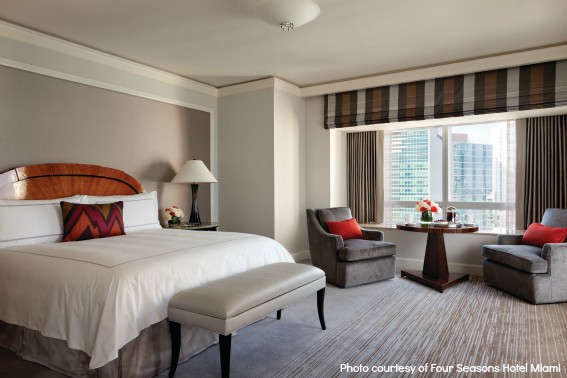 4. We remembered any experience is what you make it, not how much you can cram into a day.
We used our time at the Four Seasons Hotel Miami wisely. Our kids love to experience something new. So, we became explorers… mostly at the pool! We couldn't keep the kids out of it. It's easy to wear out kids on vacation. We took care to take long naps, spend afternoons by the pool, and eat on property. The Four Seasons Hotel Miami made our experience one where we could not only unwind but reconnect with our kids.
 5. We used this time to be present with the kids.

After all, the Four Seasons Hotel Miami had everything else covered. This experience allowed our family to be present with one another, which is hard to achieve day to day. This vacation helped me realize that it is important to step back, out of reality, even if it is just for a few days, and just be. When staying at a luxury hotel like this, you can have the most amazing relaxing vacation—even if it is with four kids!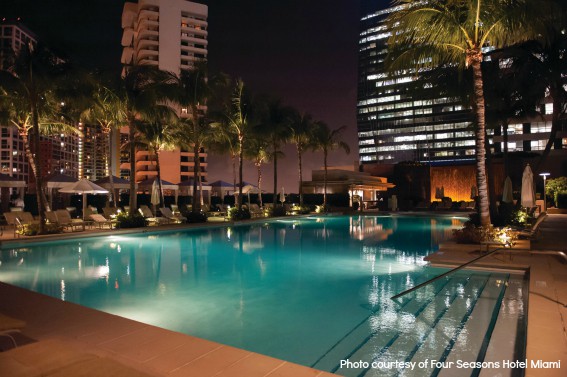 Marisa Langford is a Superoo and founder of Fit Kids Playground.
Disclaimer: Marisa's stay was courtesy of Four Seasons Hotel Miami along with complimentary dinner and breakfast at Edge. All opinions are her own.