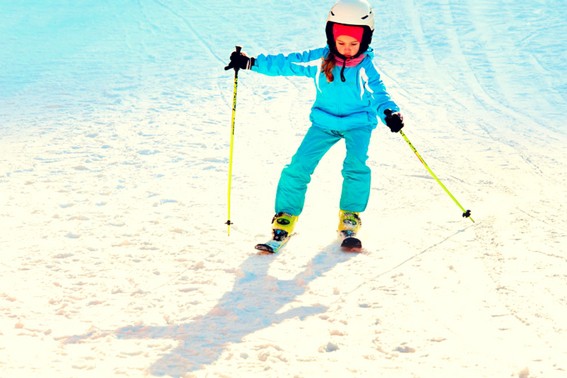 Photo by: BigStock/joyfull
As I tucked my only daughter into bed and kissed her sweet 7-year-old face, I couldn't help but think, "Am I crazy to take her and her brothers on a big road trip the next day into the snowy mountains and trust her on a ski lift and to fly down a mountain on slippery boards? Will we make it home safe? Wouldn't it be better to just stay at home where we won't take these risks?"
I am confident that I am not alone with my mom fears. If I've learned anything during the past 15 years of mothering, it's that all moms have anxieties about something related to their kids, whether it be their diet, potty training habits, learning abilities, social skills, or safety out in the big, wide world. But I have also learned through the years that taking our kids to new places and exposing them to new experiences has allowed them to learn and grow in ways that we can't reproduce at home. And I've learned that my own fears can be overcome – and we usually have so much fun doing it! Because of our conviction that travel is really good, I knew that taking my kids skiing and snowboarding was a challenge we should take.
Lessons Learned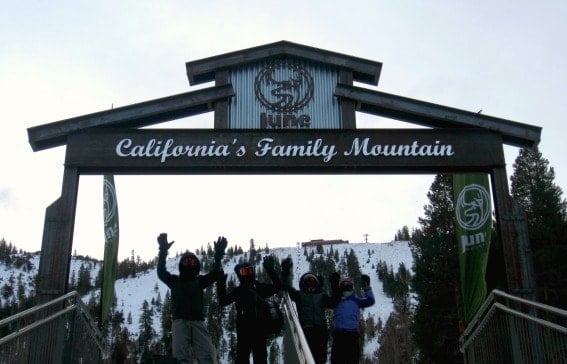 Photo by: Michelle McCoy
We took that trip to June Mountain last February and absolutely loved it. It's true that the roads were covered in white and I was white knuckled myself, but we were cautious (with our chains and emergency kit stowed in the back) and everything was fine. My son and daughter took ski and snowboard lessons and learned so much, including safety tips, by incredible instructors. It's why June Mountain is known as "California's Family Mountain," for their excellent care of kids and great slopes to start learning on. It's also true that I made some mistakes helping my daughter get on the chair lift, and the lessons I learned I want to share with you.
If you and your family are new to skiing and snowboarding, or even have some years of practice, it's a good time to learn family ski safety tips and get inside information on ways to enjoy a great day in the mountains safely. I polled our Superoos and have included their expert tips here – many of which I have learned from and will take with me on our next trip!
Trust the Ski School Instructors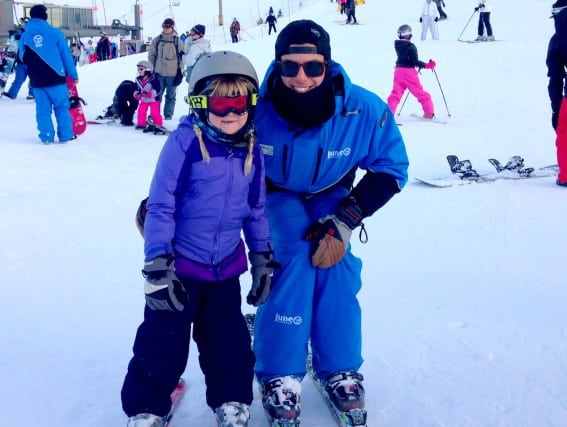 Photo by: Michelle McCoy
Taking lessons at any age and stage of life is our Trekaroo Expert top recommendation and is the best investment towards a great ski experience. Both my 7 and 9-year-olds had experienced the slopes several times, but taking lessons at June Mountain was completely worth it. They were outfitted with helmets and started out on the very small bunny slope. The instructor of their 7-1 class gauged their interest and abilities and then moved them on to larger slopes. They were taught chair lift safety, how to enjoy the terrain park, and were introduced to tree skiing. I think my daughter had way more fun with her instructor than with me later the next day. They gave them breaks with hot chocolate and had a full and healthy lunch in the lodge.
As one of our Superoos, Sarah Pittard, so sagely said, "Kids, especially mine, are more likely to listen to an instructor than myself on issues of safety and concern."
Communicate with the Ski Lift Operators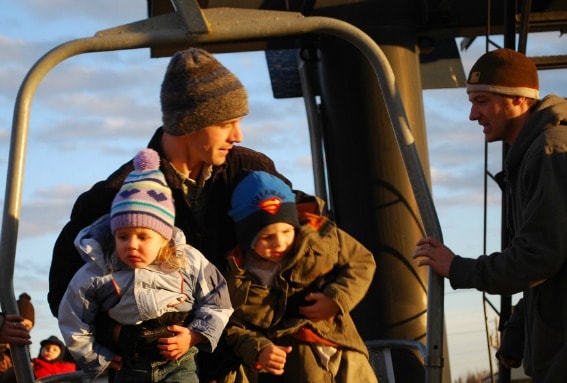 Photo by: Flickr/Public Affairs Office Fort Wainwright
With lunch in our bellies and our legs a bit rested, my 7-year-old daughter and I skied gently down to the chair lift loading area. My stomach churned with a bit of apprehension as I tried to remember all the steps that I needed to take to get onto the lift. Poles in one hand. Skis straight. Get to the yellow line. Turn around and grab the pole. Now, how in the world was I going to help my daughter?!? I had completely forgotten about the ski lift operators, there to help each person get on safely. The first couple of lifts, I tried to help my daughter and we were just a hot mess. She was half hanging on one time and they had to stop the lift and help her up. The second time, her skis swung up and conked the operator in the chest. I learned to shout ahead to them that I'd need assistance with my girl. They would slow down the chair and then really help her get on. Then I could pay attention to my own self and we would then both be secure. Phew!
Tip: Talk to lift operators before getting on the lift for tips on best ways to do it. Some lifts have moving carpets and are slow, others require skiing to a yellow line and getting ready quick. Lifts can slow the chair and help young kids get on.
Ski Lift Safety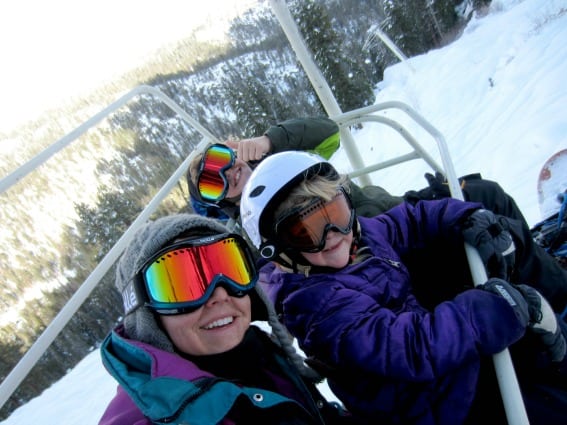 Photo by: Michelle McCoy
Just about every lift these days has a drop down bar of some sort. Use it! As soon as you are safely on, pull down the bar and tell your kids to hold on and stay safe. Teach them ski lift etiquette and safety tips as well such as: no swinging, bouncing, or rough housing. And if they accidentally drop something like a glove or ski pole, do not try to reach for it. Let it fall!
Terrain Park Safety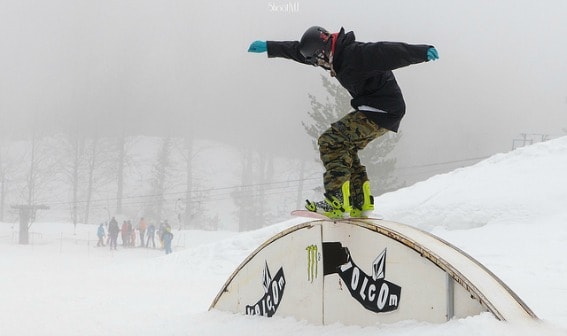 Photo by: Flickr/Micheal Evans
Terrain parks are all the rage on ski hills across the country. Jumps, rollers, rails, half pipes, and more await skiers and snowboarders of all abilities. My kids absolutely loved them and I was quite impressed to see their bravery. There are underlying risks to riding on a terrain park so skiers and snowboarders must be prepared before entering them. Read the signs on the mountain or take these great tips from terrainparksafety.org. Start small. Make a plan. Always look. Respect. Take it easy. A key for parents is to check out the run first to look for what their kids could do. Point kids to small features to try first. And always have a spotter below a jump to make sure that it is clear. Kids will quickly gain confidence and will know what they are able to do, but especially for teens, parents may need to put up clear boundaries.
Always Wear a Helmet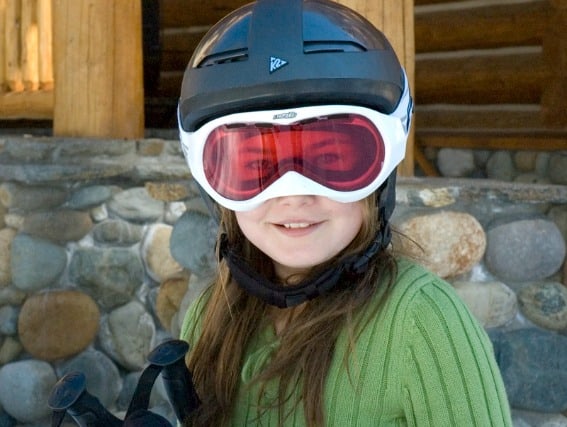 Photo by: Flickr/frankjuarez
When I was a kid, wearing glasses, braces, or helmets was a sure way to be teased. Thankfully, helmets are cool in this generation. If kids take ski or snowboard lessons, helmets will come with the package. If renting, helmets are typically an inexpensive add-on. Our CEO, LiLing Pang, wisely said that parents should wear helmets to set a good example. Ashamedly, I realized that I did not wear a helmet on our last trip, and thus my teens did not want to either. Next time we will, especially because my kids want to be on the daring side, riding through trees, surfing on berms, and riding the terrain parks.
Let Kids Pick Their Limits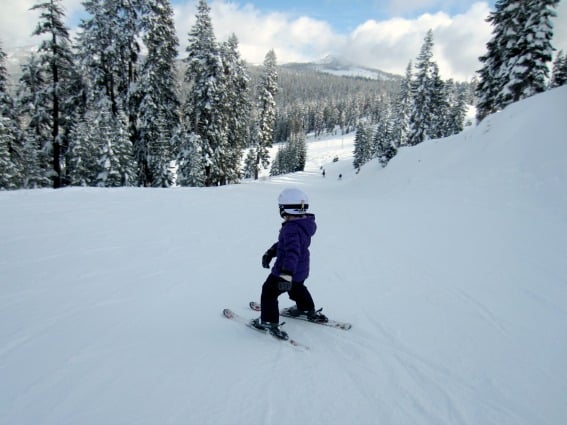 Photo by: Michelle McCoy
Confession time: I've been one of those moms that pushes her kids to do the next thing. I put my first baby on the slide at the park and helped him go down, even though he didn't want to! He eventually learned to love the slides, but it wasn't because I made him. That part of me came out on the ski slopes too. I heard myself yelling at him to go faster – and we both ended up really frustrated at one another. I had to eat crow as we rode the chair lift back up the slope. The lesson I learned? Let kids lead as much as possible. Our role as parents is to help them build confidence. Encourage where you can encourage, but if they are too scared to go on a run, don't push it! Let them pick the runs they can do and when they are ready, they will go down the harder ones. As our Superoo … said, "A nervous kid will ski scared and can get hurt."
Listen Up!
Take those earbuds out of your ears and listen up. I probably say this to my kids thee to four times a day. It's important on the slopes too! Listen up for snow cat beeps and move to the side. Listen up for faster skiers and snowboarders so you don't cut in front of them and cause a collision. And listen to each other while you chat on the chair lifts. Otherwise, how can you tell funny stories, play I Spy, or be on the lookout for the special trees covered in Mardis Gras beads and other funny things?
Proper Equipment
Photo by: Michelle McCoy
Don't skimp on the proper clothing. Good gear is essential. Kids need proper clothing that will keep them warm and dry. For example – no cotton! It doesn't need to be designer brands that are expensive, but choose wisely. Get help from experts to make sure your own skis, snowboards, bindings, boots, and helmets are in good working condition. When renting, take the time to make sure that toes aren't pinched in boots and that bindings are working properly. It's essential!
Miscellaneous Tips
Start kids young.

Don't stay out too long with kids. Let them rest when they are tired.

Include cell phone numbers on easy to lose equipment.

Take hot cocoa breaks throughout the day and catch your breath.

Know basic ski etiquette and teach it to everyone in your family.

If you can ski mid-week, it is well worth it for fewer people to navigate through.

Choose a resort or hometown run that is family-friendly and has a high value on safety.

Start a work out routine before you hit the slopes to prepare your muscles for the activity.

Don't push yourself or your kids past their limits.

Don't race through slow zones.

Enjoy the ride!
Featured photo by: Shutterstock