I used to dream of being an Olympic athlete and I watched in fascination as Kristi Yamaguchi and Tara Lipinski skated their way to gold medals in the winter games. I was sure I could do some of their moves, at least balance on one skate with my leg gracefully lifted behind me! As soon as I strapped on those single metal blades I found it was much harder than it looked. I slipped and slid all over the ice.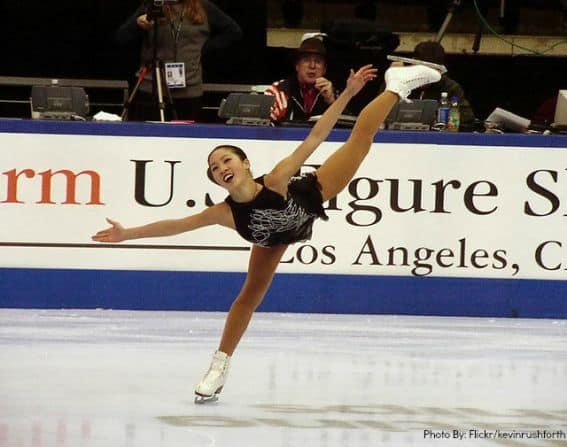 Our Ice Skating Experience
Before the 2014 Winter Games in Sochi, I wanted to give my kids the experience of ice skating before they watched TV in scorn at every bobble or fall of the Olympic athletes. I was expecting it to be a challenging experience for them but what I forgot was how much fun it actually is to skate around an ice rink. At the local outdoor mall near us, there is an outdoor rink that seems to magically appear between November and January. It looks rather tiny, as it is about half the size of a regular rink. When I was out shopping, I would pause, lean on the rail, and watch the people skate around. Some looked intent in their concentration, leaning over and trying not to fall. Some kids whizzed past the couples holding hands, and a few moms and dads were holding their young ones as they held onto the rail. The thing they had in common? Everyone was smiling.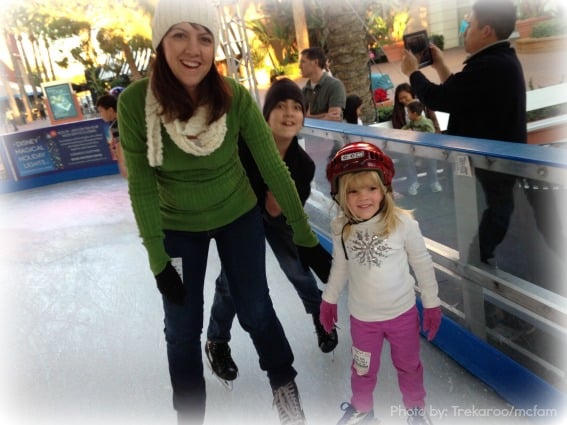 In December, our family headed to that outdoor mall with the tiny rink, put on ice skates, and stepped out for an 1 ½ hour session. The rink seemed to grow large before my very eyes and smiles appeared on all our faces. My older kids, used to rollerblading and riding scooters, had no problem at all. Even my 7-year-old was a natural. My 5-year-old girl had on double blades and with them she attacked the ice. She half-walked, half-glided, and fell down the rest of the time. But with every fall came more determination to get back up and keep going. I could not hold back my laughter as I saw her grin with delight as she moved quickly but with the grace of a baby learning to walk. The session flew by as we skated to the upbeat music and played a few games of tag. It was a magical, fun-filled time. My daughter's pants and gloves were wet, but she was the last one to get off the ice when the session was over. I think she could have kept on sliding and falling all night with a grin never leaving her face.
Best Places to Ice Skate Across the USA and Canada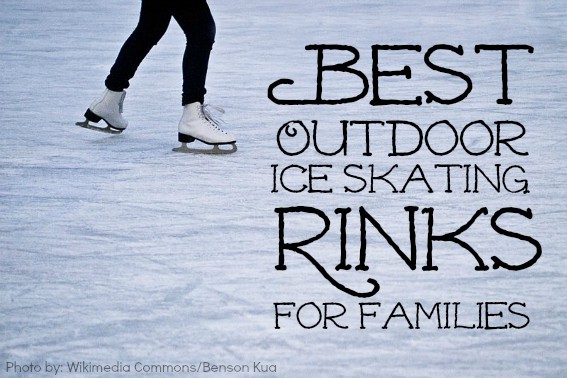 Find an Ice Rink near you and re-discover how much fun it is to ice skate! Your kids may not be Gracie Gold or Jeremy Abbott – 2014 Figure Skating Olympians- but they will appreciate the grace and strength of all the Olympic athletes as they figure skate, race around the ice, or play an intense game of ice hockey. Trekaroo's Guroos have compiled the best places to slip and slide on the ice with kids. Find the closest place to you, strap on those metal blades, and have more fun than you remember!
The Best Places to Ice Skate Across the US | The Best Outdoor Ice Skating Rinks for Families
Tips for Ice Skating with Kids
Have kids prepare by riding scooters, roller skates, or roller blades.
Wear gloves – very important for the times you or your child falls on the cold ice.
Wear layers – no matter the weather, you will get warm with the exercise, but the temperature or wind will be cold.
Kids who may fall will appreciate wearing knee pads, elbow pads, and a helmet – bring your own to the rink for first time learners. Many rinks provide helmets to young kids.
Kids who may fall will appreciate water-resistant pants.
Bring snacks and water bottles.
Ask for double-bladed skates for young learners.
As a parent, try not to hold onto young kids. They can learn their own balance better if they are not holding onto you. And if they hold on and fall, it is likely they will bring you down with them.
Find an ice rink with skating aids to help kids learn to skate and gives little ones a safe ride.
Featured photo by: Shutterstock