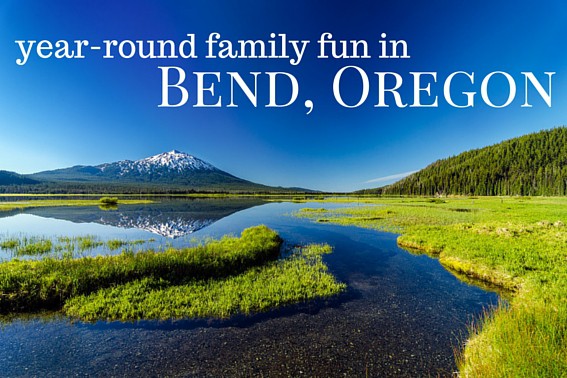 Photo by: Bigstock/jkraft5
Bend, Oregon is a little jewel in the heart of Eastern (although a lot of people call it Central) Oregon. It sits roughly 2.5 hours from the Willamette Valley in Oregon's high desert, which is a marvel in itself. There is really no bad time to visit as it sits in the rain shadow, which means it has a much drier climate than in other parts of the state. The mountains also create some of the best snow in Northwest and some of the most incredible scenic views!
Year-Round Activities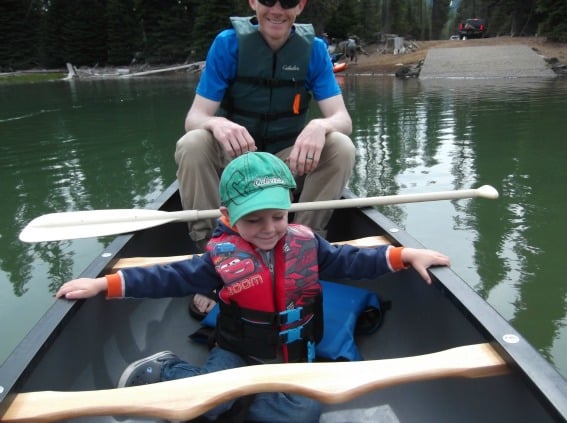 Photo by: Anne Flagg
There is no shortage of things to do in and around Bend, no matter when you visit. Wanderlust Tours is a great company for family-friendly, unique tours. You won't lack for something fun to do! Our Superoo had this to say about her family's adventures:
Since we were in Bend late spring/early summer, we decided to take a guided canoe tour with Wanderlust Tours. They took us on a morning excursion up to Sparks Lake, a remote lake between Mt. Bachelor, South Sister, and Broken Top. Wanderlust provided everything we needed for the trip besides snacks and sunscreen. Our guide was incredibly interesting, knowledgeable, and great with kids. He explained that the only time he can bring people to Sparks Lake is this time of year because it tends to dry up by July/August. The lake was quiet, crystal clear with beautiful views of the surrounding mountains. The best part of this tour was how the guide included our 4-year-old. It felt like the trip was designed to show our son a good time as well as teach him the skills that he needed to be successful and safe in a canoe. – Anne Flagg
Another fun activity for spring and summer in Bend is renting a bicycle or surrey and exploring the riverfront paths of the Old Mill District! Wheel Fun Rentals offers a number of choices for your wheeled adventures- they even provide the helmets.
If you're visiting during the winter, Wanderlust Tours offers several unique activities. For adventurers 8 and up, try an evening snowshoe tour.
Photo by: Sarah McCully-Posner

Our guide took us to the base of Mt. Bachelor and provided us with snowshoes and head lamps. Nick took us into the forest east of the Rainbow Chair explaining different aspects of our alpine forests and ecosystems while we tracked the stars across the sky. He really engaged my son in lessons on animal tracks  and showed him plants he could eat or make tea out of. We also learned about different rocks and volcanoes! It was a wonderful hour-long leisurely walk across very gentle slopes. – Sarah McCully-Posner
How about exploring deep under the earth?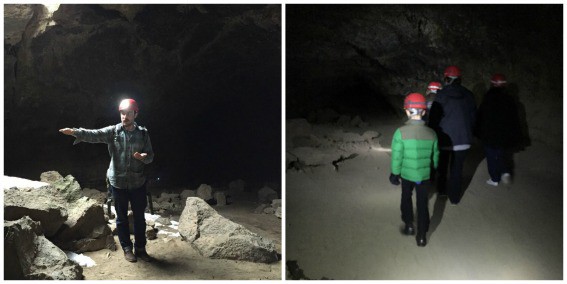 Photo by Sarah McCully-Posner
Our favorite was the caving tour! The entry to the lava tube was a set of stairs through a "skylight" which made the access easy for everyone. Scrambling over rock falls and through some tighter spaces were our son's absolutely favorite parts. We got to crawl through ash from 10,000 years ago! Travis showed us a bat, examples of tree roots digging deeper through the earth in search of water, cave coral, and various (non-harmful) cave bacteria and mold. One advantage of caving in winter is that it is warmer down there than outside! – Sarah McCully-Posner
Ready for a change of pace from skiing? A favorite activity for families in Bend is a visit to the Mt. Bachelor Snowblast Tubing Park. There are 3 sessions per day or you can buy a full day pass where you take as many rides as you are able during the selected time. Hold on tight and get ready to zip down the tubing hill!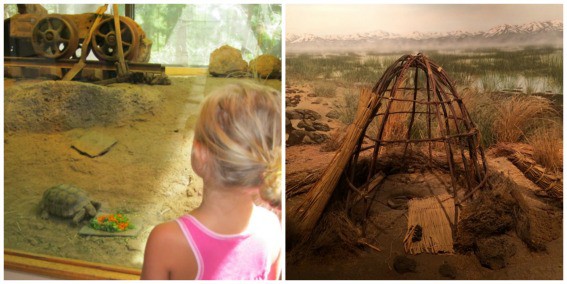 Photos by Anne Keisel and Tamara Gruber
Another must visit while in Bend, no matter what the season, is the High Desert Museum. The High Desert Museum offers inside views of lizards, snakes, spiders, tortoise, gila monsters, and a bobcat. Outside, there are otters, porcupines, lots of birds of prey, and much more. There is a nature path and a creative, interactive playground. There are great places for kids to play inside as well. Kids can climb the rocks up to an eagle's nest, play with the stuffed scorpion, rattlesnakes and lizards, dress up like a wild animal, and put on a show in the theater. Plan to spend lots of time here, as there is a lot to do and see!
Stay Here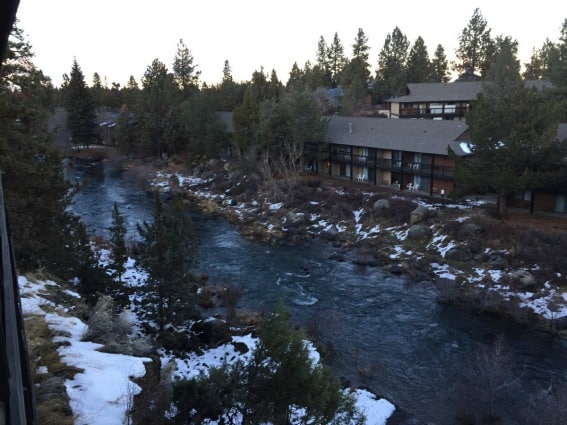 Photo by Sarah McCully-Posner
The Riverhouse Hotel & Convention Center is a recently renovated hotel located on the river in Bend. Despite being in the city, the location on the river makes you feel like you are out in nature. Rooms offer family-friendly amenities such as sitting areas, fireplaces, and small kitchenettes. Breakfast is included in the price of your stay!
Another great option for families is the Mount Bachelor Village Resort. Families can choose from hotel rooms or condos, depending on family needs. A pool and a playground will keep kids busy when guests are not out exploring all that Bend has to offer. This resort is also conveniently located just about a mile from Bend's Old Mill District, which has shopping, dining, and gorgeous views of the Deschutes River.
Eat Here
When in Bend and looking for a good meal, don't miss Jackson's Corner. A casual dining restaurant boasting a "local" & seasonal menu, Jackson's Corner has pasta, pizzas, salads, and sandwiches. Worthy Brewing is another great option. With both indoor and outdoor seating, this brewery also has a large grassy area for families to play. (And for the adults, great beer!) For your morning or afternoon pick-me-up, stop by Thump Coffee and enjoy their relaxed atmosphere. Kids will love the chance to draw on wooden boards!
Bend has so much for families to do and see, you'll find a new adventure every time you visit!
*Thanks to Visit Bend for hosting two of our writers for visits to Bend and thanks to Oregon Superoos Anne Flagg and Sarah McCully-Posner for their contributions to this article.