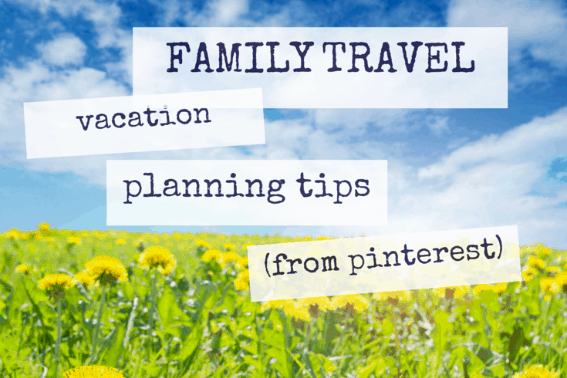 No matter how many times a person has traveled before having kids, and no matter how expert that person may be at packing, adding a child or two into the mix completely changes everything about the travel experience. Fortunately for all of us, Pinterest has come to the rescue with some great tips for making travel easier and more enjoyable for everyone! Here are some great ideas in regards to entertaining, feeding, and packing for your family friendly travel adventures that Pinterest has to offer!
Entertaining Kids on the Go


Until I started looking at travel games on Pinterest, I had no idea that Altoid tins were such a versatile item for keeping kids entertained! You can glue a small, flat LEGO piece to the top and fill the inside with building blocks and mini figures for a pocket-sized building set! Or use colored tape to mark off a tic-tac-toe board and add magnets for game pieces. Altoid tins are also a great size for making a small bed for a tiny stuffed animal. Another fun idea is to use printables pasted onto magnets for tiny diorama play! Diaper wipes containers are also very versatile. Fill one up with markers, paper, and stickers for hours of fun! Old DVD cases also make excellent coloring kits; they're just the right size to hold colored pencils and some sheets of paper; and they are thin enough to tuck into a purse or backpack!
Find out the best traveling apps to entertain (and educate) on Trekaroo.
Snacks and Meals on the Go


Carrying a sippy cup around everywhere gets old after a while, but kids often aren't able to drink from a regular cup without making a mess. Pinterest to the rescue! Place cling wrap over the top of a glass and insert a straw for an instant lid! If your travel menu includes a food item like applesauce or yogurt, tape a straw to the side of the container before you leave, then when your child is ready to eat, poke the straw through the foil top and drink. No messy spoons to deal with! For car trips, did you know that a shower caddy makes a great food and drink holder? For easy transport of small crackers and cereal, old creamer bottles that have been rinsed out and dried make the perfect container. They fit in a cupholder, keep snacks from being crushed, and the lids make it easy to pour out the snack.
Read up on Trekaroo's Ultimate Guide to Road Trips with Kids.
Making Packing Easier


Involving kids in the packing process is a great way to save time for the parents and also teach kids good life skills. Pinterest has lots of printables with packing lists both for older kids who can read, and younger ones who need pictures to guide them. Once your kids have gathered up their clothes, Pinterest suggests packing outfits in separate ziploc bags (use the cheap kind!), to keep everything organized and make grabbing clothes a snap. This also keeps dirty and clean clothes from getting mixed up in the luggage. Anything that keeps me from having to wash extra clothes is a winning idea in my book! If you're taking a trip via automobile, Pinterest suggests ditching the suitcases and packing in plastic tubs instead. They are stackable, easy to transport, and keep everything organized and easily accessible! Another Pinterest tip is to pack suitcases/tubs by day rather than by person. This cuts down on how much needs to be taken in and out of the car each day. Plastic bags or even pillowcases can be used to keep each person's items separate!
Find more winter packing trips on Trekaroo.
Car Trip Fun


Did you know that a cheap cookie sheet (pick one up at the dollar store), makes a great entertainment system for kids? Stick magnets on the back of puzzles and use the metal cookie sheet as a puzzle base. Bring along a set of magnetic fridge letters and use the cookie sheet to spell out words. Or laminate a set of printables, add magnetic tape, and your kids can have mix and match fun. The cookie sheet makes for a great place to enjoy snacks as well. Another Pinterest tip for road trip entertainment is to package up "trip out" and "trip back" books and toys separately, so kids have something new and fun to enjoy both directions. A fun car trip idea is to make a set of "Would You Rather" questions, attach them with a ring clip, and stick them in the car for easy conversation starters. Or how about a car trip scavenger hunt? Pinterest has printables for scavenger hunts for both little kids and tweens/teens.
Learn how to save money on road trips at Trekaroo.
We'd love to hear from you. What great ideas have you found on Pinterest that make your family travel more convenient? Leave a comment below and let us know!