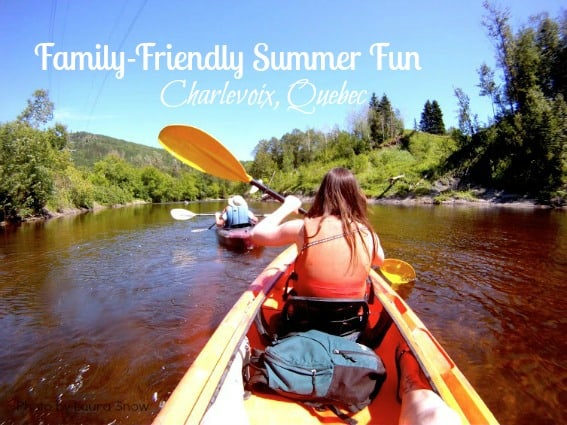 "Watch out, here comes more whitewater!"  We had no idea that we would be hearing those words from my mother-in-law when we arrived in Baie-Saint-Paul for a family vacation. The Charlevoix Quebec area in Canada is normally known for its skiing at Le Massif Mountain, but we found plenty of adventure and relaxation by the mountains in June. My mother-in-law came with us to make this a multi-generational, girls-only vacation. The poor woman had no idea we were going to send her down a river in a kayak through whitewater rapids!
Outdoor Adventure
Though our tour with Katabatik Aventure down the Rivière de Gouffre was quite an adventure, we found it to be accessible for all ages. The whitewater rapids were all relatively small, and though we were nervous about trying it, we had a lot of fun! Along the river there were many beautiful sandy beaches to stop and picnic or take a swim, but back on the kayak we could simply sit back for much of the trip and let the current carry us along.
Where to Stay

Baie-Saint-Paul is only an hour's drive from Quebec City. A commuter train from Quebec City is now available to the area with a drop off right at Le Germain Hotel Charlevoix. This modern, yet comfortable, family-friendly hotel has quite the history. The hotel is called La Ferme because it sits on the site of what was an enormous farm run by the Little Franciscans of Mary's domaine. Unfortunately, the farm burnt down in 2007, but the hotel honors its history through the decor and theme of the property. The location of the hotel is excellent for walking around Baie-Saint-Paul and the views of the surrounding mountains and the St. Lawrence River are beautiful.
Where to Eat
All of the restaurants at La Ferme Hotel are highly recommendable. The hotel will make up a delicious picnic lunch to go which includes bread, cheese, sandwiches, and brownies your children will love! We had a delicious dinner of arctic char and pudding Chaumeur at Les Labours made by Chef Sylvain Dervieux. My tweens really enjoyed the pizza from Le Bercail and the breakfast sandwiches on croissants from Café du Marche.
Spa Experience
The Spa du Verger at Hotel La Ferme is a wonderful place to relax and have a thermal experience. There is a hot pool overlooking the valley, a Nordic cold pool, spa services, a Finnish sauna, a eucalyptus steam room, and a snow fountain. I had a very relaxing massage and my daughters enjoyed having their thermal experiences. Children are only allowed at the Spa during specific hours during the winter and summer, so check before you make plans. The hotel is also building a new pool for families which will open soon.
Ready to do some shopping? It's only a short five-minute stroll from the Hotel Germain to Rue Saint-Jean-Baptiste where you'll find quaint shops and restaurants. The Fraicheurs et Saveurs shop is a great spot to get ice cream; they also carry shelves and shelves of candy!
Flavour Trail of Charlevoix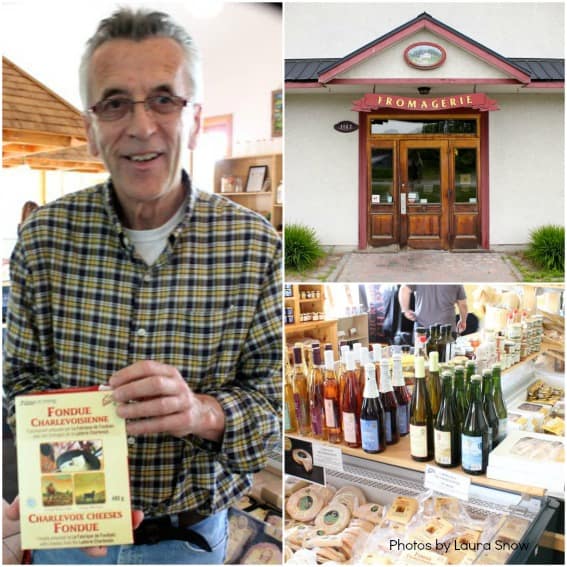 Laiterie Charlevoix Economuseum
One of the highlights of the trip for all of us was our tour of the Laiterie Charlevoix Economuseum. We learned how to make different types of cheese, what types of cows milk is used to make cheese at their factory, and got to taste test the cheese at the end. Our tour guide Richard was very enthusiastic about the Laiterie. He described the work they do and how they are making a difference by protecting the Canadian Cow species by re-using the cheese by-products to make energy. The history of cheese-making is preserved at the Economuseum. They also make their own ice cream and have a restaurant on site. We loved the Origine de Charlevoix cheese the best!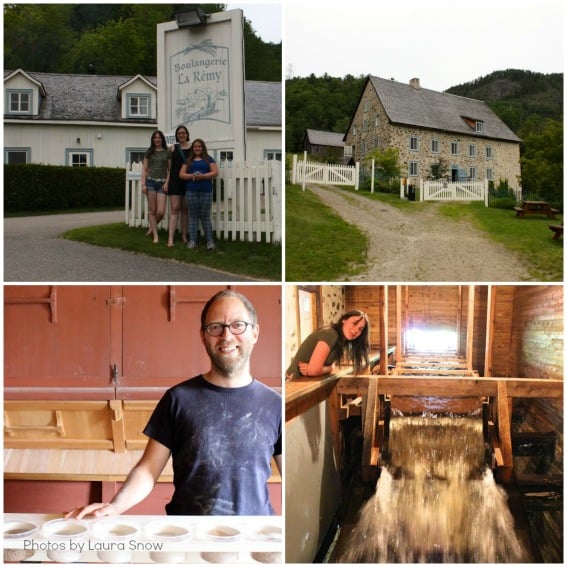 Laiterie Charlevoix Economuseum
We also visited the Boulangerie et Moulin de La Rémy, a 19th century watermill and bakery where they mill their own flour and bake it into breads on site. The mill dates back to 1827 and has been fully restored by Héritage Charlevoix. The tour peaked our interest, especially when they opened up the dam to let the water start turning the huge wooden water wheel which started the gears in the mill.
Both of these museums are part of the Flavour Trail of Charlevoix, which is a selection of over 40 growers, restaurants, and producers who open their doors to visitors. Some other fun, family activities Charlevoix offers during the summer are swimming, camping, heli-touring, rock climbing, and whale watching. It would be worth staying for a week to take it all in!
Disclosure: Our family was hosted on this visit so that we could experience all the fun the region had to offer. All opinions posted here are our own.