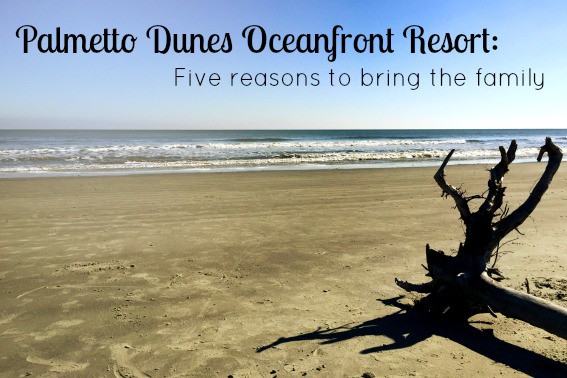 Spacious villas, three miles of sandy shoreline, and a plethora of activities for adventurous families; it's easy to see why Palmetto Dunes Oceanfront Resort was named to the Top 25 of Travel + Leisure magazine's list of the World's Best Family Resorts. My family and I visited this Hilton Head Island resort during the winter, but the chilly weather didn't stop us from enjoying ourselves. We still managed to pack in multiple days of exploring and fun. Here are the top five reasons I would recommend Palmetto Dunes as the perfect South Carolina destination resort for families.
All the Amenities of Home
You won't experience a stuffy hotel room at Palmetto Dunes. Families enjoy the benefit of fully furnished vacation rental villas, with the convenience of "hotel" booking and reservations via a front desk. Our family stayed in a spacious villa in the Inverness neighborhood of the resort. It included two full bedrooms and bathrooms, a smaller child-decorated bedroom, a full kitchen with laundry area, and an open dining and living room. The two-story living space and expansive windows overlooking the golf course felt fresh and airy, as if we were settling in at home.
Read more about our villa here: Palmetto Dunes.
Bike-Friendly Layout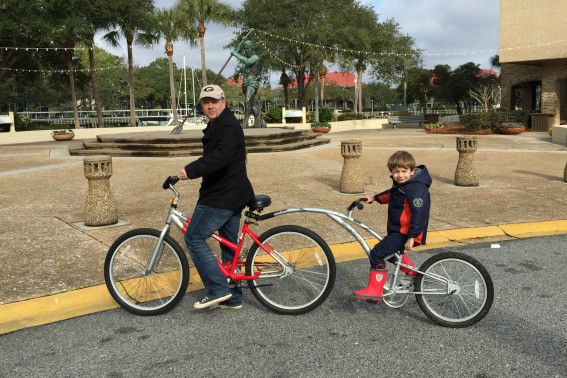 Palmetto Dunes rests on 2,000-acres. The streets are lined with towering Southern Live Oak, draped in curly Spanish moss and an 11-mile saltwater lagoon snakes through the resort. This beauty simply cannot be appreciated from the confines of a vehicle. Luckily, the resort is laid out with wide sidewalks, pedestrian crossings, and bike paths. Using bikes we rented from Hilton Head Outfitters, our family toured the resort daily. We rode to breakfast, to the beach, and to play tennis. We even rode to Shelter Cove Marina for another view of the water – not across the busy highway, but through the bike/pedestrian underpass that connects the harbor with the resort. Our boys thought that exploring via bicycle was the best part of the vacation.
Read more about our bicycle adventure here: Hilton Head Outfitters.
Fun and Easy Eats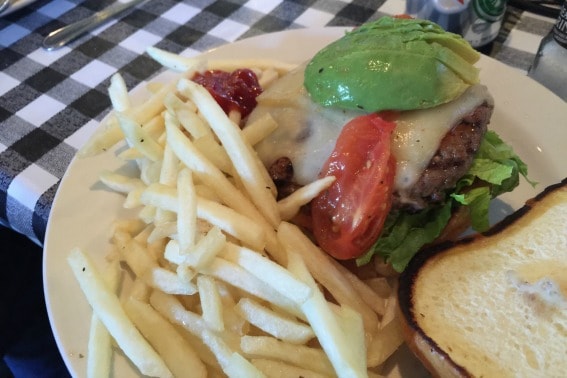 Our family ate most meals at the villa. Let's face it, the best part about vacationing with a fully-equipped kitchen is the savings that comes with preparing your own meals. There are multiple grocery stores in the area; we picked up steaks at Whole Foods and cooked them on the grill out on the back patio. We did, however, sneak in a few dining experiences. I recommend a bike ride to the General Store for breakfast. We enjoyed their sinful cinnamon rolls and coffee. We also dined at Big Jim's for lunch one afternoon after a bout of tennis. The courts are across the street from the golf course, where Big Jim's is located. It's a family friendly pub with above-average fare. There are TVs, coloring pages for kids, and healthy sides on the children's menu.
Read more about our lunch here: Big Jim's.
Beautiful Beaches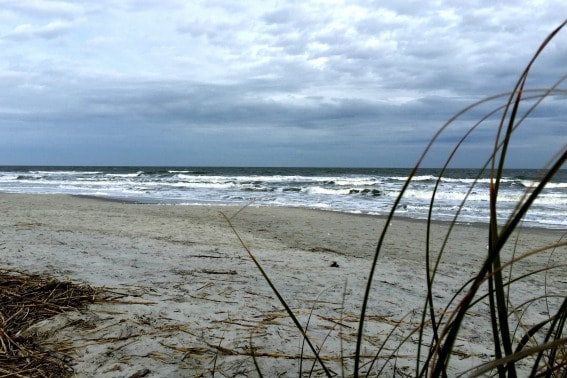 While we visited Palmetto Dunes, the weather was windy and chilly. That didn't stop us from visiting the beach several times, though. A number of beach access points exist within the resort, but our favorite spot was near Dunes House. Dunes House is another resort restaurant, closed during the winter months, but appealing enough to draw a crowd to its deck even while shut down for the season. We parked our bikes here, chatted with a few locals lounging in the restaurant's deck chairs, and then went to see the ocean for ourselves. The sand was warm, white, and soft. The waves brought in numerous treats for the boys including gnarly driftwood, white sand dollars, and large horseshoe crabs. We cannot wait to return in summer, so we can have fun in the water, too.
Activities Galore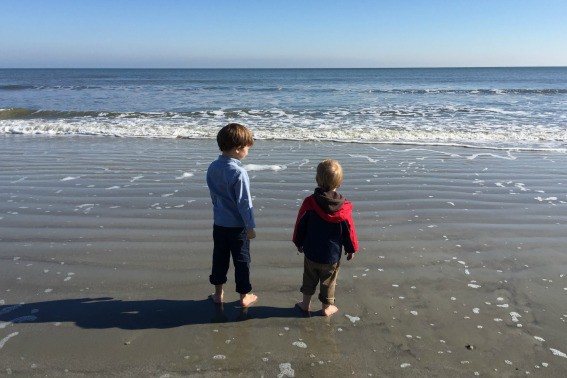 The list of activities for families at Palmetto Dunes is gargantuan. In addition to bike riding and beachcombing, we also played tennis and explored the area via boat charter. We played in the sand at "vanishing island," watched dolphins dance in the backshore waters, and picnicked on a private island. Hilton Head Outfitters, who supplied our bikes, also offer canoes and kayaks for exploring the resort's lagoon. During warmer months there is opportunity to try parasailing, paddleboarding, golf and tennis clinics (for kids or adults), surf school, and family waterskiing opportunities.
Palmetto Dunes Oceanfront Resort knows families. In your villa, around the resort, and on the water…there's opportunity for excitement and relaxation at this Hilton Head Island escape.
All photos attributed to the author, Lesli Peterson.
Disclosure: Thank you to Palmetto Dunes Oceanfront Resort for hosting my family and me. It did not impact my opinions here.