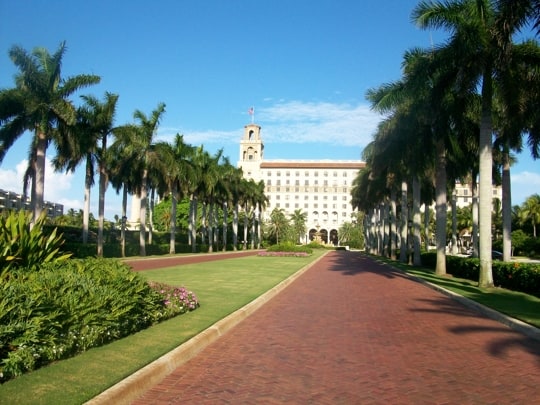 Listed on the National Register of Historic Places, The Breakers Palm Beach truly is an elegant oceanfront resort destination ideally suited for families of all ages. I have fond memories of visiting The Breakers as a child. Thanks to ongoing revitalization efforts and more than a few impressive expansions, the resort looks even more amazing than I remember! Let yourself go to this Palm Beach island paradise. Once you arrive at The Breakers Palm Beach, you will find it easy to leave any cares you may have behind. The warm ocean breezes and professional friendly staff will ensure that your resort experience is even more wonderful than you image it could be.
Trying to figure out what to do first was the biggest challenge of our stay! As we wandered through the grand lobby to our room, our preschooler danced like a princess under chandeliers and across colorful and she claims magical carpets. Yes, this is the place where fairy tales can come true. I have to admit that I felt like a princess, too.
Since we could see and hear the Atlantic Ocean waves from our hotel room, we decided to hit the private Beach Club. We were told that "just a flipper kick away" we could be swimming alongside the most beautiful schools of tropical fish. There are plenty of water activities to choose from including scuba, snorkeling, boogie boarding, even swimming lessons- and this was only our first hour at the resort. Time to slow down! We took a break from the sun in a spacious, well stocked poolside cabana before splashing in the zero entry family friendly active pool and separate children's pool. There are plenty of comfortable lounge chairs and sunshades arranged around each pool deck. My favorite escape was the hammock tucked between lazy palm trees. Seagulls could be heard off in the distance which added to these truly relaxing moments. By the end of our stay, we made a splash in all five pools and also the four whirlpools. The zero entry pool rated highest among my tiny tots.
If you forget anything or if you just want to experience some of that world famous Palm Beach shopping, there are shuttles to take you to nearby Worth Avenue, but there's really no need to leave the resort. We found some adorable toys at the Coconut Crew shop and a new swimsuit for mama at the Absolutely Suitable swimwear shop. The Beach Shop had a great selection of beach toys, sunscreens, hats and sunglasses. The girls even tried the latest Guerlain perfume for our evenings out to dinner. There are many more shops to discover but our tummies were rumbling. It was time to eat!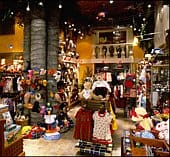 Everyone in the family had a delicious meal at The Italian Restaurant. Whoever came up with the idea to put this family friendly casual restaurant in view of the nearby entertainment center is a genius! The grown-ups were able to kick back and relax while the kiddos were off playing all sorts of games. The fish tank, coloring and craft tables, staffed dress up and story time areas kept the younger kids entertained while the older kids had fun challenging each other to video, arcade and basketball games. There's even a mini-theater showing kid friendly movies. At the resort, there are several other dining options but we kept returning to this family favorite. The menu is varied enough for the adults but kid friendly for even the pickiest eaters.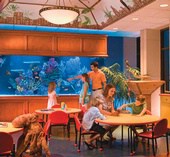 For breakfast, The Circle is a must! You can order off a menu but the tempting breakfast buffet will make it irresistible. Give in…you're on vacation and this buffet is one of the best parts of the fairy tale!
Now that our tummies were happy, we hit the ground running! Mama took the kiddos on a tour of the grounds to see the organic herb and vegetable gardens, Family Entertainment Center and playground, while Daddy visited the Golf and Tennis Clubhouse for a private tennis lesson and clinic. The landscaping is picture perfect! We captured some great photos for our annual holiday cards as we strolled in the gardens. We also learned that some of the herbs grown on property are used in the restaurants. No wonder the food tastes so good!
When it was time to leave the resort, the kiddos were given a very special treat. If you want to find out what treasure waits for you, you'll just have to make plans to visit The Breakers today. Your fairy tale dreams will come true.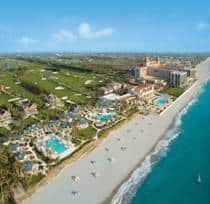 Photos courtesy of The Breakers Palm Beach