-Courtney Milleson is a Trekaroo Superoo , a serial domestic traveler, wife, and mother of three precocious children.  When not busy running her life, she's busy blogging about her running and life.
Colorado Springs, nestled in the foothills of the Rocky Mountains just an hour south of Denver, boasts stunning mountain scenery and plenty of kid-friendly activities and adventures; it is a wonderful place for families to visit.  Here are some favorite things for families to enjoy while in Colorado Springs.
Natural Beauty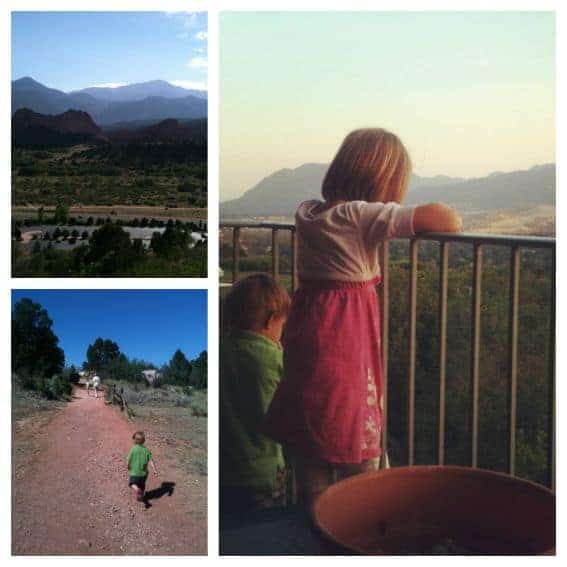 There's no better place in Colorado Springs to take three kids who've just spent six hours in the car than the Garden of the Gods. Who could imagine that sandstone, aided by wind and water could turn into such a magnificent example of natural beauty (and such a great place for kids to run and explore)? There are rocks to climb, trails to hike and pictures to take.  And the best part of the whole thing?  It's completely free!  Before hiking several of the trails, my family visited the Visitor Center across the street from the rocks.  From there, we got a pretty incredible vantage point of the landscape.   We also watched a short movie about the Garden's history – both geological and recent.
We took a detour from our scheduled activities and stopped by The Cave of the Winds one afternoon.  My husband and I had done the tour previously, but we'd never taken the kids.  Since our last visit, they added some fun features to the exterior.  Visitors can tie on and do a high ropes course challenge literally above a canyon. There's nothing below your feet except a bit of rope and lots of air.  Incredible!  The cave tour was as expected – dark, dank, and full of geological wonder.  The cave tour includes an introduction into how the caves walls are formed through millions of years of mineral deposits, a look at just how dark a cave can be, and some local history of the cave.  We struggled to keep our little guys' (3 & 4) hands off of the walls.  As best we tried, I'm sure there's a bit of their oily little hands somewhere down there!  And how cool is it to say that you've climbed around a cave for the afternoon!
Need some more outdoor adventuring?  Visit one of Colorado's free National Parks.
 Bugs, Olympians, and Santa Claus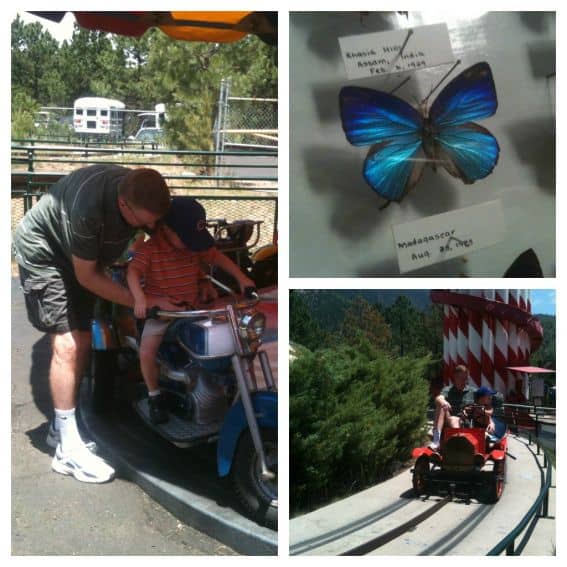 Beyond being blown away by its natural beauty, part of the fun of visiting Colorado Springs is enjoying its diverse array of activities. Tucked into the side of the hills in an extraordinary collection of exotics bugs from all over the tropics!  The insects at the John May "Bug" Museum have been collected from all over the world, especially from tropical regions. The exhibit contains over 100,000 invertebrates; however, only about 8,000 are on display. Who knew there could be such a unique and vast amount of insects in the entire world?  The exhibits are switched annually, so you'll something new on every visit. While I have to admit that all those tiny legs and antennae made my skin crawl, my husband and 8-year-old daughter enjoyed wandering up and down the various cases looking at the different types of moths, beetles, and butterflies.
Do you need a Christmas fix year round?  How about a kid friendly theme/amusement park?  If you said "yes" to either of these, The North Pole is for you and your family.  The park, which is built into the side of Pike's Peak and dedicated to all things Santa Claus, caters specifically caters to our little guys. As a parent of little toddlers, it's often hard to keep my little guys happy at amusement parks. Everything is too… fast, loud, jerky, etc., but these rides were meant for them.  The park also features gingerbread houses holding a face painting booth, refreshments, a post office, a nativity, and a magic show.
in addition to Christmas, I love the Olympic spirit.  I love chanting "USA!  USA!" at the TV while fellow American's compete.  I'm a nerd and I'm passing it along to my kids.  So when we had a chance to visit the training center at Colorado Springs – I was all in! The Olympic Training Center was a lot of fun, and very motivational!  It was great fun to see the kids standing on an Olympic medal award stand!  The trip is a lot of walking, but it's worth it to see the various training facilities used by our Olympians.  We were fortunate to travel to the training center just prior to the London Olympics. We saw one woman exercise using a medicine ball outside.  I watched her work knowing that so much of what she wanted in life had to be tied to her physical strength.  I have no idea what sport she competes in, but I saw many dreams in her workout that day.
Tucked into the side of Cheyenne Mountain is a 146 acre zoo home to over 500 animals, the Cheyenne Mountain Zoo. The zoo is home to a wide variety of animals including bears, a Bengal tiger, monkeys, hippos, grows, and seasonally visiting alligators. Highlights from my family's visit included pony rides and the opportunity to feed the giraffes.
Check out historic MUST SEE attractions in Colorado Springs.
Delicious Downtown Food
I know not everyone agrees, but when I'm in a new location, I like to have my family enjoy local eateries.  Upon arrival, we scooted downtown to grab a bite to eat.  One of the things my mom always told me about judging the character of a town, was to take a look at its downtown. Based on its looks, I'd say Colorado Springs has a lot going for it. There are beautiful plantings boasting butterfly sculptures on many of the corners.  The downtown area is also very pedestrian friendly. That was a comfort to me with my three kiddos.
We ate at a restaurant downtown, Springs Orleans.  It was a bit more upscale than we would have normally chosen with our kids, but the wait staff was helpful and visited with us a while. They were curious about why we were there – especially when we explained we'd just driven in from Texas!
While in Colorado, it's essential that we tested out some of the local breweries!  We met a college friend and her family for drinks and dinner at Trinity Brewing Company.  The food and drinks were delicious.  The portabella sliders were a perfect choice for me, and my kids had ample choices for their dinner as well.  They were all excited to get fresh root beer as well.  The dinner was a little pricey and seating was difficult to navigate.  But, it was well worth the time and energy spent.
Explore kid-friendly restaurants in Colorado Springs.
Luxury Lodging

Photos by: Courtney Milleson
Our hotel, The Lodge at the Garden of the Gods, was a treat for my family.  Settled in the cliffs just above Garden of the Gods park, there's not one view of the beautiful sandstone formations ruined by frills or fluff.  It's just pure, natural beauty.  Our room on the second floor captured the splendor of the view through floor to ceiling windows.  Just outside was a small, private balcony where my kids and I sat watching the sun set and enjoying the bunnies hop along the perfect manicured lawn just below us.
The hotel room was perfect for our family of five.  There was a couch and two queen sized beds – perfect for traveling with a larger family.  The room was nicely appointed with a flat-screen tv, fireplace, table and chairs, and coffee table.  The room had crisp clean white linens and super soft pillows.  I enjoyed relaxing in the bed with the screen pulled across the sliding glass door.  We slept with the sliding glass door open one night just to enjoy the cool mountain air.
Just as you enter the room, there is a huge dressing and bathroom area.  The dressing area has two sink stations and floor to ceiling shelving (with coffee maker and in-room safe).  Just off of this area is a full bath.  The room also had a walk-in closet.  I didn't realize just how nice that was until I reflected back on our trip.  Instead of fretting about the messy suitcases lying about with all of the future laundry in them, they were out of sight, out of mind!  It was such a nice gift to me!
The hotel lobby and dining rooms were exquisitely decorated.  The hotel has a rich history; there are many black and white photos of the facility throughout the 1950s.  Again, the picturesque isn't ruined.  Floor to ceiling doors open up the rooms giving a view of the majestic sandstone rocks of the Garden of the Gods and the Rocky Mountains.  The lobby has a definite lodge feel with a roaring fire in a rock fireplace and antler accessories.

Nearby Attractions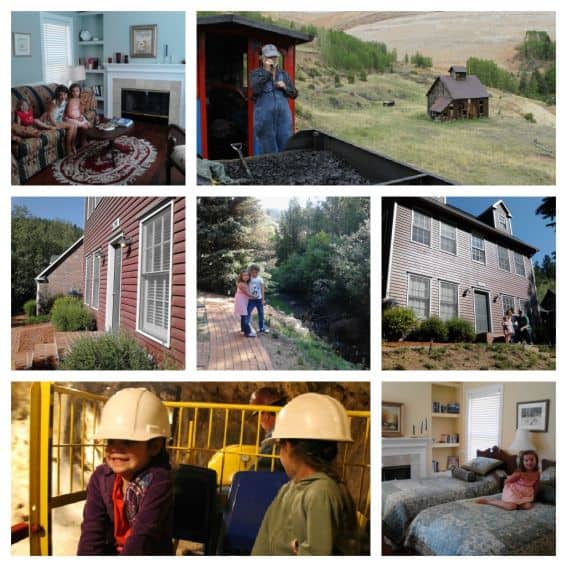 Photos by: Trekaroo/filmdncr and Trekaroo/beechstzoo (mine photos)
Just a short drive away from Colorado Springs, take a detour back in time with a visit to Cripple Creek.  Kids will love panning for gold at the Mollie Kathleen Gold Mine Tour, which takes visitors through an old fashioned mine.  Tours are also offered at the Cripple Creek & Victor Gold Mining Company, the working mine in town.  Reservations fill up quickly.  In addition to gold-panning history and lore, hop aboard the Cripple Creek & Victor Narrow Gauge Railway.  Set up camp at The Village at D & B Ranch, where your whole clan can sprawl out in one of their massive home-away-from home rooms.  Situated off the main highway, just inside Mueller State Park, your family can snuggle up at night to the sounds of the indoor fireplaces, and wake up to the gentle rhythms of the creek outside your door.
Colorado features a plethora of kid-friendly railroads.  Hop aboard here.
We had a magical time in Colorado Springs.  We are so glad we went and experienced the joy of being away together as a family. Thank you to our many wonderful hosts!  You will not be soon forgotten!
*Disclosure: The author received complimentary lodging, tours, and activities from the very generous Colorado Springs CVB for the purpose of this review.  All opinions remain her own.