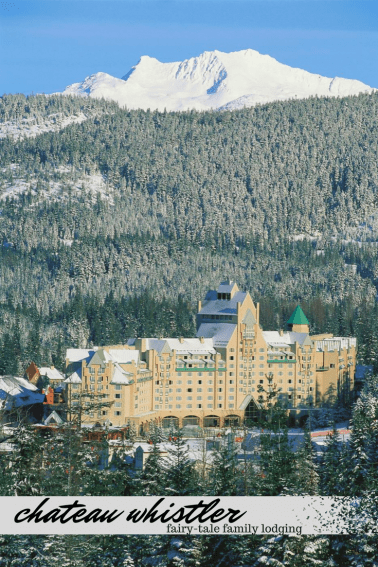 My family and I arrived at the entrance of the fairy-tale perfect Fairmont Chateau Whistler with a car loaded down with five suitcases, five boot bags, five pairs of skis, a full cooler, four grocery bags, and two tote bags of holiday gifts. As soon as we were greeted by the friendly bell service staff, we walked away from it all. The next time we saw all our gear, it was being delivered to our adjoining deluxe rooms as we watched a light snow fall onto the pine trees and peaks outside the window. Yep, I was definitely living in a fantasy story.
Fairmont Hotels are known for setting the standard in luxury, but beyond the gracious and elegant lobby, the beautiful decorations, and crackling fireplaces, what makes the Fairmont Chateau worth the splurge for families is way the staff makes your ski trip easier, more relaxing, and more accessible at every turn. After handing our car keys over the the valet, we never needed our car again during our Fairmont stay: we skied straight to the lifts, walked to all dining, and spent every other vacation moment enjoying the Fairmont Chateau's heated pools, recreation, and activities.
Only have a minute?  Check out this video on the Fairmont Chateau:

Fairmont touches that make your trip
Have you experienced a ski vacation with a ski valet? I hadn't, until our Fairmont Chateau stay, and now I'm ruined forever. I'll never be able to go back to the mundane and annoying practice of carrying, transporting, and storing my own family's skis. Thanks a lot, Fairmont.  At the Fairmont Chateau, all skis and boards are stored for you in the ski valet, located on the lower level of the resort. When you're ready to ski, simply walk down in your ski gear, and retrieve your skis and boots. You can even store snow boots or other shoes there while you ski. When you return, just hand your skis to the valet, and walk away. (I love the walking away part.) Best of all, Fairmont enjoys ski-in, ski-out access to Blackcomb, so you're never more than a few feet from the lifts.
Resort activities and amenities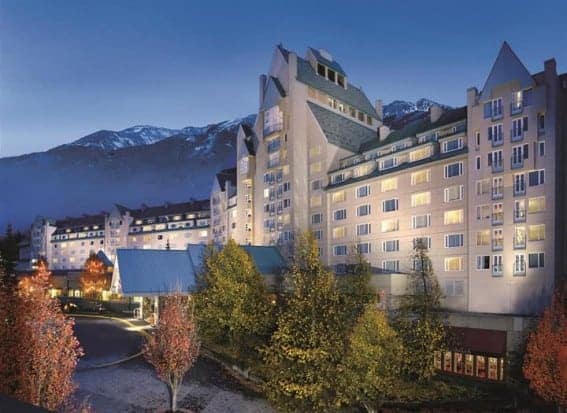 Every afternoon when the lifts stopped running, we skied straight down to the Fairmont, dropped off our skis, and changed into swimsuits. That's right: the Fairmont sports two heated outdoor pools and four hot tubs (three outdoor, one indoor). Located adjacent to the spacious fitness center, the pool area also includes a sauna, locker rooms, and drink and snack service.
Before arriving at the Fairmont, I was sure my kids' favorite activity–other than skiing–would be swimming. And they did love it, but not as much as they loved sledding outside the Fairmont under the twinkling lights and falling snow. I applaud Fairmont for checking out free toboggans to guests, recognizing that kids will usually prefer to make their own fun.  Our kids spent every evening sledding until we dragged them back indoors.
For parents, huge fireplaces dot the Mallard Lounge on the lobby level, and a full service spa is available. Our entire family came to rely on the delicious infused water always available as we crossed the lobby apres ski.
We loved the ease of Fairmont's valet parking service ($35 per night), but self parking is also available (though still fairly expensive). We enjoyed walking to Whistler Village in the evenings, but a complimentary Fairmont shuttle will also drive you.
Room amenities
Fairmont Chateau rooms do not come without a high price tag, but you will experience in-room amenities as well. All rooms have wi-fi (free when you sign up for the no-cost Fairmont President's Club), Keurig coffee makers, daily tea and coffee, hot water heaters for tea, in-room safes, and mini-fridges. We found it easy to bring in snacks, breakfast foods, and lunch fixings. All deluxe rooms also feature both tubs and showers.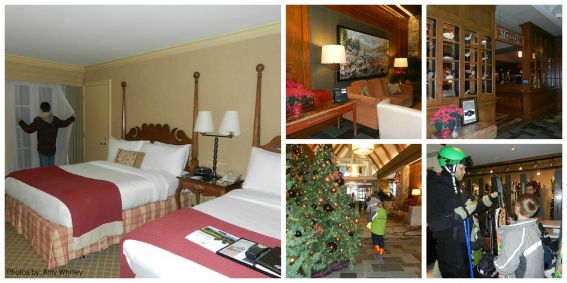 Fairmont dining
The Fairmont has several dining choices, but we opted to walk to the Whistler Village for the family-friendly dining and atmosphere. The exception: the warm and friendly Mallard Lounge, which offers, in my opinion, Whistler's best cocktails and apres ski appetizers. Kids are welcome in the lounge until 8 pm, and we found ourselves here every evening while the kids played in the snow right outdoors. In the off-season (spring-fall), the Mallard Lounge offers discounted drinks and free appetizers every Friday night (we caught their last one on December 21st). The whole family ate a light meal for the cost of a few drinks.
In the Whistler Village, we enjoyed the Italian fare and pizza at Carumba and the apres ski atmosphere at Earl's. Also recommended (though not tried personally): the crepes at Crepes Montagne.
Ski packages and lift tickets
Before booking a Fairmont Chateau vacation, check for family ski packages. It's almost always a cost savings to buy lift tickets through the hotel in a room package. Otherwise, the concierge is always on duty to help families secure the lift tickets they need.
A stay at the Fairmont Chateau may be a once-in-a-lifetime destination for many families, but is well worth saving up for. I can promise you'll never feel more relaxed on a family ski trip!
My family and I experienced the Fairmont Chateau Whistler as guests of the resort. While we appreciated this opportunity to share tips and advice with Trekaroo families, it not come with the expectation of a positive review.