I stared at the horizon trying to catch a glimpse of the California Coast. I was hoping to spot something familiar when the wide expanse of a bridge appeared right in front of our cruise ship. The Golden Gate Bridge glistened above the water, spanning the distance between two jagged hills. It was spectacular! Even more amazing was actually sailing under it, with the Sapphire Princess cruise ship clearing the distance by 20 feet (according to the captain's announcement). I had to drag my kids away from the fun they were having in the basketball court in order to see this wonder of human construction. My hubby, my mom, and I stared in wonder and took as many pictures as we could, and then waved to the pedestrians on the bridge who were waving back at us.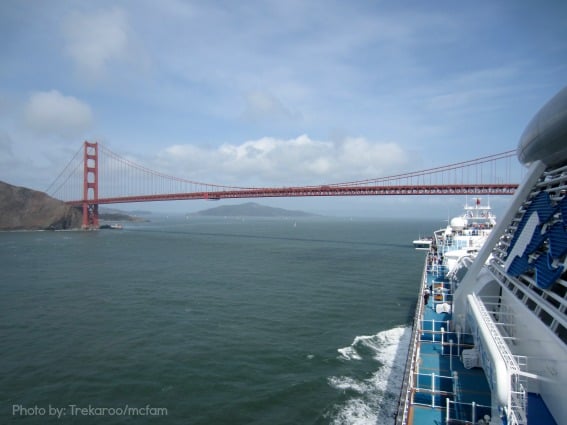 Sailing into the San Francisco Bay under the Golden Gate Bridge was only one of the incredible experiences we had on our 7 day California coastal cruise on Princess Cruises. After we docked in San Francisco, we spent our time doing all the touristy things: tasting chocolate in Ghiradelli Square, riding a cable car, eating lunch in Chinatown, and buying salt water taffy on Pier 39. Meeting our Trekaroo friends and eating dinner with amazing sourdough bread at Boudin's was icing on the cake. During the rest of the cruise, we enjoyed sunny spring days in Santa Barbara, Catalina, San Diego, and Ensenada.
Multi-generational Family Trip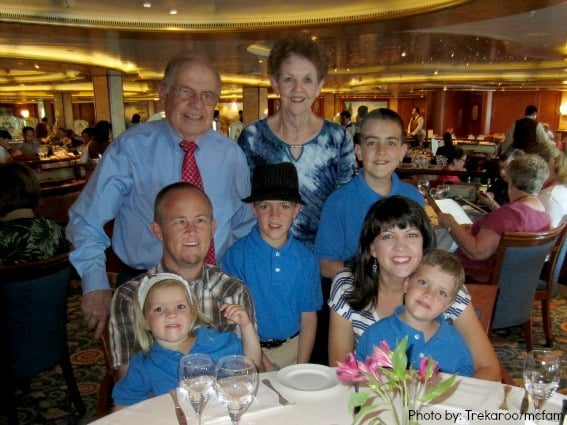 This cruise was a multi-generational celebration for my parent's 50th wedding anniversary. My parents were beyond happy having us, their 4 grandkids, and family and friends join them for what they called "a bucket list dream." There were 16 of us sitting around two dinner tables each evening enjoying first class service with delicious four-course meals. It worked well to let everyone do whatever they wished all day long, knowing we'd meet up in the International Dining Room at our arranged seating each night.
Living on the "Hotel Boat"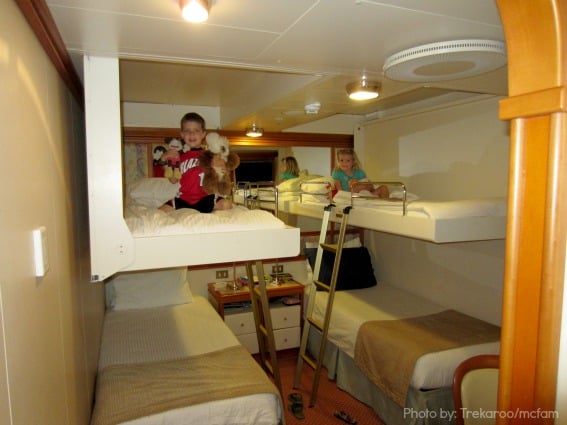 Sailing with 4 kids, ages 4-12 on a week-long cruise was a lot of fun for our family, but I would be remiss to not mention that it had its share of challenges. It was a lot of work getting everyone packed including formal and dress clothes for dinner, swimwear, layers for San Francisco, and touring attire for the warm weather of Santa Barbara and Ensenada. Sleeping arrangements were tight with our 2 little ones in the bunks above our heads, and our 2 older boys in the stateroom with their grandparents. Living on a "hotel boat" (as the kids called it) meant reminding them daily not to run down the halls, to be quiet, to keep their feet off the dinner table, and for goodness sakes, don't step on my toes again when we are on the elevator! But with every challenge, there was a silver lining.  What parent doesn't love daily room service, free food available all day, and no kids asking "are we there yet?"
Kid-friendly Cruising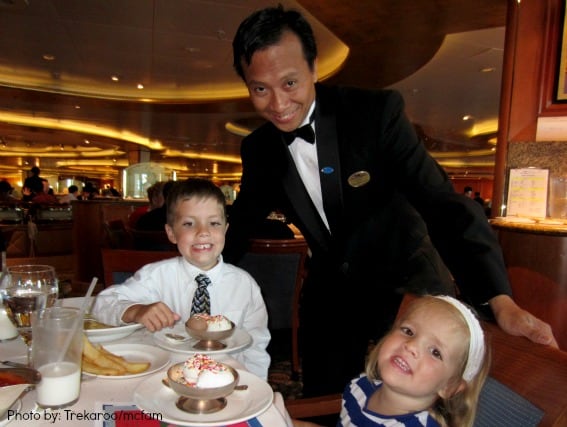 Each staff member we met onboard the ship was friendly and interacted with our kids as if they were honored guests. When we waited in line to be one of the first guests off the ship in San Francisco, the pizza chef played "peek-a-boo" with my little ones. Our waiter at dinner teased our 6-year-old to clean his plate of "spaghetti snakes" before he'd bring his dessert of choice, knowing that his plate was already nearly licked clean by our hungry son. When our children were tired of the kid's menus to draw on or the origami dragons and frogs that were placed in front of them at dinner, we took them upstairs to the complimentary kids club where they played games, made crafts, competed in challenges, and watched movies until we picked them up (by the latest at 10pm). Our 10 and 12-year-old ate dinner as fast as possible one evening because there was a competition going on between the boys and the girls.  They had races to see who could stack Jenga blocks the fastest, construct a Mr. Potato Head blindfolded, and a contest to see who could create the best banner. The counselors were kind to our kids and gave them little prizes at the end of the evening for good behavior.
Swimming on the Open Seas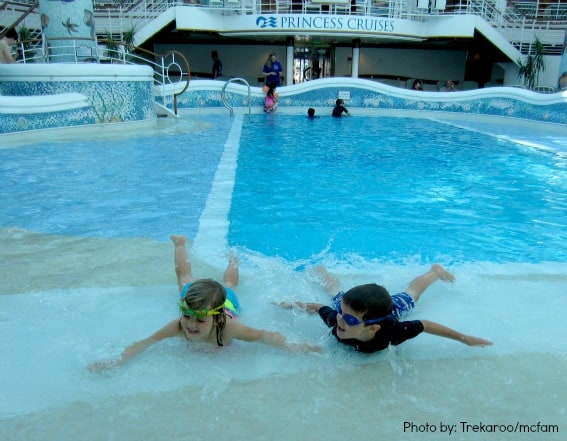 One of the more difficult challenges of our cruise was the pool set up. Our kids LOVE swimming, and for the most part are very competent swimmers, except for our 4-year-old little girl. The indoor pool which we visited the most (because it was cold outside in the spring) was designed with a very fun splash area around the edge of a deep tub of water. Surrounding that is a 3-4 foot decorative wall that also serves to stop the water from splashing all over the surrounding deck when the ship is in motion. This wall, although important, made it impossible to sit on a deck chair and watch the kids from the side of the pool. There was nowhere else to sit inside the pool area so we always had to be swimming with the kids (which we do enjoy). The pool, however, was 5'5" deep and we couldn't stand on the bottom of the pool to help her swim. We couldn't touch! So we compensated by having her hold onto the side of the large tub, just splash around the outside, or enjoy one of the Jacuzzis with us. Other parents had brought life jackets or floaties for their young kids which was an excellent choice and would have helped us significantly.
We were surprised by a few things on our cruise that we didn't expect. One of those involved some very rocky seas as we left San Francisco and sailed south. We all had to find ways to cope with mild cases of seasickness and the major rocking of the boat. I have compiled all the things we learned along with some tips to help families plan for their next cruise here.
Plenty of Activities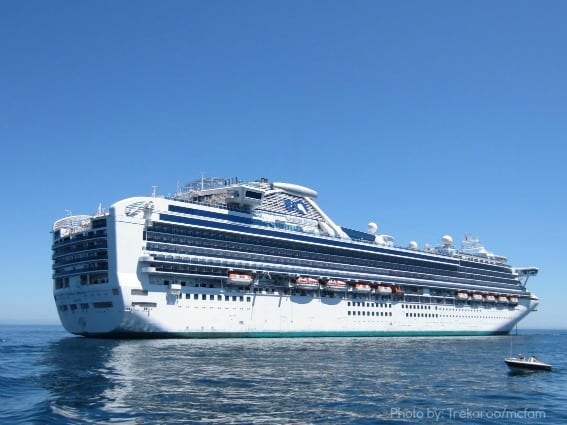 Cruising with our 4 kids and our family was a great way to vacation together. Our parents enjoyed the quiet of the lounges for spending an afternoon reading, and our kids enjoyed the fun of swimming, playing croquet on the lawn bowling court, and eating donuts and soft serve ice cream whenever the opportunity struck. My husband and I found some time to spend together by having our children play in the kids club. We even got the chance to have a  quiet lunch together thanks to the kids club. We each watched at least one "Movie Under The Stars" on the big screen around the outdoor pool deck swathed in the wool blankets they provided. But being all together for dinner, along with some port excursions, our quality time made for an amazing vacation together.
A big thanks to Jessica from Suitcases and Sippycups who blogged about her family's cruise on the Carnival Magic and provided such great tips, packing lists, and learning opportunities for kids while cruising.
Check out my Pinterest Board for Cruising the California Coast with shore excursions, maps of the Sapphire Princess, and Tips for cruising.