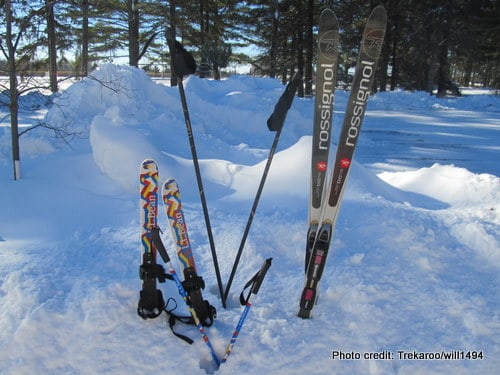 I am lucky. I work where there are miles of freshly groomed trails and  I am often the one out there nipping off stray branches and giving the labyrinth some trail maintenance love. Do I ever pretend I'm an Olympic great? Oh do I ever! There are days (even in the summer) when I am out working and imagine myself as Kikkan Randall, though my hair is missing the telltale pink strands! With the 2014  Olympic Winter Games afoot, the temptation toward the trail daydreaming is constant. My family almost always enjoys our wintry weather here in the Midwest, so we adore Winter Olympic events, especially cross-country skiing. We love that cross-country skiing is a sport that is accessible to all ages—literally from infancy to the golden years! In fact, we bring our son out with us on our winter excursions when the weather is not too formidable. Not only does getting out on the trails help kick the cabin fever, it is also great exercise and fun for the whole family. Here are some tips, tricks, and ideas to get the entire gang out on skis, plus a little inspiration to push and glide like a pro!
Gearing Up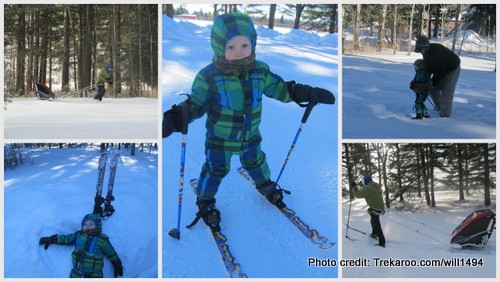 These days there are so many options for great ski gear with packages available that cover poles, boot, and skis. When gearing up, you'll need to consider where you'll be skiing in order to find the right ski combo. Are you hiking out to enjoy some back country hills, steep terrain, and powder? If so, you'll want skis and boots that will hold up to trail breaking and width to float across maintenance-free landscapes. If you're a groomed trail skier, you need to make sure that your skis will fit within the smooth grooves in the area trails.
For kiddos, consider ski gear with  universal bindings that fit onto their boots as they are learning. Check out toddler cross country skis that offer tiny ski lengths customized for little legs and graduated skis that grow with your wee ones. So, as soon as they can walk, you can get them up and skiing! Poles are a must but can be a little hard for kids to get used to. Just having them in hand, even if they are not actively using them, is a great start. Goggles, though intended more for downhill skiing are a great piece of gear to keep little eyes from freezing. If you have small kiddos who aren't quite ready for skis but want to join the fun, consider a carrier system, which can be quite convenient. These carrier systems are also handy for hauling a little lunch or carrying a few layers as you shed them.
Older kids and  experienced adult skiers will have to decide on waxed skis or waxless skis. Our advice? Unless xc-skiing is the ultimate hobby for you, and you spend hours each week out on the trails, you might consider sticking with waxless skis. In my opinion, constantly changing your skis based on snow conditions and varying temperatures just takes away from your time outside! Keep it simple.
Be sure to keep everyone warm with the right gear. As you can imagine, part of winter sports is that little thing called winter. This seems like a no-brainer, but all gear is NOT created equal! Dress in layers that are made from synthetic fibers like polypropylene or natural fibers that wick away moisture, like wool. We don't use any cotton when we're playing outside; it's a surefire way to have wet, cold kids, and whining adults too!
Making It Fun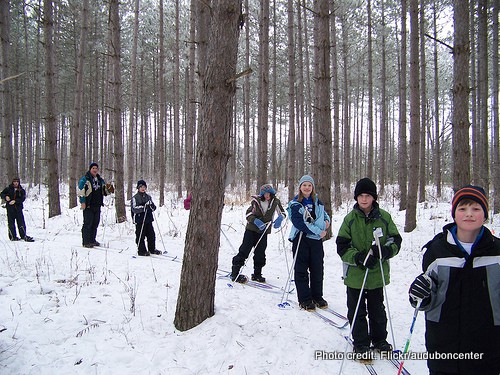 Prepare a makeshift course for little kids or a fun biathlon for the big kids. Here are ideas we've tried to manufacture fun:
Fun Run – Break trail or use a snowmobile to create a short course through your yard or nearby woods. Tuck stuffed animals or bright toys along the route in trees, on snow piles—get creative. Then have your kids attempt to find all of the hidden critters along the way. Completion of the course will result in a prize!
Candle Light Skiing – Make ice luminaries or set up some lanterns (cheap solar yard lights available at most department stores will work.) Line your trail with these markers, put on headlamps, wear glow in the dark bands, necklaces and crowns, and have a little late night fun.
Biathlon –This one is best for adults and older kids. Set up a short ski course and then a shooting station using sling shots, squirt guns, or Nerf guns.  Hit targets using foam arrows or colored water and race each other for the win!
Skijoring – This activity is for more advanced cross country skiers, since adding a live animal to the equation makes it gnarlier. If you have a working dog that is well-trained with basic commands, train them to be a cart or ski dog. Technically, you can be pulled by a horse or even a vehicle in this category, though I wouldn't recommend either. We had a Great Pyrenees dog that was perfect for pulling. Once your kids are proficient skiers, and if you trust your dog, you can work with them to take it to the next level and add a little creature cool factor to cross country skiing.
Where to Go
Most state tourism bureau sites have a section on winter sports where you'll find regional skiing information including designated trails, events, and clubs. Join a local ski club and discover new places to ski, make some friends, and glean tips from veteran skiers. Your own backyard and public lands may also provide plenty places to explore trails and admire wildlife. Just be sure to check land use regulations and make sure you're not going to be trespassing before you go. Note that some trail systems and recreation areas may require seasonal or short term ski passes. These passes are usually pretty affordable, with fees used to maintain trails. In our area, it's about $30 for the entire season.
Check out these great Minnesota lodging options with Cross-Country trails nearby!
Heart of an Olympian
Just as with any sport, the earlier kids are exposed and the more often they practice, the more likely they are to achieve great feats—whether that is a personal best time on a trail, making the school varsity Nordic ski team, or qualifying for the Olympics. It's important for the tykes to have a good first experience. Don't set your goals on the Olympic gold the first time out. Let kids see you fail, fall, and then get right back up with a smile on your face. If your kids are not having fun—stop! You don't want kiddos to associate negative emotions with the first memories they have of skiing. Cross-country skiing is something that will take time and patience, but if you're a powder prowler and skiing is your life, your initial patience with kids will pay off when you witness a daisy chain of happy kids gliding down the trail.
Making the miles and teaching perseverance is perhaps the best way to teach your kids to ski like Olympians. After all, many compete, few win, but they all have a ton of passion for the sport. Your wee ones may not be dominating the podium or taking home the gold just yet, but all of the time and miles put in will surely give each of your kiddos the heart of an Olympian.
Which of the Winter Games are your favorites? What are your tips for teaching kids to love a new, outdoor sport? Any predictions for who is going home with the gold this year?