Family bike trips are exciting adventures guaranteed to please the whole gang. Nothing compares to the relaxed laughter and camaraderie your family will enjoy after a day spent biking outdoors. Whether you're biking along the coast or spotting wildlife from a trail, you're sure to create lasting family memories.
For children, bicycles represent their first taste of sweet freedom; a means to go far and go fast. For adults, riding a bike is an exhilarating and inexpensive way to reconnect to a long forgotten childhood; a quick sip from the fountain of youth. Regardless of the generation gap, one thing remains constant. Family bike rides are about starting together and ending together; about being together.
May is National Bike Month but don't let the calendar dictate when your family should ride; that's the weather's job. In places such as sunny California, families can get their ride on almost year round! You don't need lycra and an expensive bicycle to enjoy a family bike ride, but you do need a bike. Classic brands like Schwinn have been capturing the hearts of children and adults for over 100 years. When I was a little girl, my parents would go for walks after dinner and I would ride my Schwinn alongside them. Occasionally, we'd even visit a nearby Baskin Robbins for ice cream. Now, as luck would have it, my neighborhood has a bike trail that leads almost directly to a Baskin Robbins. Sometimes after dinner, my son and I carry on the family tradition.
Read Tina's review of the Schwinn Meridian bike.
Read Tina's review of the Schwinn Del Mar Cruiser bike
Read Tina's review of the Schwinn Boys Burnout bike.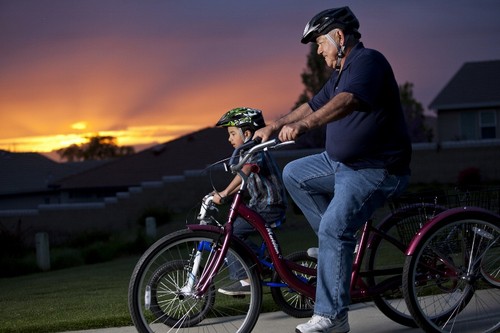 If your neighborhood lacks a bike trail, Northern California is chock full of recreation trails sure to keep your families grinning from ear to ear. Some of my favorites include:
Half Moon Bay's Coastside Trail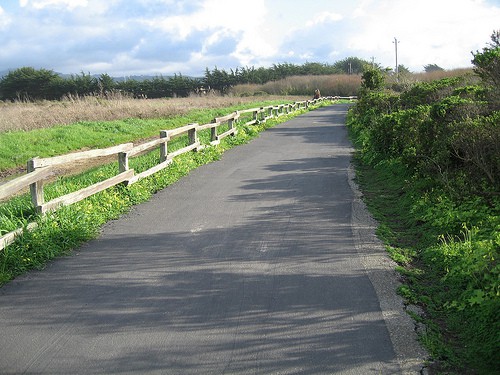 Enjoy a ride along the 6-mile paved trail from Pillar Point Harbor to Poplar Avenue in Half Moon Bay. All along the trail, paths lead to inviting state beaches and remarkable coastal views. For a true escape, stay at the nearby Ritz- Carlton or reserve a room just a few miles away at Half Moon Bay Inn. The Coastal trail is free to use, but it can get congested. Best times to visit are spring, fall and winter, as it's less crowded, and you're more likely to get sunny days. Bring your camera, and plan to stop at Cameron's Pub for lunch or Sam's Chowder House for dinner. You'll be glad you did.
Wilder Ranch State Park
Photo via Flickr user Richard Masoner / Cyclelicious
Two miles north of Santa Cruz on Highway 1 is Wilder Ranch State Park. This unique 4,500 acre park is one of the most diverse in California. Wilder Ranch offers great trails for family bike rides featuring ocean vistas, rolling grasslands, redwood forests, and wildlife. Amenities include restrooms and picnic areas.  If you're looking for nearby family-friendly accommodations, you can't go wrong with Beach Street Inn and Suites. Beach Street Inn is located almost directly in front of the Santa Cruz Wharf with a spectacular view of the entire Santa Cruz coastline.
The Monterey Bay Coastal Bike Trail
Photo via Flickr user Robert Schlie Imagery
The waterfront Monterey Bay Coastal Recreation Trail stretches 18 miles, from Castroville in the north to Pacific Grove in the south. This popular paved path hugs the coast, following the same route as the old Southern Pacific Railway. The recreation trail is a great way for families to reach the Monterey Bay Aquarium and Cannery Row, the Museum of Monterey, and Fisherman's Wharf— avoiding busy roads all the way!
Angel Island State Park
Bikes are welcome on the ferry from San Francisco to Angel Island State Park, a former immigration station known as the Ellis Island of the West. Adult and kid-size bikes are available on the island, but for trailers or tandems, stop by Blazing Saddles at Pier 41 before boarding the ferry. A five-mile lane rings the car-free island, where clifftop overlooks beckon for snack breaks and photo ops of the San Francisco skyline and the Golden Gate Bridge.
American River Bike Trail
flickr: rysac1
The Jedediah Smith Memorial Trail (or American River Bike Trail) is a paved multi-use pathway and is considered one of the longest paved purpose-built bike trails in the country. The trail is maintained by the County of Sacramento and is painted with mile markers placed at every half-mile increment. The area follows the course of the American River and is rich in wildlife. The trail passes several places of interest between Sacramento and Folsom.
Disclosure: To facilitate this review Schwinn provided me with a Schwinn Meridian, a Women's Schwinn Del Mar, and a Schwinn Boy's Burnout. Schwinn did not request that I express any particular point of view and my reviews always reflect my honest opinion.
---
Travel with kids to: CA |CO | DC | FL | HI | IL |MA | NC | NY | OR | PA | TN | TX | UT |VA | WA