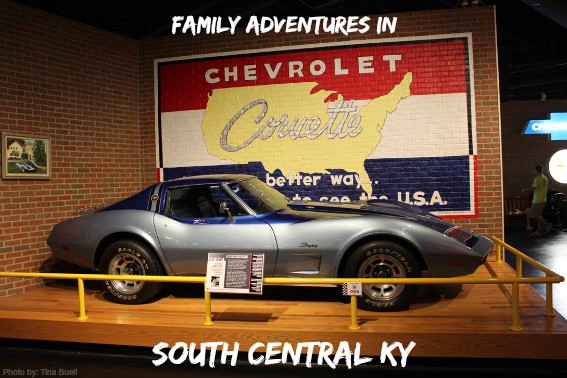 With a plethora of outdoor adventures, unique experiences, and beautiful sights, South Central Kentucky is a wonderful place to vacation with kids. Here are some of the fantastic activities I experienced in the Bowling Green area, and in the nearby towns of Cave City and Horse Cave.
Bowling Green

Bowling Green is Kentucky's third largest city and home to Western Kentucky University, the state's second-largest public university. What Forbes Magazine calls, "one of the best places to retire in the United States in 2014," I call one of the best places to enjoy the earth, either above or below ground. There's no shortage of caves in Kentucky!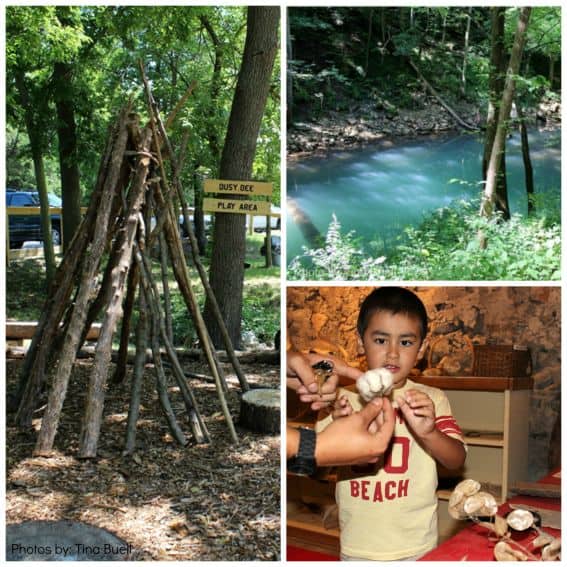 Lost River Cave is an area filled with outdoor adventures including a seven-mile cave system, and it's the only place in Kentucky to offer an underground boat tour. Fun activities include two miles of nature trails, a blue hole, gem mining, and a butterfly habitat. A blue hole is a cave sink hole filled with beautiful blue water. At the Nature Trading Post, sticks act as currency and children can swap them for items of nature. I'll trade you my stick for that rock. My favorite activity, the outdoor classroom, is a playground made of natural elements, such as a child-sized cabin made of sticks. When it's time to eat, Chaney's Dairy Barn features homemade ice cream, a unique outdoor playground, and kid-centric farm tours.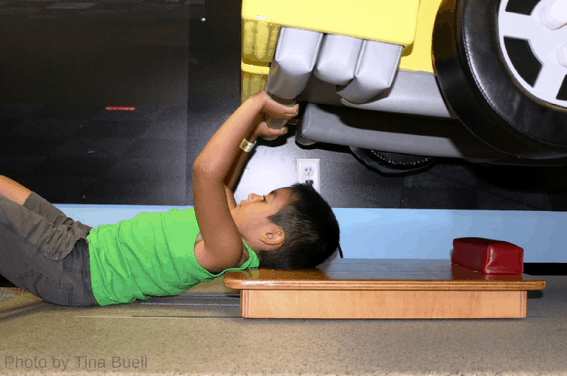 I didn't think the National Corvette Museum would be fun for a non car enthusiast such as myself, but I had a blast. You don't have to be into cars to appreciate how gorgeous Corvettes are, and the KidsZone features a child-sized auto body repair shop that kept my son busy for hours. While enjoying lunch at Corvette Café, a 50's-themed diner, I learned the museum hosts various family events throughout the year. They even host birthday parties! Can you imagine blowing out your candles and making a wish at the National Corvette Museum? I know what I'd wish for!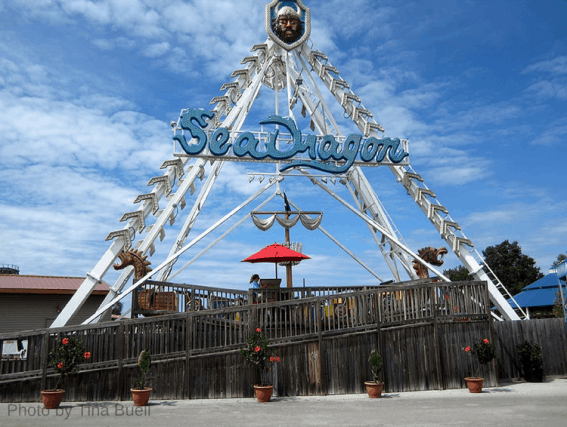 Beech Bend Park and Splash Lagoon is half amusement park, half splash lagoon, and all fun! Michael Jackson's Neverland ride, Sea Dragon, resides here. Last year, the park introduced "Vortex," a revolving swing that takes riders 60-feet up and holds them upside down, facing each other! For supper, Double Dogs is a fun, dog-themed restaurant and sports bar. If you like pickles, you'll love their Pickled Paw Prints—fried dill pickle chips with creamy smoked tomato horseradish sauce.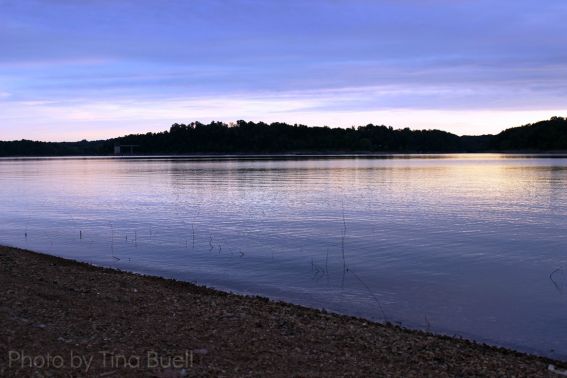 Leaving Bowling Green, head north to Barren River Lake State Resort Park, a family's paradise with outdoor amenities such as fishing, boating, and horseback riding. With your choice of either lodge rooms or cottages to rent and incredible views of the lake, it's a welcomed respite for weary families. At the recreation office, my son fed meal worms to a fat toad and stroked a snake. Exciting stuff for a 4-year-old! At the marina, I jumped at the chance to motor around the lake and was rewarded with panoramas of rolling green hills and wildlife at the water's edge. At night, using a log as my sofa, I watched the sunset from the shore next to the love of my life. It was the best date ever.
Cave City
Dinosaur World makes learning fun, and if I were local, I'd visit often. Surely learning complicated dinosaur names must be easier when you're craning your neck looking up at a lifelike model, right?! There's a great kids playground, a theater with educational films, and scheduled Dino Digs where kids can unearth fossils.
Tip: Do yourself a favor and bring bug spray. The dinosaurs are fake, but the lush plant life is real. Naturally, there are a few Jurassic-sized mosquitoes! The boy in the above pic is my son running away from a mosquito. Kidding! Kind of.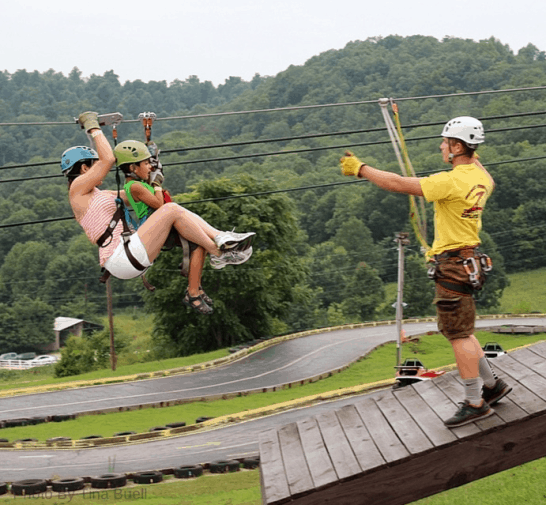 At Kentucky Action Park, the sky's the limit. There's so much fun to be had including an alpine slide, a trampoline and rock wall, go-carts and bumper cars, a 1/2 mile tandem zipline, a tour through Outlaw Cave, and a 30-minute horseback ride—that's just the tip of the iceberg! Just up the road, Yogi Bear's Jellystone Park offers tent, RV, and cabin camping with appearances from Yogi Bear and friends.
Tip: Mammoth Cave National Park, the longest cave system known in the world, is only 4 miles away!
Horse Cave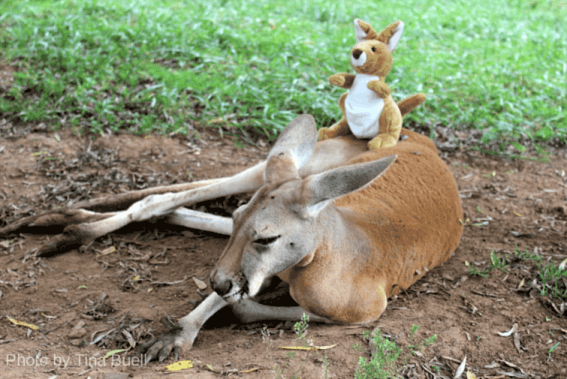 At Kentucky Down Under Adventure Zoo, Trekaroo's official mascot, T-roo, spent quality time with like-minded friends while my son and I walked through an open field where kangaroos and emus chillax. My 4-year-old ran screaming from rainbow lorikeets when we attempted to feed them nectar. It was the stuff of America's Funniest Home Videos! While exploring the zoo's Mammoth Onyx Cave, our tour group serenaded my son Happy Birthday, in the cave. Talk about amazing acoustics! We finished our visit with gem mining.
Tip: Don't miss the white bison!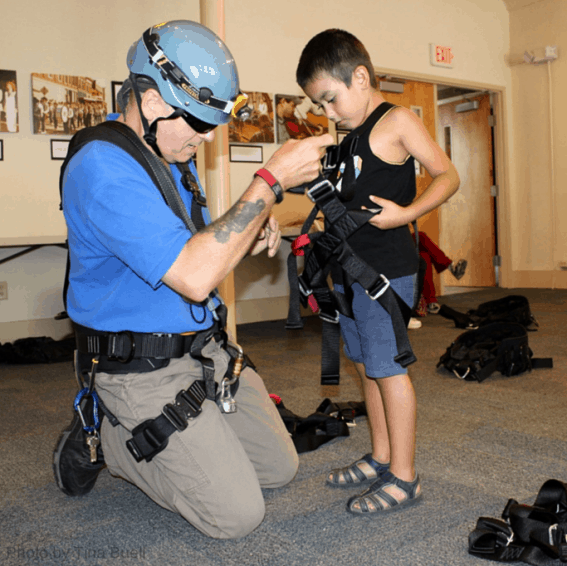 Hidden River Cave is located on Main Street in the middle of Horse Cave's National Register of Historic Places Commercial District. Hidden River Cave Museum is an environmental success story. What was once a contaminated water source has become a highlight of the town offering cave tours along the banks of a subterranean river, a museum, and now ziplining and rappelling. My 4-year-old ziplined solo! See the area's largest cave entrance from the sidewalk on East Main, and enjoy interactive exhibits about the history of the cave area and cave animals at the American Cave Museum. You can even mine for gems. After you've worked up an appetite, Turtlelini's is a charming family restaurant serving hot, cheesealicious pizza, and a selection of delicious entrees such as lasagna and spaghetti.
We'd love to hear from you. Have you been to Kentucky? What is your favorite part of the Bowling Green area? Tell us in the comments.
Disclosure: Special thanks to Bowling Green CVB for hosting our Kentucky Adventure. This hospitality came with no expectation of a positive review.