Last Updated on
The floodgates have opened.
As the Mississippi River swells and creeps to within inches of levee tops in the Deep South, the homes and livelihoods of thousands are in grave danger. This week, Louisiana's Morganza floodway started opening its gates, and water now rushes through at 1.5 million cubic feet per second. Those living in the Atchafalaya River Basin knew that this day could someday come, but many are poor and this is where they could afford to build. The bayou was their home.
I have had a fascination with Louisiana ever since I first drove over its long causeways that stretched for miles above swampland on Interstate 10. The state was unlike any other I had seen and the people had an amazing culture all their own. The music scene is so unique and lively and the food is absolutely out of this world. People who live here have hearts bigger than the biggest gator sitting lazily on the banks of the bayou. They love each other and they love Louisiana.
Their love is contagious.
This year, on my annual trek to the New Orleans Jazz & Heritage Festival, I decided to add an extra day to my vacation so that I could go for a tour of Louisiana's Outback with Capt'n Sammie. My main objective was to see a gator in the wild. Our route followed the Creole Nature Trail, an All American Road through marshland and estuaries teeming with wildlife in Cameron Parish, Lousiana's largest yet least populated parish. Capt'n Sammie wasn't the cutoff shorts wearing, impossibly hard to understand swamp dweller that I had created in my head (I have logged too many hours of Swamp Men into my brain), but he is a man who has called Cameron Parish his home for most of his life, and is a walking encyclopedia about the history, politics, and wildlife of the area. There is no better tour guide than Cap'n Sammie.
Our journey began with a stop in the tiny town of Hackberry, LA. For visitors coming from Interstate 10, Brown's Grocery is one of the only places to stop and grab food. I highly recommend heading to the deli and asking for some boudin (pronounced boo-dan), a sausage/casserole hybrid in link form. Sammie told us that women created boudin as a way for their husbands to take casseroles with them while they fished and hunted. The link casing is purely a mode of transportation, not meant to be ingested. The filling is a delicious and flavor filled combination of meat, rice, onion, bell pepper and spices. Don't leave Southwest Louisiana without sampling some!
With boudin in our bellies, we headed south until we reached the Sabine National Wildlife Refuge. The refuge has a nice 1 mile partially paved (and stroller friendly) pathway, the Blue Goose Trail, that leads to an elevated platform above the marshland. Here visitors can view an amazing variety of birds- from snowy egrets to brown pelicans to even the occasional bald eagle. Oh yes, and alligators. Certainly can't come to Lousiana without seeing a couple of those right? Cap'n Sammie says that a big alligator likes to hang out under the viewing area near the parking lot. We saw the big muddy wallow he had carved out but there was no sign of the gator. My guess is that he was off on a morning hunt.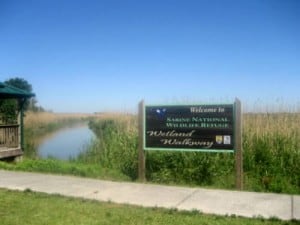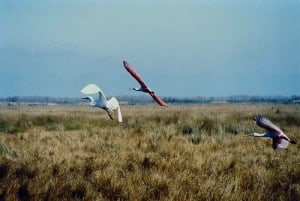 As we hit headed down to the gulf, I suddenly asked Sammie to pull the car over. I needed to stop and stare a bit at a row of houses built on stilts at least 15 feet off the ground. It may have been an oddly funny site, but the reason for the homes ridiculously high elevation a story of tragedy. Holly Beach, also known as the Cajun Riviera, was once a thriving little beach town with 600 homes and and up to 20,000 weekend visitors during the summer. People came to cool off in the gulf waters and enjoy bonfires on the beach during the warm summer nights.
Then Hurricane Rita hit in 2005.
Overnight, Holly Beach went from a town with 500 homes to zero. Everything was washed away. Every single home. Even though Hurricane Rita was a much more powerful storm (the fourth most intense Atlantic storm of all time), it was largely overshadowed by Hurricane Katrina which had hit a month earlier. Meanwhile, Cameron Parish had been almost completely wiped out.
Today, less than 50 homes stand on Holly Beach.
Cap'n Sammie says most folks can't afford to rebuild given the new building codes and guidelines the government put into place in hopes of avoiding another scene of devastation. People lived in the area for 45 years without being hit by a hurricane, but it only takes one.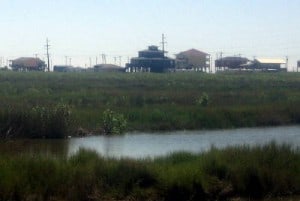 Meanwhile, Mother Nature has recovered quite nicely. The gulf beaches, such as Mae's Beach on Johnson Bayou, are a sheller's paradise. You could spend all day picking up shells and still have entire beach filled with shells left to explore. We even spotted some coconuts which had washed up after a recent storm! The water is warm and shallow and the waves are calm. These beaches were made for families.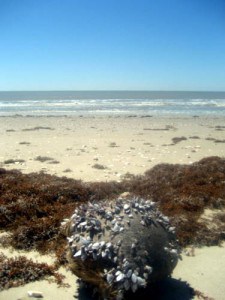 The marshland seems to have made a full recovery as well. Except for the occasional storm remnants such as building materials and one house which Cap'n Sammie says belongs to a woman who lived in it 20 miles away and still cries every time she drives by and sees what's left of it sitting in sideways in the middle of the marsh, the marsh looks just as it has for hundreds of years. Cameron Prairie National Wildlife Refuge, which sits due south of Lake Charles, has a fantastic new visitor's center and the highly recommended Pintail Wildlife Drive.
This is where we saw our alligators.
Lots and lots of alligators. We saw everything from skinny juveniles swimming in the channel to big, fat old fellas with toothy grins, lazily enjoying the afternoon sun. I had come to see alligators and I saw alligators, but on my drive along the Creole Nature Trail, I also saw places, and learned stories that I didn't know existed. And it reminded me why I travel.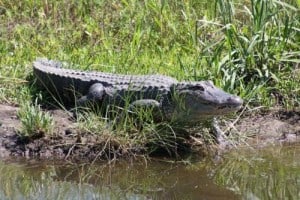 If you want to take a detour off Interstate 10 with your family and explore some of the Creole Nature Trail but Capt'n Sammie is out fishing, the Lake Charles Convention and Visitors Bureau has the next best thing- with the GPS Ranger™ Handheld Video Solution. The unit can be rented for free at the bureau (which sits conveniently just off the interstate) and brings the Creole Nature Trail to life with a narrated tour of the region using GPS technology highlighting the region with facts about its history, culture, wildlife, and industry. Android and iPhone app versions of the tour are also available for free download.
– – – – – – – – – – – – – – – – – – – – – –
Sharlene Earnshaw (aka doubleadventure) is Blogger-in-chief for Trekaroo and the blogger behind Double the Adventure.

Travel with kids to: CA |CO | DC | FL | HI | IL |MA | NC | NY | OR | PA | TN | TX | VA | WA