After an amazing week in Rocky Mountain National Park last year, our family decided that we wanted another 'back to nature' vacation this summer. We decided to explore the Black Hills of South Dakota. On a Saturday morning, our family of four sat down to plan our trip. We used the Black Hills & Badlands website to scout out ideas for places to visit. I will tell you this isn't always easy with tweens and teens – they have an aversion to planning! But the site has some great information and links to videos for attractions in the area, so using technology in the planning was a good call.
Getting Back to Nature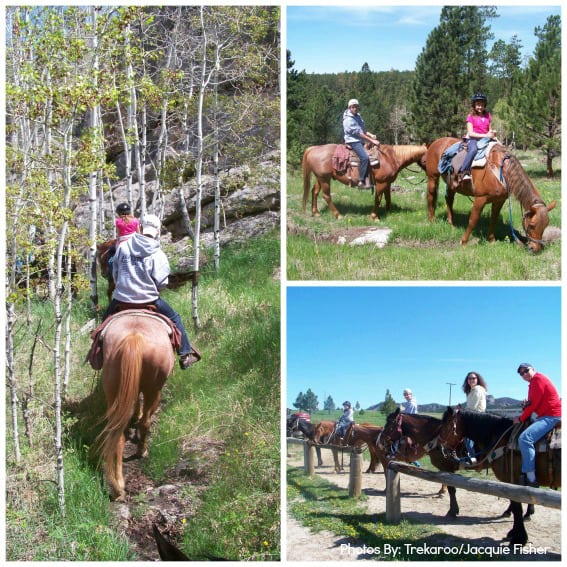 We rented a historic cabin for a week that was located on the KOA Palmer Gulch property. My youngest, who is 10-years-old, loved all the amenities that were offered at the KOA. Cell service in the Black Hills is spotty. This was something we prepared for since teenagers do love their phones. We enjoyed some good 'old fashioned family fun' by playing cards, having campfires, and watching the horses. If you don't have technology, fire and marshmallows are a good substitute. Really, there wasn't much time spent at the cabin because there is just SO much to do in this area!
Our first adventure was a scenic trail ride through the Black Hills National Forest with Rockin R Rides. Trail rides are a great family activity with older kids as you are all together, but each person also has their own space and horse. This wasn't your follow-the-trail type of ride. Rockin R Rides hosts some gorgeous trails through the Black Hills National Forest, aspen groves, around switchbacks, and up/down hillsides. Younger kids would also enjoy the rides and I was thrilled with the directions and guidance that the staff provided for my 10-year-old. We all agreed that it was one of the highlights of our trip.
Custer State Park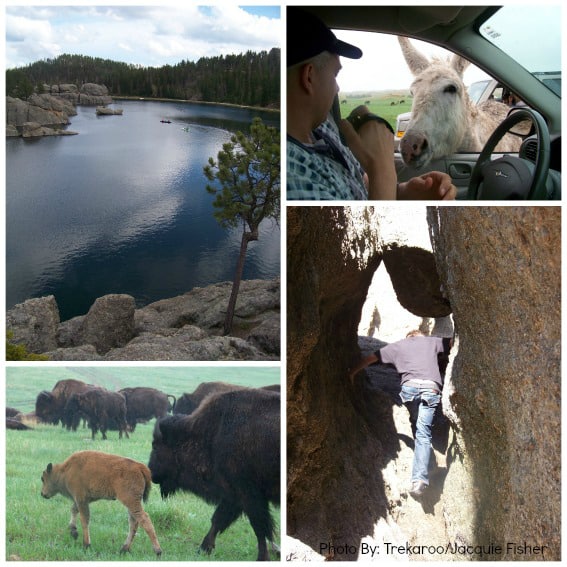 We spent quite a bit of time exploring a different area of Custer State Park. My youngest wanted to become a Jr. Park Naturalist; a great program available to kids ages 5 – 12-years-old. We learned how to pan for gold, took a few hikes, attended a patio talk and nature program, and then completed some of the book activities. If you have one long day or a few shorter days in the park, I would highly recommend the program as kids get so much more out of their visit by interacting with the rangers.
A few must-see locations during your visit to Custer State Park:
The Coolidge Fire Tower and Look Out area is breathtaking! We were able to see the Badlands from the tower that is 60 miles away!
Driving the Wildlife Loop in the park is a big hit. The kids loved feeding the burros that walk right up to your car, along with watching the buffalo, elk, and prairie dogs.
Sylvan Lake is another wonderful family friendly area. The lake has great hiking trails, lots of rocks to climb, canoes to rent, and quite a bit of wildlife in the area.
Hiking and climbing the Cathedral Spires was fun for all of us. I guess you're never too old (or cool) to climb a rock. My teen and husband also did the hike to Harney Peak, the highest point between the Rockies and the Swiss Alps. It's a 5-hour round-trip hike with no restrooms on the path so my daughter and I opted for some time to explore Rapid City.
Just south of Custer Park is Wind Cave National Park. It's not only a cave (the 4th largest in the world), but also a huge park with even more wildlife. We actually saw a larger variety of animals on our visit here than in Custer. The cave tour got mixed reviews from the kids – my tween loved it and my teen thought it was great for the first half hour, but then felt like he had seen most of what he wanted to see. The Natural Entrance Cave Tour is the most popular and lasts about 75 minutes. Bring a jacket and be prepared to walk and climb steps.
Reptile Gardens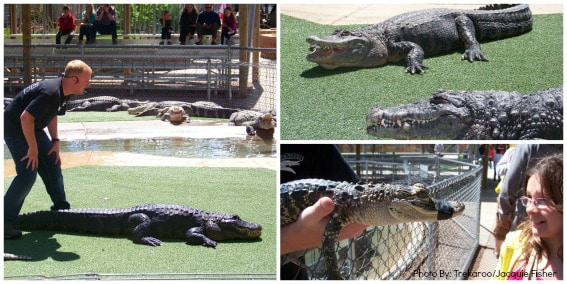 We also had the opportunity to visit Reptile Gardens which is located close by on the road to Rapid City. It seemed like an odd theme for an attraction given the area, but it is a seasonal attraction and we loved our visit! They have some very entertaining shows and exhibits – plus, you can pet an alligator! It's a baby, so don't worry; but still it's something to brag about to your friends.
History & Fossils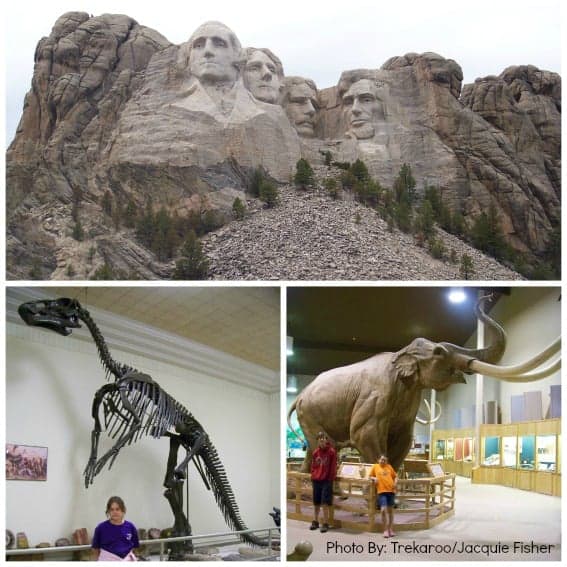 During our first day in the area, there was so much fog that we weren't able to see Mount Rushmore. Luckily, the fog lifted the next day and we enjoyed a tour of the Sculptor's Studio and hiked the Presidential Trail, which is short and offers some great views. We attended the night lighting ceremony on our last night in the area. The evening program consisted of a short film about the monument, an honoring of military members in the audience, and lighting the mountain. I think the kids learned more during our visit than in 2 years of their social studies classes. They also have a Jr. Ranger program here that can easily be completed during your visit – there's one for kids, teens & adults!
Another attraction we enjoyed is Mammoth Site of Hot Springs – home to the bones of more than 70 prehistoric mammoths. The kids really enjoyed exploring the exhibits and taking the tour of the site. Our daughter loved the Jr. Paleontologist program and on site fossil dig that they offer to kids ages 4 – 12 during the summer months.
Rock hounding is great activity we experienced during our visit. The activity kept our youngest looking for rocks instead of asking 'how much farther' on the hikes. If you have a future geologist in the family, I would recommend a stop at the Museum of Geology in Rapid City. They have a great collection, along with some awesome fossils, and skeletal displays.
On our way home, we took a few hours to explore Badlands National Park. This is one of those spots that will take your breath away. We hiked Fossil Trail, viewed some wildlife, and stopped by the visitor's center that has some outstanding exhibits.
I will say that we were very surprised at how much time it took to get around in the area, especially driving through Custer Park. There are so many curves and switchbacks on the roads that we had to drive pretty slowly. The animals can cause delays as well. So be prepared, and have some snacks and activities in the car as you visit different attractions.
The Black Hills is a wonderful place for family adventures with a number of things that tweens and teens will enjoy!