The Big Island of Hawaii is one of the most remarkable places in the world for families to visit.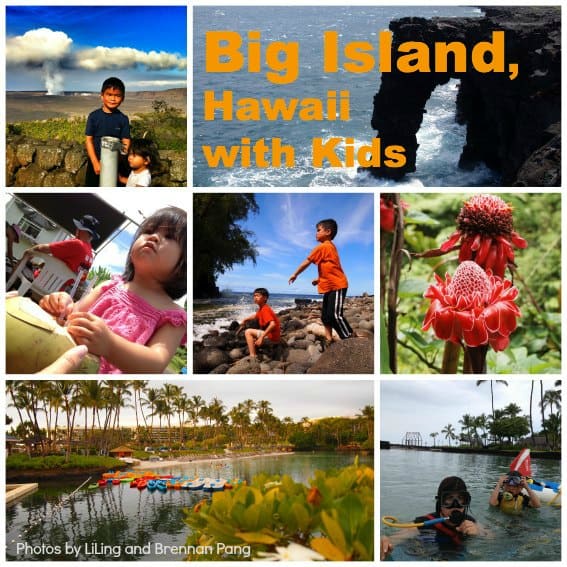 Home to five volcanoes, including the massive Maunakea and the active Maunaloa and Kilauea, this Hawaiian Island offers not just some of the most wonderful encounters with ocean life, but also a journey into the creative force of nature. From black, barren lava fields into shrouded rainforest, the contrasting landscapes and experiences are full of surprises. In the morning, if you're an extreme adventurer, you could be snowboarding down Maunakea. Then, in the afternoon, find yourself swimming through crystal clear, tropical waters bobbing next to a Honu Sea Turtle. For breakfast, you could be dining at a 5 star resort, and for dinner, enjoying a hoedown with some Paniolo Cowboys. One might just say, in the Big Island, you can certainly have your cake and eat it too. And I mean it. All these once in a lifetime opportunities with nature can be experienced without a family having to rough it at all.
To take in the best of the Big Island with kids, break up your trip. I recommend flying into the Hilo Airport and spending a few days at Hawaii Volcanoes National Park. Drive over to the Kona side and base yourself at one of the 5 star resorts while you kick back and get pampered; enjoying and exploring the plentiful ocean life. Then fly out of the Kona Airport. Hawaiian Airlines offers multiple flights each day out of both airports to the mainland and the other Hawaiian Islands.
---
[cta id="67853″ align="none"]
Experiencing Volcanoes with Kids
Every lucky family who visits the Big Island must make a trip to Hawaii Volcanoes National Park; it's the closest that many of us will ever get to an active Volcano.
While many families may choose to only spend one very long day feeding their penchant for volcanoes, our family decided to linger overnight at the newly renovated Volcano House. The Volcano House sits upon the rim of the Kilauea Caldera. As the warm sun fell below the horizon, a red glow grew visible and a mysterious mist snuck up on the Volcano House like a veil. I was bracing myself for a dinosaur to come stomping out of the mist just like in the movie, Jurassic Park.
A visit to Jaggar Museum is a great place to kick off your exploration of the park. The interpretative exhibits were fantastic at illustrating the geological actions taking place under and within the earth's crust. The kids loved looking at all the different types of volcanic rock and reading stories about an early scientist who risked life and limb to study these mighty volcanoes. The steady column of steam rising out of the main crater, Halema'uma'u, was impressively close from this lookout and a reminder that you are teetering at the edge of an active volcano. On a clear day, you can get a view of Maunaloa as well.
A drive along the Chain of Craters Road is a must. The wide expanses of lava flow stretching into the ocean are humbling and awesome. You'll drive past lava fields that look cracked and crumbled like the top of a pan of brownies. Some looked like giant cow patties, and still others looked like crushed up Oreo cookies. We felt like itty-bitty ants as we traversed a lava field out to some ancient petroglyphs. At the end of the Chain of Craters Road, walk out to the edge of the cliff, but keep a close eye on little ones. Peak over the edge and you'll see a fantastic sea arch. From the end of this road, many hike out to get a peek at the active lava flow. However, with young kids, it's treacherous to walk out to the viewing area. Thankfully, there is an alternative that is well worth its price. The Lava Boat Tours offered by Lava Ocean Adventures will bring you within 30 feet of red-hot flowing lava. We were so close, that we could see ripples of molten rock flowing into the ocean, hear the hissing and spluttering as the hot lava hit the cool ocean water, and feel the warmth of the earth's belly upon our skin. The experience was so powerful, I was moved to tears and my 7-year-old kept repeating, "We are so lucky to see this!"
More on Volcano Adventures with Kids on Trekaroo
The Lava Boat Tour departs from the Isaac Hale Beach Park, which is about 45 minutes from Hilo or an hour from Hawaii Volcanoes National Park. While you're out in that direction, make a day of your visit and explore the Kapoho Tidepools, or head a mile up the road to Ahalanui Beach Park and take a dip in the warm ponds which are fed by underwater hot springs. Lava lovers should also stop in at Lava Tree State Park to see stumpy lava rock that formed around trees and cooled in that shape. The drive through the narrow, overgrown Pahoa Pohoiki Road is eerily mysterious making for a very memorable 15 minute drive.
Best Way to Experience Ocean Life with Kids
The Big Island has a handful of sandy beaches, but many are rocky with fun tide pools dug into the volcanic rock. For little ones, exploring a tide pools on the Big Island of Hawaii is a fantastic way to experience the ocean. However, snorkeling is a favorite way for families to enjoy the rich, marine life. Kahaluu Beach Park, affectionately known as "Snorkle Beach" by the locals, is a public beach with some of the best snorkeling on the Big Island. Located just outside Kailua-Kona along Keauhou Bay, it's very easy to get to. On the other side of the road, you'll find stores renting snorkel equipment for a steal. However, if you prefer to make a day of it, there are several snorkel and diving cruise companies like Body Glove Cruises that will take you to more private spots around the island for a day of snorkeling, and dolphin watching. Even babies are welcome onboard!
Manta Rays are in abundance at Keauhou Bay near Kona. At the Sheraton Kona Resort and Spa at Keauhou Bay, just after sunset, floodlights attract Manta Rays for a free viewing of these graceful sea creatures. Learn more about these magnificent creatures at the Manta Ray talk held at the Keauhou Coffee Company. Another option is to book a cruise on a glass bottom boat or get in the water and flirt…(oh wait!) I mean snorkel with the Mantas.
There are numerous tours for scuba divers, but if your kids aren't quite ready to scuba dive, but want a similar experience, several operators offer a SNUBA experience that does not require any certification. Our 7 and 10-year-olds gave it a try, and spent half the time learning to manage their equipment and the other half ogling at passing fish. Nevertheless, if you have kids and adults who are nervous about swimming underwater but do not want to miss out on exploring the underwater world, the Atlantis Submarine offers a submarine tour that goes 100 feet underwater, where you'll see a shipwreck off Kailua-Kona Pier.
Getting the 5 Star Beach Resort Experience on the Big Island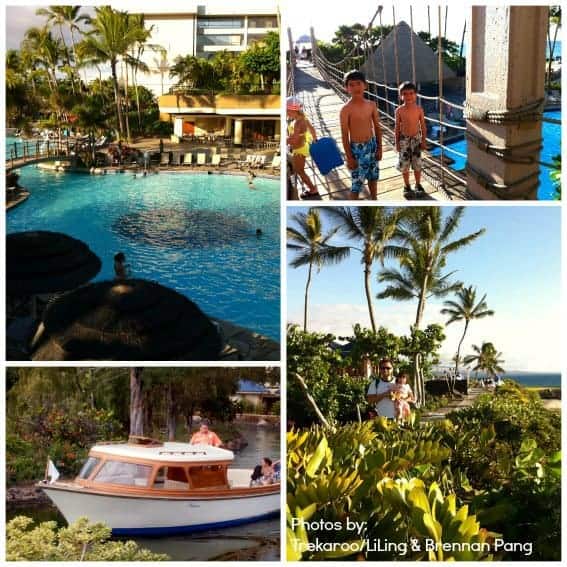 Sometimes, seeing the wonders of nature requires roughing it, but not on the Big Island. There are several 5 star resort properties near Waikoloa Village. Here, amidst the inhospitable a'a lava fields, is an oasis. From golf courses, to man-made lagoons, tennis courts, beautifully landscaped gardens, and swimming pools, this is where you'll find the kind of resorts you dream about when you think of Hawaii. The most popular resort with families is the Hilton Waikoloa Village. This sprawling family friendly resort has everything you could possibly imagine including a monorail system and boats that ferry you from one building to another. With more pools then we could swim in during our visit and a lagoon that offers a variety of watersports, including the opportunity to swim with a family of dolphins, a family could certainly park themselves here for a week and never leave. Albeit, the rest of the Big Island beckons with adventures to delight your family.
Find more Kid-friendly Hotels on the Big Island, HI
Big Island Scenic Drives with Kids

There are several scenic drives that will take you through charming little towns, roadside coconut stands, plunging waterfalls, and majestic coastlines. We loved the scenic drive along the Hamakua Coast from Hilo through Onomea Bay, Akaka Falls, and ending at Waipio Valley Lookout. For a completely different type of drive that takes you through every type of ecosystem on this diverse island, make the 43-mile scenic drive up to the summit of MaunaKea at 13,796 feet above sea level. The observatory at the summit offer tours. The 360 degree views on a clear day from the summit of MaunaKea are stunning.
The Big Island is that perfect family vacation destination in all respects, offering a little of everything families enjoy. For a family with kids 7 and up who want to have both an educational trip and a relaxing resort vacation, the Big Islands offers the best of both.
Explore Activities for Kids on the Big Island, HI
Write Reviews of Kid-friendly Restaurants on the Big Island, HI
*Disclosure: My cost for my portion of our family's trip to the Big Island was partially covered by the Big Island CVB and Hilton Waikoloa. But as always, these opinions are entirely my own and received no other compensation beyond having the time of our lives exploring the Big Island.