For years I stared at her, wondering what life was like in her world. She was so close;  just looming quietly in the distance, but she might as well have been in a foreign land.  All we needed was a boat and a weekend, then we could finally make her acquaintance.   Finally, the temptation became too much and I decided that our family had to go see her. I wanted to know what life was like on Catalina.
Santa Catalina Island is only a 22 mile ferry ride from the Port of Los Angeles, but as soon as the town of Avalon appears on the horizon, travelers quickly realize that they have arrived someplace very far from the freeway clogged urban monster that is LA.  In Avalon, golf carts rule the roads and rush hour is nothing more than a few hotel shuttles picking up guests from the dock.  Catalina is the US version of Mediterranean paradise.  Mountain peaks surround Avalon Bay and vacation homes cling to their little piece of the hillside.  The 12 story casino building dominates the skyline, battling with palm trees and azure waters to capture your attention. After only a few hours on the island, my husband and I were already plotting ways for us to move there permanently.
We stayed at the newly remodeled Pavilion Hotel, just 14 steps from the main beach in Avalon.  Sipping complimentary wine (or lemonade for the little ones) as we lounged in the garden sitting area gazing out at the ocean was pure heaven.  It was so nice to stay in a hotel that was literally steps away from Avalon's action hub, while still being able to find peace and serenity by the fire ring or strolling through the palm fringed courtyard. You can read my entire review of the Pavilion Hotel here.
Catalina offers a wide array of activities and tours from parasailing to snorkeling to island tours.  The island even has what my family has deemed, the best miniature golf course of all time!  My pick for must-do island activity has to be the zipline.   Flying through the sky with nothing but incredible ocean panoramas in view was definitely the highlight of my trip.  The friendliness of the staff and the focus on safety helped me push my nagging fear of heights out of mind.  In my group there was an eight year old, 12 year old, and sixteen year old, and they all had an absolute blast.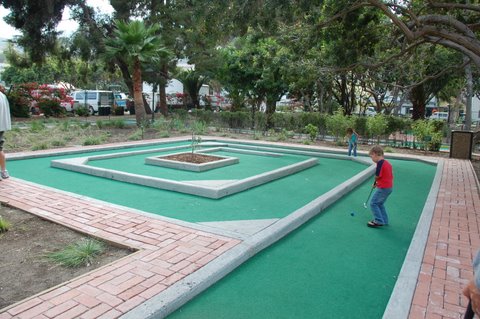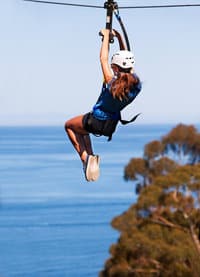 The zipline tour begins and ends at Descanso Beach, a beautiful little cove that serves as an activity headquarters.  Kayaks, stand-up paddle boards, and snorkeling gear can all be rented here.  For those looking to spend a lazy day on the beach, the Descanso Beach Club is the best place to do it.  Private cabanas and chaise lounges are available for rent, and food and drinks are available at Avalon's only seaside restaurant and bar.  As I sat enjoying my post-ziplining lunch from the comfort of our cabana and took in our amazing view, I had to keep reminding myself that I was still in Southern California and not some far off locale.  Catalina had officially stolen my heart.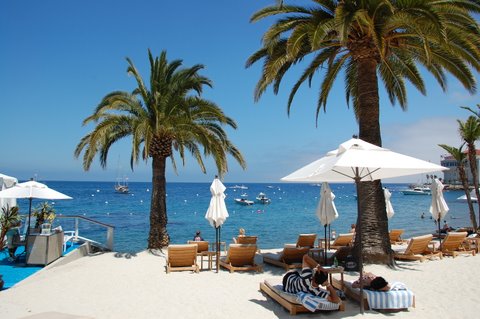 Our final morning on Catalina was spent on an Undersea Tour.  We chose this activity because it was suitable for all ages and I had always wanted to get a close up view of the sea life that called the Southern California coast home.  The tour is given in a semi-submersible boat which reminded me a bit of the submarine ride at Disneyland.  Luckily instead of an animatronic Nemo, we were greeted by brightly colored orange garibaldi and calico bass weaving their way through the kelp beds.  My kids were incredibly excited about the fish swimming freely just outside their windows and their excitement only grew as the crew sprinkled some fish food into the water and the feeding frenzy began.
As with all great weekend this vacations, this one had to end so we could return back to the mainland and a life filled with obligations and responsibilities.  We boarded the Catalina Express once again for our high speed journey home.  As we sped away from the island and we lounged fin the comfort of our deck seats, I found myself turning back more than a few times so I could watch Catalina slowly lose its detail and become nothing more than a mysterious shadow of an island once again.  Its nice to know that when we need to get away from it all, she will still be waiting for us just across the channel.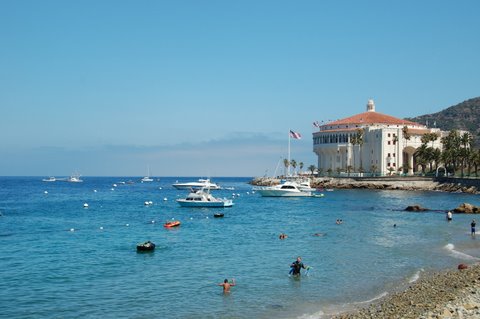 Great deal alert!!!
If your family decides to book a two night stay at the Pavilion Hotel between August 22nd and October 16th, 2010, you will be able to take advantage of the hotel's Unlimited Package. The package includes:
Unlimited  (aka: free) Access to all the following Discovery Tours:
Undersea Tour, Behind the Scenes Casino Tour, The Casino Walking Tour, Skyline Drive Tour, Avalon Scenic Tour, GPS Walking Tour, Flying Fish Tour, Glass Bottom Boat, and Sundown Isthmus Cruise.
And…Unlimited use of these activities:
Golf Gardens Miniature Golf, Catalina Island Golf Course, Descanso Beach Club Entry, Avalon Movie Theatre, Tennis Court Rental
Plus..
Preferred seating and reservations at the new Avalon Grille Restaurant and 50% off the Zip Line Eco Tour (savings of $45 per person).
Now that is an AMAZING deal!  Pick and choose which activities you are interested in and be entertained all day long for the price of a two night stay.  But remember, this package is only available August 22nd through October 16th, 2010.
_ _ _ _ _ _ _
Sharlene Earnshaw (aka doubleadventure) is Blogger-in-chief for Trekaroo and the blogger behind Double the Adventure.

Travel with kids to: CA | CO | DC | FL | HI | IL | MA | NC | NY | PA | TN | TX | VA | WA