Kids have a funny way of making you look at traditions and holidays with new eyes.  Recently, my deeply curious 10-year-old  turned her never-ending line of questions towards Veteran's Day. While my kids are familiar with the concept of the military— they've seen soldiers in picture books, sent some of their Halloween candy to troops stationed overseas, and mailed them handmade greeting cards as part of a service project— it turns out they didn't really understand what these brave men and women are doing in far flung places.  As I try to explain it, I'm quickly learning this is an education I will build on over time rather than serve it up all at once.  Patriotism and sacrifice are huge concepts for young kids to comprehend.  So this Veteran's Day, I'm focusing on laying the foundation.
There's nothing like the pageantry and showmanship of a military parade to capture a child's attention. Events like these offer great opportunities to start a dialogue with kids about the different branches of military and their history.  If you happen to be in Northern California this Veteran's Day, the San Jose Veteran's Day Parade, is not only one of the largest in the area, it's one of the oldest, having been held annually since 1919.  In honor of the 1918 Armistice of the "War to End All Wars," this year's opening ceremony at Plaza de Cesar Chavez begins on the 11th hour of the 11th day of the 11th month.   Further north, take the kids to the Petaluma Veteran's Day Parade.  This event takes place both on the ground and in the sky as vintage war birds and sleek air racers fly-in.  Fairfield's Veteran's Day Commemoration and Parade features bands and units from nearby Travis Air Force Base.
These events open avenues for talking about the discipline it takes to be a soldier and why Americans choose to join the military. I've made a personal decision to keep my explanations to my daughter brief and to the point, watching her for clues as to how much detail she's ready to take in. She understands that those who join the military are sworn to protect the country; she also gets that they often have to leave their families for periods of time to get that job done, and that many soldiers have lost their lives in service to their country. Her peppering of questions hasn't yet led toward getting more information on that last detail, and this tells me that she isn't really ready to explore it yet. Remember, this is an education to build on so to help her understand, I focus on ways we can say thank you by not only expressing our gratitude through attendance at events, but also through services projects.
Palo Alto Veterans and students are marking the day by planting trees in front of the city's Veterans Hospital. From assembling care packages to park stewardship, the Presidio Trust, Swords to Plowshares, Mission Serve, and Civic Assets in San Francisco also have a list of service projects that could benefit from civilian involvement.
Hearing from veterans firsthand is the best way to make history come alive for older kids. If you have teenagers in the house, they may be interested in a special screening of, "Art in the Face of War," at San Francisco's Palace of the Legion of Honor.  Eight World War II veterans and artists recount their experience in the service and their use of art as a way to preserve their sanity.
The nearby San Francisco Presidio also provides some excellent hands on ways for kids of any age to understand how our military guarded the coastline and protected the port.  Aside from boasting sweeping views of the Pacific Ocean, the post's old abandoned batteries offer amazing history lessons.  The coolest of the bunch has to be Battery Chamberlin, which hosts a live demonstration of its 50-ton rifle during the first weekend of each month.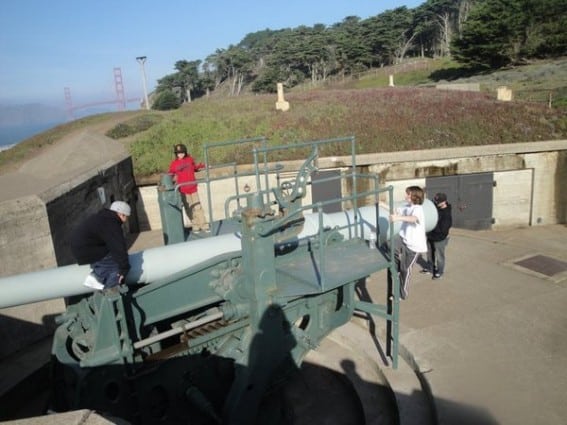 My daughter will eventually have a full understanding of what it means to serve your country through military service.  When she does, I hope that having involved her in historical events and memoriums,  as well as service projects connected to our troops, will have given her an even deeper appreciation for their service.
Looking for Veteran's Day activities in your neck of the woods?   Check out these great ideas in:
 Southern California | Northern California | Pacific Northwest | Utah | Arizona | Illinois | Texas | New York | Gulf Coast