London is amazing. It's big, busy, and packed full of culture, fun, food, and wonderful things to see and do. It's hard to know where to begin when planning a visit to one of the most exciting cities in the world, so we're very pleased to help make that job easier with some handy tips and suggestions for your first or next trip to London-town.
Food Glorious Good
London's culinary scene has evolved from over-cooked mushy peas to include cuisines from all over the globe, reflecting the cultural diversity of this world city. This is good news, even for those picky eaters that may be in your travelling family. There will be no shortage of places to choose from for a quick snack, take-away picnic, or sit down family dinner.
As an example, on our most recent trip we enjoyed delicious Vietnamese banh mi sub sandwiches, Indian curry, Spanish tapas, and perfect Italian pasta. To please the youngest member of our family, we also had to experience the typical English breakfast – fried eggs, bacon, beans, fried tomatoes and potatoes – at the closest, greasiest spoon we could fine. It was a hit, though I can't imagine eating this combo every morning!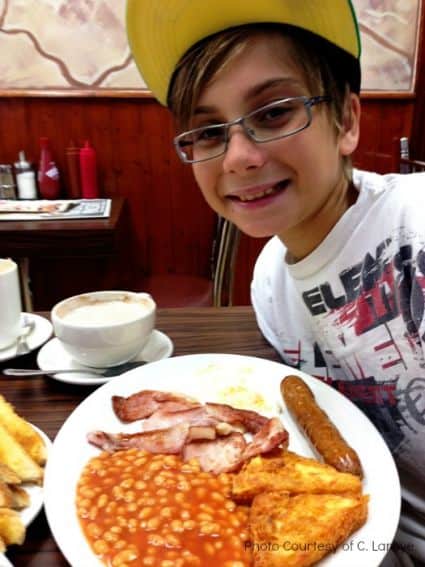 Food choices are everywhere you look, with some of the most affordable (and tasty) being the take-outs at Tesco and Marks & Spencer. Popular chains like Cafe Nero, Prezzo, Giraffe, Pizza Express, and of course, the pubs found on every corner, offer family-friendly menus at affordable prices. This is no small feat as London can be a very expensive city, and eating out as a family can quickly eat up your travel budget.
Certain neighborhoods and streets contain a wide variety of different dining options, like Brick Lane for great Indian curry houses, and Covent Garden Market for all kinds of international and casual eateries. Once you've booked your accommodation, research your neighborhood for the closest grocery stores, bakeries, and restaurants so you have a food game plan that meets all family members tastes and needs. Always pack snacks that will stand up to your travel day and the weather, including some special treats (i.e. candy, lollipops) to pull out in emergency melt-down moments. We've all been there, and food bribery can really save the day.
If experiencing Afternoon Tea is on your travel menu, London hosts classic High Tea at several famous establishments, including Claridge's, Fortnum & Mason's, Harvey Nichols, and if you're feeling really swish, The Ritz. Enjoying the delicate sandwiches, scones with jam and clotted cream, cakes, and pastries of an English Tea may be a trip highlight.
Don't be afraid to ask the locals for food and restaurant tips! Our greatest discovery came on the advice of a salesgirl at Selfridges, who led us to the narrow lane of St. Christopher's Place, packed with wonderful shops and restaurants. There we picked Caluccio's, a great Italian spot with reasonably priced pasta and other Italian specialties. We never would have found the entrance to St. Christopher's Place (it's about two feet wide) without her advice, and it made our London holiday so much more memorable.
Transportation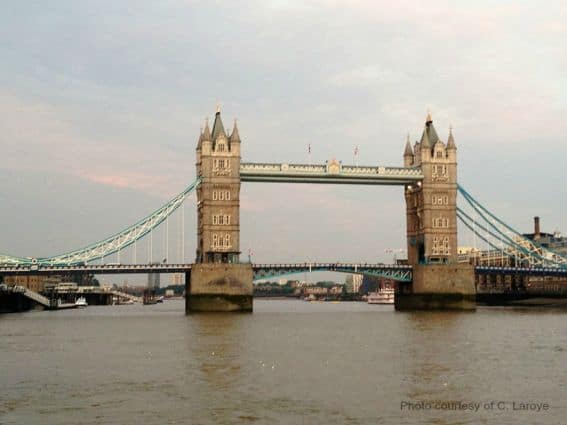 The food in London is great, but you will still need to get there. Take the Tube. It's so convenient and it will take you just about anywhere when experiencing London. Car & bus traffic can be a nightmare in summer, though an obligatory ride on a traditional red double-decker bus or London cab is fun for a few blocks. If you're planning a visit for a week or more, an Oyster or London Travelcard will save you money as you hop subway lines. Individual daycards work well for shorter visits.
Tip: Purchase attraction, tour, and transportation tickets ahead of time and print them out before you arrive. You will save time, money, and bypass many a queue with priority entry to the most popular sites, including the Tower and Madame Tussauds. VisitBritain.com offers a wide variety of ticketing options.
To See and Do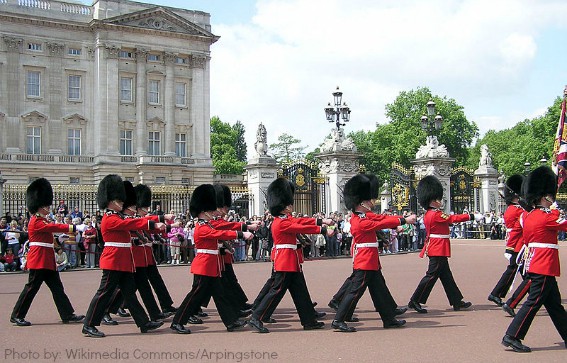 London is filled with incredible family-friendly attractions. Here are a few of our favorites:
The Tower of London has 900 years of history on display. It's been a royal palace, fortress, prison, garrison, and execution site. The current Tower houses the Crown Jewels for public display, the White Tower armory, and Torture Dungeon. Take a free tour of the Tower with a Yeoman Warder guide, and watch the Beefeater Guards march the grounds throughout the day.
Visit historic St. Paul's Cathedral. In the Crypt you'll find the tomb's centuries of city notables, including Lord Nelson and the Duke of Wellington. Climb up the 500+ steps to the Whispering and Golden Galleries, for incredible views of the city that rival the London Eye.
The London Eye has become London's top (paid) visitor attraction for the incomparable views of the city and the ferris wheel like ride experience. Pre-purchase tickets, and it may also be worthwhile to opt for the fast pass option in high season periods.
Whether the queues and chaos of Madame Tussauds are worth the visit is open to interpretation, but many kids will love meeting their favorite movie stars and action heroes in waxy, lifelike form at Tussauds. Ticket pre-purchase is a must, and prepare yourself for the crowds.
Get your royal fix with a tour of the state rooms in Buckingham Palace. Witness the pomp and circumstance of the Changing of the Guard at 11:30 AM in summer (every other day during the rest of the year). Arrive early for the crowds, and to get a good spot to watch the ceremony.
While you can easily walk across the Tower Bridge and snap some great photos of the Thames and the city, historians and bridge lovers will enjoy the Inside the Tower Bridge Exhibition that provide the history and mechanics of the bridge operation.
Shakespeare's Globe Theatre offers tours and performances for fans of the Bard. The open-air Globe has been recreated based on the original built in1599. Theatre lovers will also enjoy checking out the West End theatre scene to see the best variety of plays and musicals outside Broadway.
Animals can be a traveling family's best friend. The ZSL London Zoo, set in Regent's Park, offers over 760 animal species to see and enjoy, including Penguin Beach, Gorilla Kingdom, and the new Tiger Territory.
Visit a Free Museum. There are simply too many to list here, but a sample includes, the Victoria and Albert Museum (and related Museum of Childhood), British Museum, Imperial War Museum, National Gallery, and Tate Modern. These are just a few of the outstanding museums and galleries that are free to the public and offer an unbeatable glimpse into England's – and the world's – history and cultural heritage.
Outside of London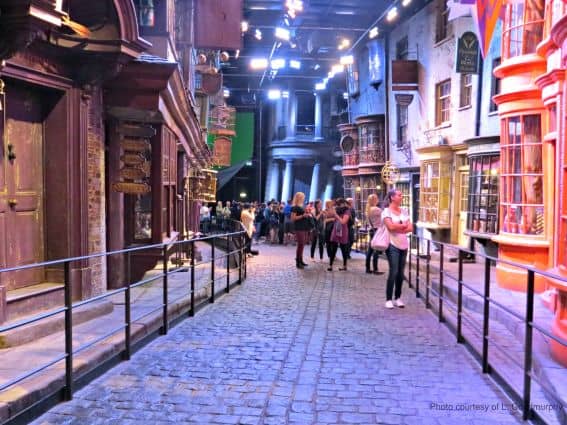 The Warner Bros – Harry Potter Studio Tour is the newest and most popular attraction outside of London. A must do for any HP fan, the Studio is located 20 miles northwest of the city, and easiest to access via rail or road. Plan to spend a day reliving the Harry Potter magic, strolling down Diagon Alley and standing on the floor of Hogwarts Castle's Great Hall. Tickets must be purchased in advance because no tickets are sold at the Studio Tour itself.
History and culture abound in and outside of London. The Queen's popular weekend residence, Windsor Castle, is a short journey from central London. A tour of the extensive grounds and castle interior, and a viewing the Changing of the Guard will please admirers of Britain's Royal Family. For many of Britain's national historic sites (i.e. Stonehenge), there is an English Heritage Overseas Visitor Pass that offers savings for families. The World Heritage City of Bath is 97 miles west of London. Bath is filled with history and culture, including Roman baths (for which the city is named), and many stunning, elegant buildings.

Looking for more? Check out all our tips and articles on visiting Europe with kids.