Have you ever driven along the countryside, passed a beautiful farmhouse and wondered what would it be like to live in one? Wouldn't it be nice to have the experience of actually living on a lovely farm?
You can do that by planning a vacation at Hobson's Bluffdale VacationFarm in Eldred, Illinois. Guests are invited to make reservations and visit from mid-March through mid–November. Arriving at Bluffdale is like stepping back in time into another world.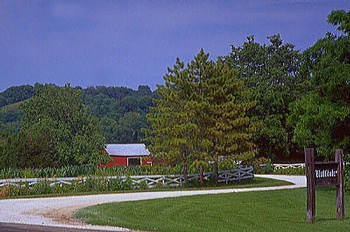 Bill and Lindy Hobson own and work this 320-acre farm with their son, Ken, growing corn and soybeans 280 miles southwest of Chicago. Visiting children and adults help with the farm chores; feeding the chickens, tending to the larger animals, and collecting eggs. But there are also many added treats:  horseback riding, fishing, and swimming. Evening activities include ice-cream socials, bonfires, hayrides, cookouts, and square dances.
The farm is located 4 miles north of Eldred, Illinois, and about a 4.5-hour drive from Chicago. Specific directions will be given with your reservation. It's a beautiful drive through farm country for you to imagine what life could really be like.
Lindy Hobson's Story
"I grew up in Oak Park, Illinois, and Bill and I met when we were in college at the University of Illinois at Champaign/Urbana. Bill's family has owned Bluffdale Farm since 1820. When we first moved here, my friends and family from the city visited and called it heaven with a fence around it. It occurred to me that we were onto something very good, that city folk needed a place to come to relax and enjoy the finer points of living in the country.
"There's a lot of wonderful history in this house. Bill's great-great-grandmother was just a girl when she attended George Washington's funeral at Mount Vernon, Virginia, on December 14, 1799. Both Charles Dickens and Ernest Hemingway visited here. It's a beautiful place and we love sharing it with so many people from around the world who visit and return. I'm 80 now and have some trouble with the computer, but I cook all the meals and bake all my own breads, rolls, and pies from scratch."
This is a beautiful trip to make with kids and extended families of all ages. After staying with the Hobsons, your whole family will have stories to tell and share, and the valuable first-hand learning experience of what it means to work and live on a very special farm.
For More Information:
Hobson's Bluffdale Vacation Farm (Rt. 1 Box 145, Eldred, IL 62027; 217-983-2854; www.bluffdalevacationfarm.com; bluffdale@irtc.net; open mid-Mar.–mid-Nov.; guest house: adults $99 per night, $629 per week, with adjusted rates for children; cabins and cottage accommodations are slightly higher).
Editor's Note: These trips are featured in Sheryl Kayne's book Immersion Travel USA: The Best and Most Meaningful Volunteering, Living, and Learning Excursions and on her website www.ImmersionTraveler.com. Sheryl would love to hear from you at ImmersionTravel@aol.com.