14,583 kids will be diagnosed with cancer this month. Pretty shocking number isn't it? You may also be stunned to discover that the U.S. government considers childhood cancer too rare and spends $0 to research it. Thank God for St. Jude. When St. Jude opened its doors in 1962, the pediatric cancer survival rate was less than 20 percent. Today, the survival rate is 80% and growing. St. Jude wants to bring the rate to 90% by the end of this decade. After visiting this incredible research hospital, I truly believe they can do it.
No family ever pays St. Jude for anything. The stress of having a sick child is more than enough for any parent to bear so St. Jude covers the cost of treatment, on-site lodging, and even provides meal cards to help with food costs. This allows for the focus to go 100% towards what is needed to heal these children. It's a beautiful concept, isn't it?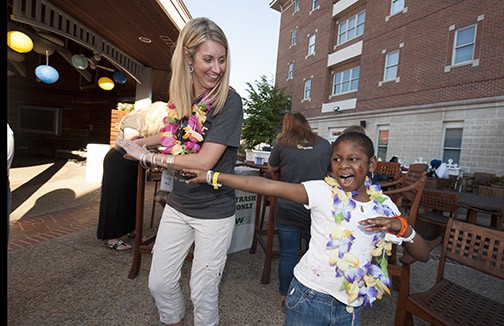 I had the honor of traveling with Expedia to Memphis last week so that I could visit St. Jude and volunteer at Expedia's Around the World party. It was held for the patients staying at the Target House, the wonderful housing for families with children who need to stay at St. Jude anywhere from 90 days to up to 3 years. It was such a joy to serve churros and crepes to kids who love to dance and color and play with balloons (and eat entire plates of whipped cream) just like my own. The next day, we toured St. Jude and my personal highlight was meeting Dr. Katherine Szarama. Dr. Szarama is a brilliant young scientist with infectious energy. After completing her doctorate, she could literally work anywhere in the world. She chose St. Jude. She passionately explained to us her research of the MCL-1 anti-cell-death molecule and how she is using this research to help find ways to fight neuroblastoma and medulloblastoma, two types of pediatric cancer. One of my dearest friends lost her two-year-old daughter to neuroblastoma so people like Dr. Katherine Szarama are like rock stars to me. It took everything I had in me not to squeeze Dr. Szarama tight and sob thankful tears on her shoulder.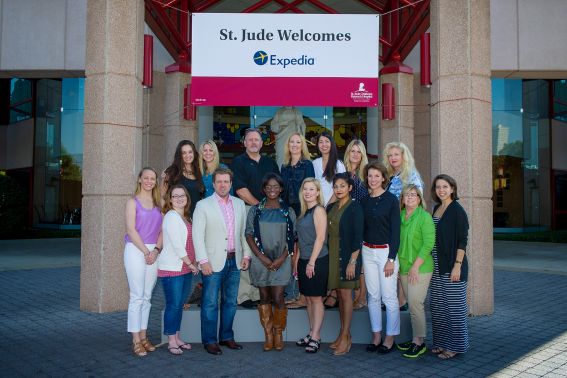 Truth be told, all of us at Trekaroo have a very special reason for being so passionate about childhood cancer research. Kristine, our Northern California Guroo, has a daughter who just started middle school and is currently in the midst of her fourth round of chemotherapy. She has medullablastoma, a type of brain tumor. We all know that starting middle school is a big enough challenge for a young girl but throw on top of it brain surgery, radiation, and nine rounds of chemotherapy and you have a challenge most of us will never be able to truly wrap our heads around. Thanks in part to the research at St. Jude, medulloblastoma has a survival rate of 85%. We want to keep funding Dr. Szarama's life-altering research until the survival rate is 100%.
YOU CAN HELP KIDS KICK CANCER'S BUTT WHILE WINNING A DREAM VACATION.
September is Childhood Cancer Awareness Month and in an effort to raise money for St. Jude, Expedia is giving away more than 150 trips, including 30 big Dream Trips, each day for the month of September. The giveaways last the entire month of September but a different prize is showcased on the Expedia Viewfinder blog daily. Entering is as easy as donating just $5 to St. Jude.
100% of all donations go directly to St. Jude.
Fact: It costs $1.8 million per day to operate St. Jude and the hospital runs 100% on donations. The average donation is just $31. Every single dollar counts.
#ExpediaStJude Bali Bliss Getaway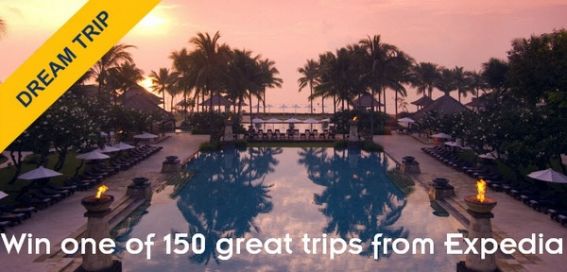 As part of the Well Traveled Families for St. Jude Blog Carnival organized by Hip Travel Mama, Trekaroo is happy to share the details of one of the amazing Expedia Dream Trips up for grabs– 5 nights in exotic Bali! Can you imagine escaping with your special someone for 5 splendid days in paradise? A $5 donation could make this trip your reality.
The winner of this trip (along with a guest) will spend 5 luxurious nights immersed in bountiful Bali, at the Conrad Bali. The prize includes breakfast daily, a 60-minute body massage for two, and a $500 Visa gift card to help you explore the region..
The heart of Bali beats at the Conrad Bali. Enter a world of temples and gods, rites and rituals, artisans and shamans. Or simply laze in a private beach bale all day and reconnect with yourself and close ones. Discover the thoughtful, highly personalized services and luxurious amenities that create escapes as unique as you are in Conrad Bali's renowned guest rooms, where vibrant Balinese art complements stylish tropical modern design and panoramic views. Airfare not included.
Want to read about more of the incredible dream trips you could possibly win? Then check out these posts which highlight trips to the St. Regis in Laguna, Vail, Bora Bora, Maui, and Vegas. Keep following the Well-Traveled Families for St. Jude Blog Carnival all month long to read about dream trips throughout September.
Two Easy Ways To Win
1. Make a suggested donation of just $5. Choose a prize. Submit your contact info. Select your donation and enter your credit card. Donate daily for a chance to enter this or other dream trips and prizes, or a coupon towards future travel. (Note that a donation is not required to enter but the families of St. Jude would certainly appreciate it.)
2. Choose a coupon. Make a donation of $25 to St. Jude and get a coupon for 20% off future hotel bookings on their mobile app or 10% off Expedia.com. If you are planning on booking a trip sometime in the near future, this one is a no brainer!
Now head on over and DONATE!
Love Pinterest? Then follow Expedia's St. Jude Pinterest board.
Special thanks to Expedia for inviting Trekaroo to visit St. Jude and participate in such a fabulous fundraiser. It was both an honor and a privilege to join you.
This post is dedicated to Tuesday Fiona Whitt. We fight on for a cure in your name, sweet angel.
*All photos courtesy of Expedia.