There have been some exiting new additions to the Trekaroo family this summer! No, there haven't been any newborn additions to my household. That ship has sailed my friends! However, there have been some exciting promotions and additions to the Trekaroo team as we continue to grow as an organization dedicated to helping parents travel with their kids to destinations both near and far.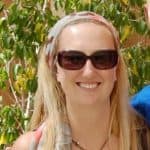 This spring, I was honored to take the promotion to Editor in Chief of the entire Trekaroo website. The new position allows me to work closer with our Destination Guroos, focus on adding new content to the website, and be more directly involved in Trekaroo's overall growth. The blog will always be my baby and I will still be contributing frequently because writing about travel will always be my passion, but I knew I could finally step away because we had found the ideal person to take over…

Katie Bodell is Trekaroo's new Blog Editor! After 6 months as Assistant Blog Editor, Katie quickly moved up the Trekaroo ranks. She is another Southern California based gal who, like me, read encyclopedias for fun as a kid. Yes, it takes a "special" personality to manage the Trekaroo blog. Katie is incredibly hard working, super organized, a fabulous writer, and loves to travel just as much as the rest of us. Her favorite travel destination to visit with her three girls (ages 2, 6, and 7) is San Francisco. Her worst travel moment: "Waking up at 4am to 'get ahead' on a road trip. Kids didn't fall back asleep, we stopped numerous times for unplanned breakfast snacks, potty breaks, and even two vomiting instances. Instead of getting ahead, we had a car full of cranky, sick, and tired kiddos. Her best travel advice: Don't wake up at 4AM to "get ahead" on a road trip.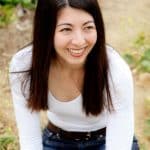 Since the Trekaroo blog has grown so much, we knew that it was most definitely not a one person job. Katie Dillon has joined the Trekaroo team as Contributing Editor after years of being a Superoo. Katie is a Southern California blogging celebrity in her own right, with a popular lifestyle blog, La Jolla Mom. She brings with her awesome social media skills (she is currently obsessed with Pinterest.), writing talent, and a passion for international travel. Her family loves to travel anywhere in Asia and always makes Hong Kong their first stop since they once lived inside the Four Seasons Hotel in this cosmopolitan city. Her worst travel moment: When her family took a midnight flight with her then six month old daughter from LAX to Hong Kong. The baby was so disoriented that she screamed for almost the entire 15 hour flight. Let's just say they've never flown that late at night again. Her best travel tip: When traveling with her daughter long haul, she organizes her carry-ons using gallon-sized Ziploc bags for clothes, diapers, and more. This way, she can keep things compartmentalized (for easy grab and go) and have something on hand that doubles as a trash or dirty clothes bag. Plus, compressing the air out of a full Ziploc allows for more compact packing.
Random fun fact: I have La Jolla Mom to thank for my role at Trekaroo. A few years ago I was reading Katie's blog when I saw her post about San Diego for a travel website with a funny name, Trekaroo. I clicked through, wrote about 30 reviews that night, and the rest is history!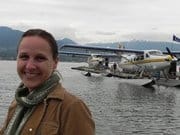 Trekaroo is excited to have yet another blogging celebrity join our ranks. I had been dreaming of having someone partner with me to help grow Trekaroo (including adding a review section for international destinations!!!!) but knew it had to be a person just as passionate about family travel and just as crazy (in a good way) as me. Truth be told, I had one person in mind but she is successful in her own right and I didn't have the guts to ask her. Luckily, she expressed interest on her own and now we are thrilled to have Amy Whitley, who most of you know from her popular family travel website, Pit Stops for Kids, on board as Trekaroo's new Content Editor. Amy is an award winning writer based in Medford, Oregon where she is always looking for her next outdoor adventure with her husband and three boys, ages 7, 11, and 13. She is loves National Parks, is an avid skier, and loves Trekaroo's rich community of adventurous parents. Her worst travel moment: Recently, her family arrived at their reserved campsite at midnight to find they had been given a two-person tent site…literally at the edge of a cliff. It was a Saturday night during the very popular tourist season on Orcas Island, WA, and no other lodging was available, so they worked in the dark to set up their large 8-person tent in between logs, rocks, and yes, the cliff. There they perched precariously for the rest of the night (they needed guy lines to tie the tent to tree branches) and just when they thought they had survived, a thunderstorm hit. Amy and her 13-year-old ran out to attach the rain fly in the light of the lightening. Needless to say, they changed sites the next morning. Her best travel tip: Her family is always trying to save money while traveling, and their #1 guaranteed way to keep to a budget is to pack lunches and order only water at meals out. It's cheaper and healthier.
We are so thrilled to have these three ladies as well as all of our Destination Guroos around the country on Team Trekaroo. We are so excited about how much growth 2012 has brought Trekaroo and look forward to becoming an even better resource for traveling families in the coming years. Who knows, maybe we will be writing intergalactic family travel stories one of these days!
---
Travel with kids to: CA |CO | DC| FL | HI | IL |MA | NC | NJ | NY | OR| PA| TN | TX | UT | VA | WA