Nikki Stoddart (aka familyvonwang)  is a Trekaroo Superoo.
There is nothing like a weekend getaway to refresh and inspire.   Escape the sweltering heat this summer and bring your kids to Mendocino and Humboldt counties for redwood hikes, pristine beaches and adorable seaside villages.  California's Redwood Coast offers the most stunning redwood forests in the world, a wonderful playground for families to explore.
Secret Redwood Trails
When summer temperatures soar past 90 and the pool just can't keep your family cool, it's time for a road trip through the big trees.  My personal favorite is Richardson Grove State Park in Southern Humboldt County, not because it is the most serene (actually, Highway 101 goes smack through the middle of it), but because it's just such a pleasantly surprising pit stop.  Driving up from San Francisco through Benbow, you will follow the gorgeous Eel River as it tempts you with its serenity. Pull off the highway at Richardson Grove, and let the kids throw rocks in the river and walk along the interpretive trail to see the "Goose Pen" trees (massive, hollowed out trees similar to ones that California settlers kept their poultry in).
If you are looking for a more serene hiking spot, see my list of recommended gorgeous and ADA compliant (read: Stroller Friendly) Walks in the Humboldt Redwoods.
Serene Tide Pools and Cozy Lodging of the Lost Coast
While you are up that way, head over to Shelter Cove, a tiny, secluded hamlet of vacation homes and cliff top inns.  The Tides Inn is perched above a lovely little black sand beach with tide pools frequented by abalone divers.  Families will enjoy the spacious mini suites with separate living rooms and flat screen tv's! Dining options are very limited, but a stop at the beautiful Cape Mendocino Tea House for homemade soup and sandwiches is a must.  It is only open on weekends from 11:00am- 4:00pm so plan your trip accordingly.  For more delicious restaurants, read my entire list of unique and delightful North Coast cafés for kids.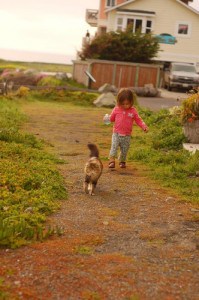 Read my comprehensive review of The Tides Inn of Shelter Cove.
Zebras by the Sea
Further south along the coast, the most unexpected Mendocino delight is undoubtedly the B. Bryan Wildlife Preserve.  Tucked into the adorable seaside village of Point Arena, this beautiful preserve is a sanctuary for endangered African hoof stock such as the rare Hartmann's mountain zebra, graceful kudu and sable antelope.  Frank and Judy Mello's preserve is crowned with a glorious Victorian wedding cake mansion, pristine gardens full of fat happy chickens, and luxurious guest cottages that beckon travelers with their peaceful serenity.  The Victorian carriage house  welcomes kids of all ages, while the guest cottages are ideal for couples or families with kids over 12 years old.  Be sure to attend one of Frank's excellent evening feeding tours, and for goodness sake, bring your camera!  If you visit during foaling season (spring/summer) you just might glimpse a tiny baby nestled in the grass.