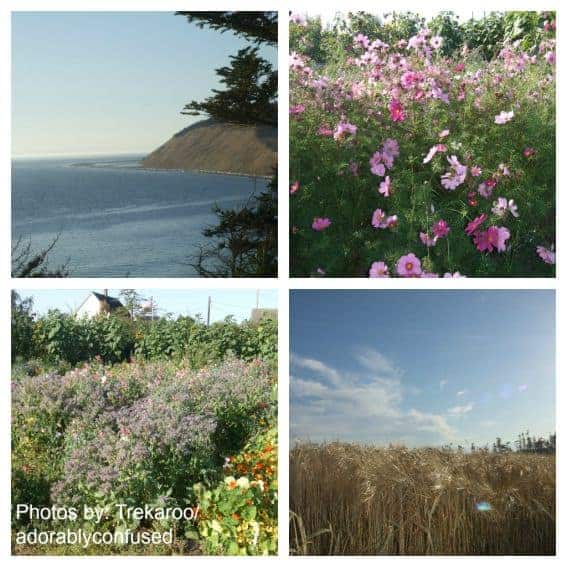 The only way to visit Whidbey Island, Washington and not see something beautiful is to visit with your eyes closed. Possibly even with a blindfold on top of your closed eyes, because I'm not sure mere eyelids could stop the sheer awesomeness of the island from sneaking in. There are farms with green crops, red barns, and colorful flowers. There are beautiful old-growth forests with trees that seem to scrape the sky.  And, of course, there are amazing views of the water that surrounds Whidbey Island, and of the spectacular mountain ranges in the distance.
In addition to being gorgeous, it's also populated with some of the most creative people I've ever met. A farmer who makes sheep's cheese and also makes metal artwork.  A businesswoman who also makes beautiful clay platters.  A bed and breakfast owner who just happens to be a poet.  Everyone I talked to on Whidbey had a story to tell about how they got there, and not one of the stories was boring.
When we weren't talking or gawking at yet another gorgeous view, our time on Whidbey Island was spent eating; eating amazingly prepared, locally grown, delicious food.  There's a movement on Whidbey Island right now called Whidbey Island Grown that aims to promote knowledge and use of locally grown foods.  At one restaurant, my husband ate several bowls of Penn Cove mussels that had been harvested right in a nearby cove, and delivered within minutes to the restaurant.  Now, that's fresh food! Many local businesses and farms are really passionate about growing and using local products. These people care about their Island and about their food, and the result is really delicious meals.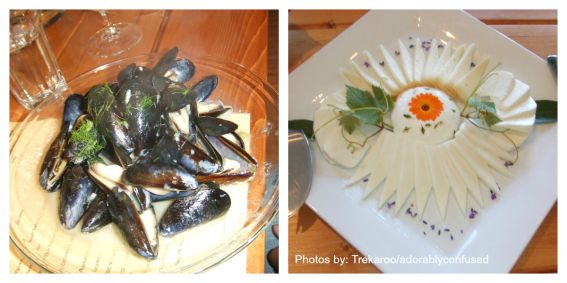 Whidbey Island: A Foodie's Paradise
We visited Whidbey Island during a special weekend- the Whidbey Island Farm Tour. This is a wonderful festival that occurs once per year (usually in September) that encourages people to get out and see where their food is grown.  This year, eighteen farms were open for free tours. We met alpacas, llamas, sheep, pigs, and donkeys. We strolled through rows of vegetables and flowers.  We saw beehives and picked blueberries.  My kids are city kids, and if you ask them where food comes from, they say "the refrigerator" or "the store". It's important to get kids out to see the farms and the process of growing their food, so that they will appreciate good food and the hard work that it takes to get the food to them. The Farm Tour is a great way to introduce your family to food in its natural state!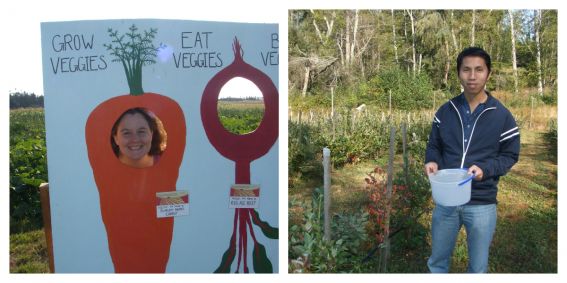 We are farming at the Whidbey Island Farm Tour
If your family is visiting Whidbey Island (and you really should be!) and you're not there over the Farm Tour weekend, consider making a stop at Greenbank Farm. This was one of the highlights of our time on Whidbey. Greenbank Farm is an incredible 150 acre farm and public space in the middle of Whidbey Island. When it looked like the land was going to be developed, several groups purchased it, and turned into a place where people could shop for wine or other local goodies, wander through gardens, look for birds, eat pie, admire art in the art galleries, walk on trails, and learn about agriculture. Greenbank Farm even has an Organic Farm School where young farmers can learn vital skills for running their own farms.
In addition to the beautiful farms, Whidbey Island has lots of other activities to offer. Your family can stroll the streets of Coupeville and check out all the little shops and restaurants and then visit a huge whale skeleton on the waterfront at Penn Cove Pier.
Whidbey Island also has a number of state parks including Fort Casey State Park where you can check out the restored lighthouse, climb on World War I-era gun batteries, explore the beaches, and enjoy more spectacular views.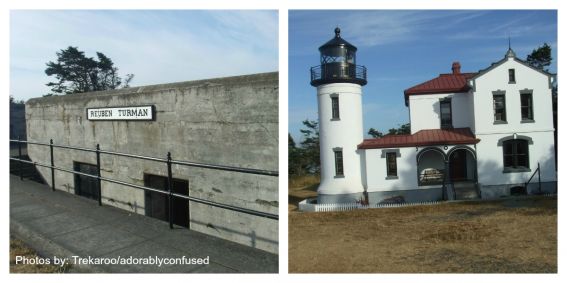 Exploring History at Fort Casey State Park
The adults in your family will appreciate Whidbey Island Winery with its tasting room and delicious wines. (Kids are welcome in the tasting room, but of course cannot taste the wines.)  The little ones will love the chance to run around the big lawn outside the winery while the grownups sit at one of the outdoor tables and enjoy the scenery.  Up at the north tip of Whidbey Island is Deception Pass, with its beautiful bridge which connects Whidbey Island to the mainland.  At Deception Pass, your family can take a boat tour, get a great view of Deception Pass, and its bridge from an angle that most people don't see!
Touring Deception Pass
Whidbey Island is full of hidden gems and wonderful towns- there's something new to see and do every time you visit the island.  We can't wait to go back!
 Disclosure: Thanks to Whidbey Island Tourism for hosting us on this trip!
Travel with kids to: CA |CO | DC| FL | HI | IL |MA | NC | NJ | NY | OR| PA| TN | TX | UT | VA | WA