Dana Rebmann takes pride in passing on her travel bug to her two girls ages 10 and 13. And though her favorite trips require a passport, she always sets aside time for a summer stint on the Jersey Shore. You can find her on Twitter @drebmann.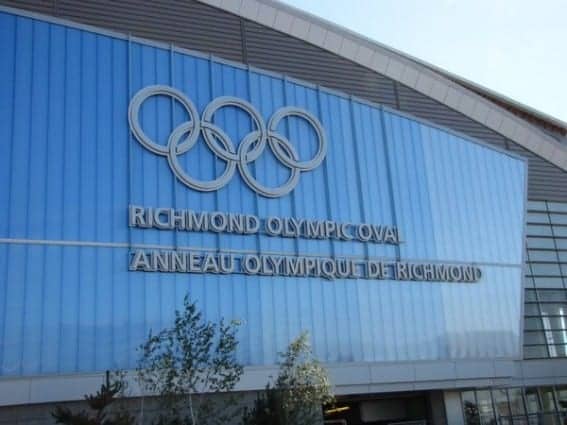 Once my 10 year-old daughter and I had settled in on our flight home from Canada, I asked her to tell me her favorite part of our weekend in Richmond, British Columbia.  I expected this to take some time.  Tourism Richmond had hosted us for four days.  It was a getaway itinerary kids dream about, loaded with things like a waterpark, go-karting and kite flying.  She caught me completely off guard when, without an ounce of hesitation, she said, "The Richmond Olympic Oval was my favorite."
Don't get me wrong, I was incredibly impressed with the Richmond Olympic Oval, I just didn't expect it to garner such rave reviews from my daughter.  Her sole purpose of existence tends to revolve around places that have pools.
All eyes were on the Olympic Oval when it served as the home to long track speed skating events during the 2010 Olympic Winter Games.  And though the world spotlight may have disappeared, residents and visitors are still reaping the benefits.
Life is Sporty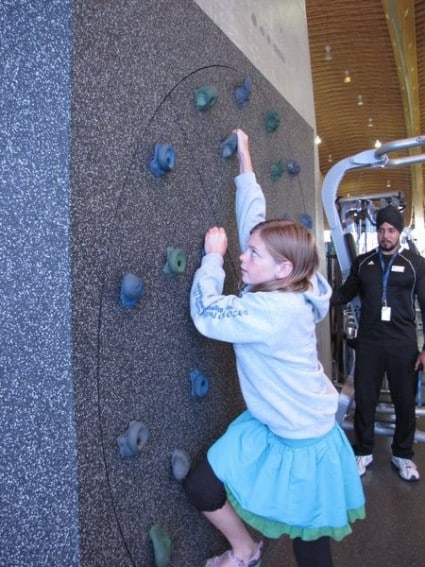 I've never seen a sports venue quite like it.  Venue isn't even the right word.  Think phenomenal health club, meets amazing community center, meets fabulous place to take the kids.
The Stats
The world class facility is more than 47,500 square meters in size.  It's huge!  It has to be to hold everything that's inside.  Some of the highlights include:
• Over 100 pieces of strength and cardio equipment
• 2 Olympic sized ice rinks
• 18 badminton courts
• 13 volleyball courts
• 10 basketball courts
• 3 indoor soccer fields
• 16 international sized table tennis tables
• 5-Lane track
• Indoor rowing & paddling tank
And the list goes on and on.  It's enough to make you tired just reading it.
Most folks don't dedicate much time to working out when they're on vacation.  It is vacation after all.  But if you're feeling guilty about over indulging the Oval offers drop-in classes that will help you burn off any extra calories.  The reasonable drop-in rates include a variety of activities including fitness classes and ice skating.  Did I mention they also offer childcare?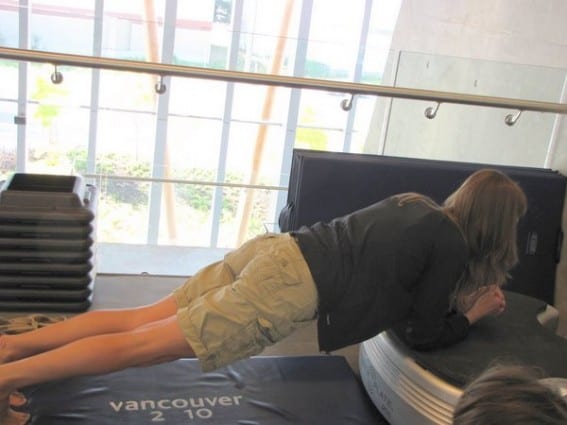 We couldn't get it to work schedule wise for us, but my daughter was enamored by the dueling ice rinks. A few hours at the rink could be just what a family needs when the weather doesn't cooperate or the kids just need time to be kids.  And as someone who has a reputation for being cold, it's the first ice rink I've ever been to where I wasn't cold.  I think I could have skated in my shorts and t-shirt.  Throw in a little ping pong at one of the 16 tables, some time at the rotating mini rock climbing wall and you've got the makings for a family fun-filled day.
Even if you don't hours to spend taking advantage of the facility, find an hour to take a tour.  The Olympic Games might be over but its Olympic persona is strong and the facility conveys a certain "wow" factor.
The Richmond Oval has picturesque view of life, sitting on the Fraser River with views of the North Shore mountains.  The riverfront property that surrounds it is in the midst of a building boom, so I have a feeling more good things for residents and visitors are on the way.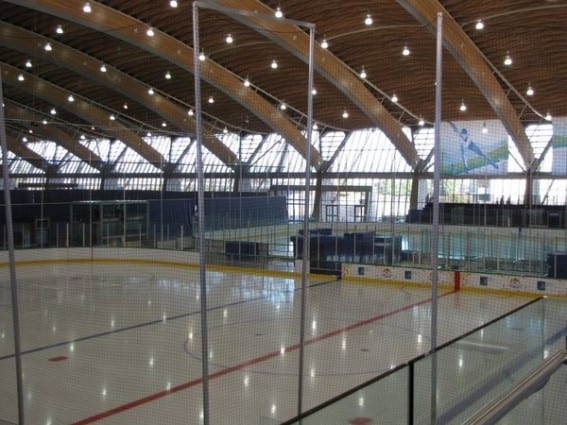 Getting There
You could jump in a cab, but the Oval is an easy walk from Richmond's Westminster Highway where you'll find an assortment of hotels.  If you're in Vancouver, jump on the Canada Line.  During my stay in Richmond, I was hosted by the Sheraton Vancouver Airport Hotel.  Don't let the name fool you, the hotel is in Richmond, an incredibly convenient 5 to 10 minute ride from the Vancouver International Airport.  Its central location made exploring Richmond by car, train and foot a breeze.  The pool and hot tub were a hit with my daughter during our few moments of down time and as a way to unwind before bed.  With rates ranging from $170 – $240 a night, you get more hotel bang for your buck in Richmond than you would in pricier Vancouver.  In other words, two great cities for the price of one!
Dana Rebmann and her daughter received complimentary airfare, lodging, and activities in Richmond, BC courtesy of tourism Richmond.  She was not asked to express any particular opinion or point of view.
________________________________________________________________________________________________________________________________________________________