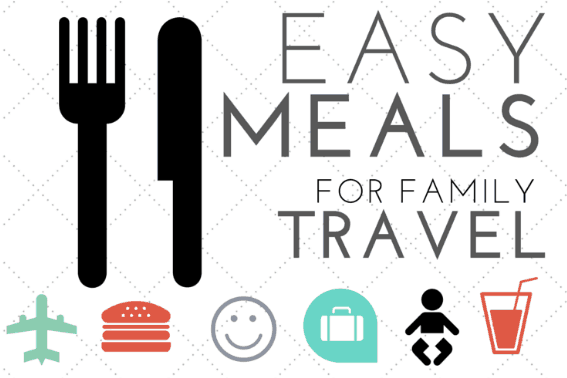 I would never consider myself a foodie. Trying to cook my way through all the recipes of Julia Child would end terribly. I admire the person who can whip up a gourmet spread with whatever is in the pantry. When it comes to potlucks and gatherings, I'm the one who signs up to bring chips or beverages! So when it comes to making meals while traveling, easy meals are the way to go. If you're like me, I tend to fall back on the old classics – deli meats, PB&J, cheese and crackers. Though we won't starve, none of this is going to have the family drooling.
In the age of Pinterest, not only have I found that I can finish that quilt, and I can get in an easy workout at home in 20 minutes, and I can upcycle that sweater into a great scarf or diaper cover, I've found I can also create easy meals on-the-go, even if I'm limited to a mess kit, campfire ring, or hotel room. As it turns out, Pinterest was originally stormed by foodies, food bloggers, and cooking enthusiasts as the site to share perfectly plated food photos and creative recipes! It is now my inspiration for easy travel meals. 
Local and Fresh


If you find yourself on the road and see a sign for the local farmers market consider stepping out. One of the ways that I've found feeding my troop easier while traveling (whether stateside or afar) is to look for the cluster of canvas tents where three out of the four seasons, in most any part of the country, farmers markets abound. These fun (and usually FREE) destinations allow you a pit stop to get out, enjoy some exercise, and have fun learning about what is grown locally. Beneath these tents, bouquets of in-season flowers and jewel-colored jams and jellies line the tables. Many stands have cookbooks for purchase to take home as a souvenir and to re-create the regional tastes of the places you visited. Pinterest is bubbling over with ideas for recipes to use with the bounty from these markets. Consider making a kid-friendly salad -we can all make a salad! Kabobs are also the perfect travel-friendly meal. There's a reason that Trekaroo includes reviews of farmers markets across the country.
Home Away from Home Cooking: Hotels


Kitchenettes rock for long-term family travel, road trips, and weekend getaways. Hotel suites with kitchenettes typically offer a little more space with the ability to save money and eat something akin to "home cooking" while away from your abode. Pinterest can help with your meal planning with great finds like this series on hotel room cooking -oh yes, it can be done! The best kitchenette rooms are the ones that come well-stocked with cookware, glassware, and silverware. However, if you are faced with only a microwave, Pinterest has many solutions for microwave meals. While some of the suggestions were not for me (I have to give  points for creativity on the iron-grilled cheese sandwiches), I found the ideas for coffee-maker oatmeal and making scrambled eggs pretty handy! Check out the many no-oven delectable dinner solutions to go beyond the boiled hotdog or Cup O Noodles in the coffeemaker. The best cooking tip I found was to bring a crockpot. For me, crockpots = comfort food plus a real meal. So on my next trip I'll remember to bring a crockpot!
Campfire Meals
Follow Trekaroo Family Travel's board Campfire Recipes on Pinterest.

While cooking in the bush, forget the idealized notion of the picturesque dining experience complete with tiki torches, oilcloth table covering, and side dishes galore. After a long and sweaty day hiking and swimming, settle instead for the perfectly realistic campfire-kissed entrees, a step or two above burgers and hotdogs on sticks. Try campfire food with a fun twist especially for camping. Sometimes though, a heartier meal is appreciated and foiled dinners can be the answer! In Girl Scouts I remember calling them "Hobo dinners." While I was busy keeping the onions far from my foil, I also recall how delicious the hot and hearty meal tasted especially on a cool night! Make sure to leave room for dessert – Pinterest is loaded with campfire cuisine for those with a sweet tooth. Grilled chocolate banana melt, anyone? It's worth putting together a camp kitchen for the efficient use of space and for less time spent on clean-up. We own this one which Trekaroo featured as a car-camping kitchen guide and it's helped us to have a self-contained area for all of our mealtime preparations. Be careful surfing through the labyrinth of Pinterest posts because bouncing from one pin to the next will certainly lead to another page of topics, pins, and posts until the entire day goes up in smoke. At least the meals over the next family campfire will be secure!
Convenient Travel Snacks



We have an entire bag devoted to snacking for road-trips and most of the carry-on is for food as well. Everyone is happier when we've successfully staved off hunger. Pinterest has a large compilation of best snacks and creative culinary masterpieces (like homemade Uncrustables sandwiches) that can be shoved into a Ziploc to take along for the adventure. If you want a classier option than a plastic bag, try a craft or tackle box full of treats! This tip about watermelon sticks is one that I will use when camping, road-tripping, and quite frankly, for when I pack my bag of office snacks. No more messy watermelon mustache! I think even more than the yummy goodness that was pinned all over cyberspace, I was inspired by all of the containers used to organize and plan on the travel snacks boards!
If you give a mom a minute on Pinterest she will undoubtedly find something new to try. She will need to go to the store for supplies. While at the store, she'll overhear someone talking about their recent vacation. This will remind her to book the trip to Disney. When she's booking the Disney trip, she'll realize she needs to feed her family while on vacation. And if she has to figure out how to feed her family while on vacation, she'll probably end up back on Pinterest to make it happen!