Every now and again, I need to experience something a little kitschy while on vacation. You know, something that makes me feel like a tourist. Luckily, duck tours are around to provide that perfect amount of cheesiness while still giving families a great way to see a city. A "DUCK" is a World War II style amphibious landing vehicle which allows riders to experience the streets and waterways without ever having to leave to switch vehicles. They are typically manned by tour guides who are full of personality and great information about their hometown. And, best of all, they seem to be popping up all across the country.
So where do you find a little bit of goodness? Well, here are five duck tours to get you started:
1. Boston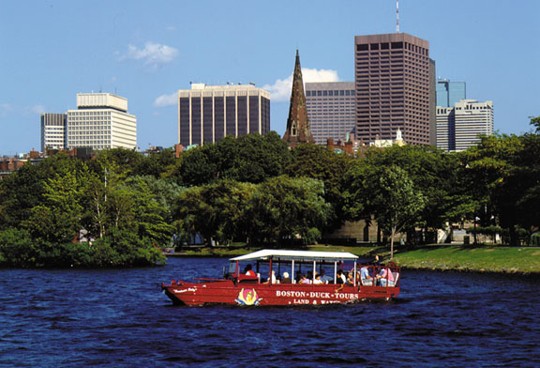 The  Boston Duck Tour is actually a Boston classic. Ride past historical sites such as Boston Common, the Old North Church and Faneuil Hall all while being informed and entertained by great tour guides who filled with fun facts about Beantown. Of course, no Duck Tour is complete without a little time on the water and this trip takes you down the Charles River. Quack at kayakers and enjoy the skyline before coming back on land and finishing the tour.
Have you been on this tour? Tell us about it!
2. Philadelphia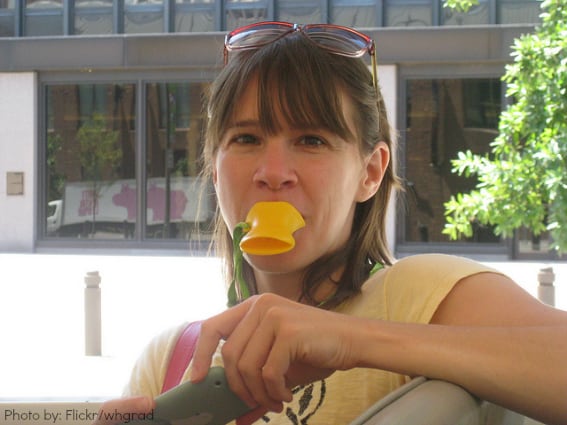 Grab the kids and hop on board for a quacktastic tour of Philadelphia on Philly Duck Tours. Explore the Old City before plunging into the Delaware River for a view of New Jersey and the Benjamin Franklin Bridge. Kids will love the free duck kazoos (aka: quackers) but parents may want to "accidentally" lose the noise makers after the ride for sanity's sake.
Have you quacked in Philly? Share your experience with other Trekaroo families.
3. Pittsburgh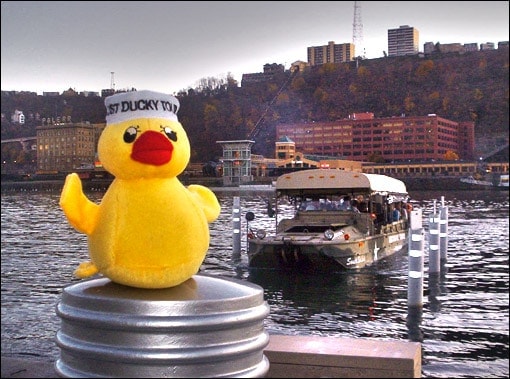 Head on over to Station Square and take a ride on Just Ducky Tours of Pittsburgh. Enjoy the architecture and historic sites of The Burgh all from your seat on an amphibious vehicle. This tour takes riders out on to the Allegheny, one of Pittsburgh's famous Three Rivers.
Did you find things just ducky in Pittsburgh? Share you story.
4. Wisconsin Dells
For over 65 years, the Original Wisconsin Ducks have been taking families on a fun tour of the beautiful dells of the Wisconsin River as well as scenic Lake Delton. Squeeze through Red Bird Gorge and enjoy the shaded trails and famous rock formations of the Wisconsin Dell region all while being entertained by some good old-fashioned cheeseball humor. 
Have you experienced the original duck tour in the Wisconsin Dells? We would love to hear your thoughts.
5. San Francisco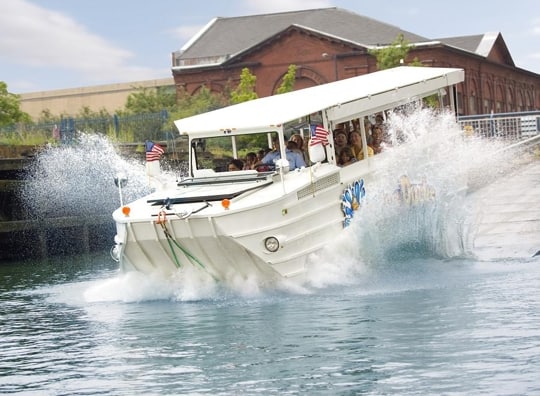 Step aboard a Ride the Ducks, San Francisco Duck Tour and take a ride from Union Square out to Chinatown and North Beach all while learning fun facts about one of the greatest cities on the planet. Yes, the locals may look at you funny, but as long as you have a sense of humor about yourself, there is plenty of fun to be had. This tour's water entry is near Pacbell Park, in McCovey Cove. Rumor has it that more often than not, passengers are spotted quacking while dancing away to YMCA…
Did you shake your tail feathers on board an amphibious vehicle in San Francisco? Tell us what you thought!
Still looking for more duck tour fun?
Trekaroo researchers have discovered duck tours in Seattle; South Beach; San Diego; Austin; Fort Lauderdale; Portland, Maine; Honolulu; Long Beach, California;  Hot Springs, Arkansas; Ketchikan, Alaska; Galveston, TX; Washington DC; and Albany, New York.  If you have been on any of these tours, be sure to share your experiences with Trekaroo families and write a review!