I have a confession.  Every year when Mother's Day rolls around, I shyly harbor hopes that Dad and my two boys would make a big deal of me. (Blush!)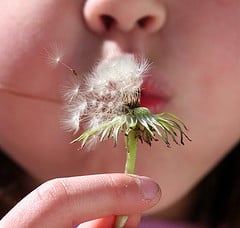 My idea of a perfect Mother's Day would involve being greeted with an enthusiastic morning greeting and a brunch at a kid-friendly restaurant with great food or a picnic at a beautiful location. The key – I don't have to lift a finger.
I figured there are lots of other moms everywhere who harbor secret wishes of the prefect  Mother's Day celebration just like me.  Every mom is a little different.  Some of us just want a day to ourselves, others want some pampering at a spa, others of us would like nothing more than quality time with our family where we didn't do all the planning.
So, I took the question to Trekaroo moms, and here are the dream mother's day ideas they've come up with. From wonderful spots for brunch to beautiful gardens to picnic in, to decadent chocolate events.  Some require advanced reservations, but others, you could just pack a picnic and head on out.
So Dads, if you've been trying to read mom's mind to figure out what would make her feel really loved, here are some great suggestions brought to you by none other than moms themselves.  Share this list on Facebook or Twitter and help out all the Dad's out there who are probably scratching their heads desperately trying to figure out plans for this Sunday.  Moms, here's your chance to voice your secret wishes to Dad. Sign in to Trekaroo and create a list of your own or leave a comment below with your dream spot to celebrate Mother's Day idea.
Biltmore Estate – Asheville, NC – Free Admission on Mother's Day
OREGON
Awesome Mother's Day Brunch and Dinner Spots in Southern Oregon by PitStopsForKids
CALIFORNIA
Mother's Day Brunch and Ideas for Family Fun Around San Francisco by Lydie
5 San Francisco Bay Area Gardens to Picnic at for Mother's Day by Lydie
Mother's Day Brunch and Family Fun Ideas in San Diego, CA by McFam
Mother's Day Brunches and Family Fun in Orange County, CA by McFam
Perfect Mother's Day Brunch and Treats in the Inland Empire, CA by filmdncr
Mother's Day Brunch and Fun Activites in Temecula, CA by B's Mom
MIDWEST:
Mother's Day Brunch Spots and Fun Events in St. Louis by Natalie's Mom
Favorite Mother's Day Ideas  in the Midwest by mama.bear.johnson
TEXAS
Best Mother's Day Ideas and Events in Texas by slofamilylife
Mother's Day Brunch Spots in Austin, Texas by slofamilylife
Best Mother's Day Brunch Spots and Fun Ideas Around Dallas by slofamilylife
PENNSYLVANIA
Mother's Day Ideas and Brunch Spots in Philadelphia by Travelpangs
NORTH CAROLINA
Mother's Day Ideas Around Asheville, North Carolina by PrincessTrioMom
FLORIDA
Best Mother's Day Brunch and Ideas for Family Fun in Florida by Cavaletta
Photo by: Flickr/Dawn Huczek
Liling Pang is Editor and CEO of Trekaroo – a reviews website dedicated to exploring and traveling with kids. We're powered by a community of travel savvy parents.
Travel with kids to: CA |CO | DC | FL | HI | IL |MA | NC | NY | OR | PA | TN | TX | VA | WA