I had visions of SeaWorld-worthy flips and tricks in mind the first time I swam with dolphins.  My dolphin routine would begin with a graceful swim around the pool as I held tightly to the dolphin's dorsal fin while smiling and waving to admiring onlookers.  My mammal friend would then charge up from below and rocket me up out of the water in an elegant display of gymnastic flair.  Okay, so that was my vision.  In reality I learned that the most important rule when swimming with dolphins is: Hold on to your swim trunks! If you can master that rule, you'll be ready for an unbelievable experience.  Yes, I did get the chance to hold on to a dolphin's dorsal fin and go for a ride.  I also got a chance to experience the tremendous force of two dolphins thrusting me and through the water by bottoms of my feet.  Both feats were by no means graceful.  But the experience was truly amazing.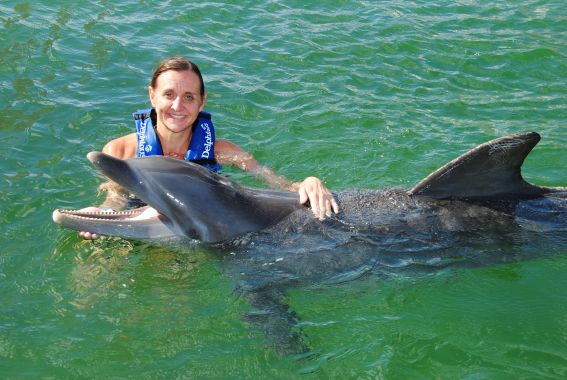 Trekaroo's Guroos have searched the seas high and low to bring you our Guroo-approved kid-friendly dolphin encounter experiences.  Each of the places strive to be stewards of the sea by offering dolphin research, conservation, and education all while allowing families to experience some amazing dolphin encounters.
Atlantic Coast & the Bahamas
The Bahamas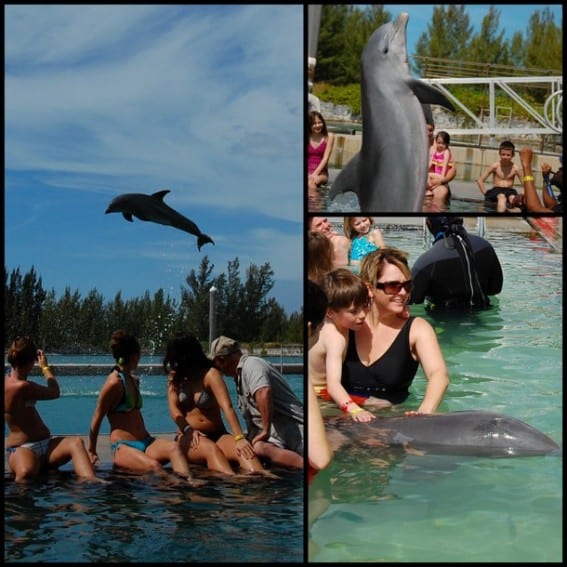 UNEXSO, located on Grand Bahama Island offers a wide array of dolphin experiences suitable for any adventure level.  Families with small kids may want to opt for the Dolphin Close Encounter experience.  This kid-friendly dolphin interaction allows guests to step on to a submerged platform and pet, kiss, and splash with a dolphin.  If you're looking for a more immersive adventure, opt for the Open Ocean Experience.  This one of a kind program allows participants to swim with trained dolphins in an open ocean environment.
Riviera Maya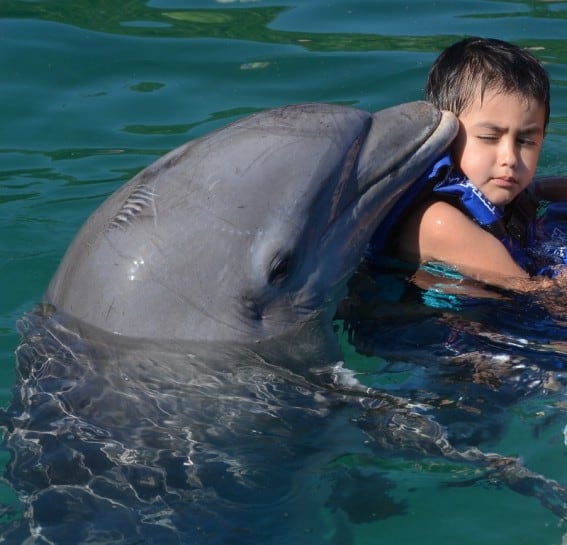 Dolphin Discovery at Riviera Maya offers a dynamic program with hands on experiences with sea lions, manatees, and dolphins.  Dolphin activities range from hugs and kisses to the incredibly exhilarating foot push, where your dolphin buddies push you up and through the water with tremendous force.
The extraordinary natural scenery at the Delphinus Dolphinarium in Riviera Maya's Xcaret Eco- Park may be the only thing that overshadows your dolphin adventure.  Delphinus is the only company offering an underwater dolphin diving encounter, where guests sporting compressed air diving helmets get the opportunity to interact with dolphins 13 feet below the water's surface–no scuba certification is required.  For those not yet ready for the deep sea, Delphinus offers a wide range of dolphin encounters including couples swim, alone time, and trainer for a day programs.
Cancun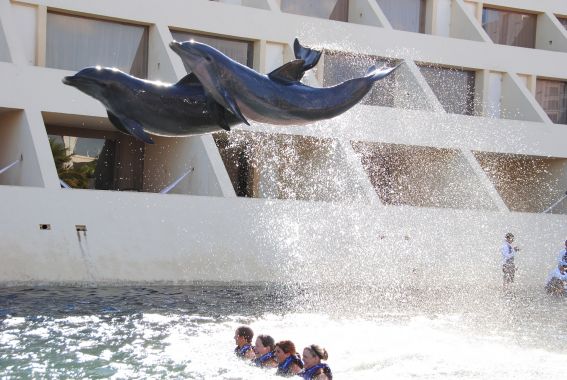 Delphinus Dreams Cancun is sister companies with Delphinus Dolphinarium Riviera Maya, and offers all of the same dolphin encounters as the Rivera Maya location, except underwater dolphin diving.  Delphinus Dreams prides itself on its responsible and sustainable management practices which result in well cared for animals.  I love that Delphinus caters to every guest's experience and anxiety levels.  During my dolphin swim encounter, one member of our group was afraid to swim in the deeper water despite wearing a mandatory life preserver.  Delphinus trainers catered to her anxieties, calming her fears allowing her to experience the dolphins at a much less anxiety driven depth.
Florida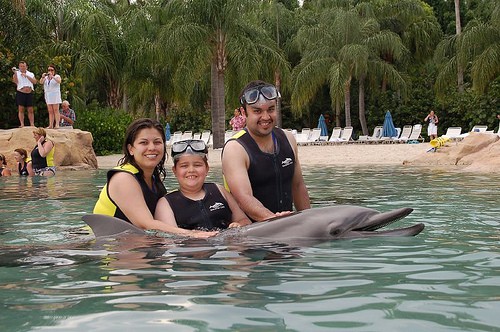 The movie Dolphin Tale portrays the true story of Winter, a young dolphin who was rescued from a crab trap line.  After Winter's rescue, she was transported to the Clearwater Marine Aquarium where she was rehabilitated and now lives the life of a true movie star.  The Clearwater Marine Aquarium invites families to visit Winter and learn more about this courageous animal's story.  While there, consider participating in one of the aquarium's kid-friendly dolphin encounters including the popular wading or painting with a dolphin programs.
Orlando is home to the exclusive Discovery Cove, a resort-like marine park offering families some unique of animal encounters, including a popular dolphin swim experience.  I love that this park offers all-inclusive packages which include meals, snacks, and beverages throughout the day!  The only thing that beats the convenience of the park's all-inclusive dining is the 30 minute interactive dolphin swim experience where parents and kids over the age of 6 can get up-close while playing with these social mammals in the park's shallow lagoon.
Florida Keys' Hawks Cay Island Resort lays claim to the only mainland resort offering free public viewing of trained dolphins in its ocean-fed saltwater lagoon.  Better yet, the resort also offers dolphin encounter programs for families seeking hands-on dolphin experiences.  Jump in and become a trainer for a day, or remain dockside and wet-free while learning about these amazing mammals.
Pacific Coast 
Hawaii
Photo courtesy: doubleadventure
With two locations in the Hawaiian Islands, Dolphin Quest seeks to create a connection to nature by offering unique dolphin-human interactions.  Dolphin Quest succeeds at their mission with its educational and kid-friendly dolphin encounter experiences.  I especially love that Dolphin Quest offers a Wee Tots dolphin experience where kids as young as 2 can meet and greet a dolphin beach-side in shallow water.
Cabo San Lucas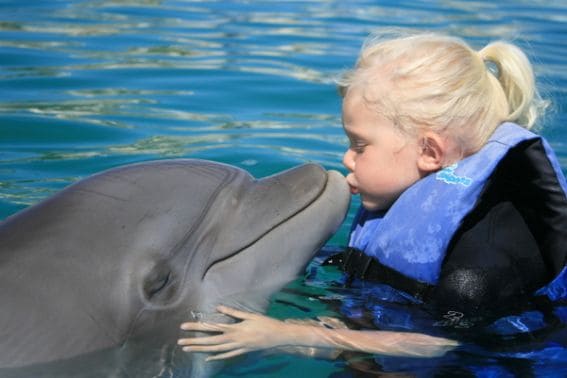 It's hard to miss Cabo Adventure's modern dolphin center located in the heart of the city's marina.   Cabo Adventure is the area's premier activity operator and specializes in a wide range of entertaining and educational dolphin encounter experiences.   I estimate that Cabo Adventure's dolphin encounters are 20% swimming, 80% learning, and 100% interactive fun.  I was amazed how our group's dolphin trainer morphed in to a biology professor, pointing out and explaining dolphin anatomy all while our patient dolphin subject flipped and turned to aid in the biological demonstration.    I especially love that Cabo Adventure caters to young kids by allowing kids ages 1-3 to accompany their paying participant parent free of charge during the dolphin encounter.
Land-Locked Encounters
Photo via GoExploreNature
Don't feel left out if you happen to be a land-locked dolphin lover because Siegfried & Roy's Secret Garden and Dolphin Habitat in Las Vegas invites families to experience these amazing mammals face to face.  Visit the Dolphin Habitat's underwater viewing rooms where you'll see a dolphin's playful personality come to life.  Reserve your spot as an artist in training as you collaborate with a bottlenose dolphin friend and create a masterful work of art.  Kids over age 13 are invited to participate in the Dolphin Habitat's trainer for a day program where participants get the opportunity to care, train, and play with dolphins for an entire day.
SeaWorld San Antonio offers visitors a behind the scenes dolphin encounter that is ideal for a child's first experience with these social creatures.  This backstage tour gives families an opportunity to touch, feed, and interact with dolphins while creating some nice memories and great picture opportunities.  The backstage tour is recommended for guests ages 8 and older. Although guests ages 3 and under are free of charge, they are not allowed to participate in the interaction.
Disclosure: Thank you to Cabo Adventures and Delphinus Dreams Cancun for hosting me during press trips.  Neither company requested that I express anything other than my honest opinion.