When I was a little girl, I used to watch reruns of Flipper and imagine I was Sandy, the teenager lucky enough to join Flipper on his many adventures. Of course, in my fantasy, Sandy was a girl, and Flipper seemed to jump over more than his fair share of rainbows… I think you get the point- I was absolutely crazy for dolphins! Years passed and I grew up, but the dreams of having a dolphin push me up out of the sea using only his nose still lingered in the back of my mind. Finally, this past April my dreams were allowed to become reality- this girl got her dolphin adventure at Dolphin Discovery Puerto Adventuras in the Riviera Maya.
Dolphin Discovery allows guests to have hands on experiences with sea lions, manatees and dolphins.  While waiting for our turn with the dolphins, we watched the baby manatees being fed what seemed to be an endless amount of lettuce.  They followed their trainers around like puppies, eager for their next treat. An adult manatee eats over 100 pounds of vegetation per day so the juveniles are happy to get in as much practice as they can.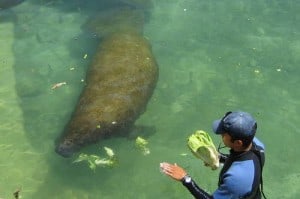 When our moment with the dolphins had arrived, we were given strict instructions about what to do and what not to do while in the water with the dolphins. Dolphin Discovery puts the safety of their animals first and lives up to not only the minimum standards of Mexico, but the full standards of  The Alliance of Marine Mammal Parks and Aquariums and is the only company in Latin America to do so. If you are concerned about the health and safety of these animals, this is definitely the best place in Latin America to have your dolphin encounter.
Our group was signed up for the Dolphin Royal Swim which included the opportunity to kiss and hug the dolphin as well as hold a bar for it jump over, going for a ride through the water while holding its dorsal fin, and the holy grail for dolphin lovers, the foot push. After being given a thorough safety talk, everyone in our party lined up and completed each dolphin skill in an assembly line fashion. I posed for a picture with a dolphin kiss, then Cecelia did, then Bobby did, etc. I felt this system took a bit of the personalization out of my experience. In my mind, I would be frolicking with my new best friend, Flipper the dolphin, and jovial music would be playing in the background. I obviously watch too many Disney movies. Even with the super structured environment, all the kids in our group appeared to have the time of their lives and each and every one of them (including the angst-ridden teens) only had positive things to say about their time with the dolphins.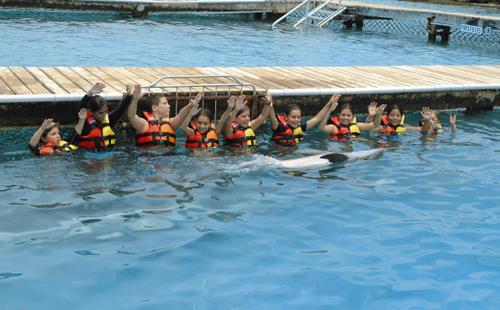 The highlight of my experience was definitely the foot push. Being pushed through the water by the bottlenose of the dolphin with half of my body out of the water was amazing. In that moment, all of my dolphin dreams had finally come true. The foot push alone is definitely worth the cost of admission. The low point- realizing that pictures were insanely overpriced and I would have no visual to show my kids when I got home. No outside cameras are allowed in the dolphin experience so you are at their mercy and I found that to be disappointing. It seems as though prices are a bit negotiable but plan on spending at least $25 on one picture and over $100 for a CD documenting the experience. I bought a picture of my niece getting an adorable kiss from the dolphin but was stingy and didn't get any pictures of myself.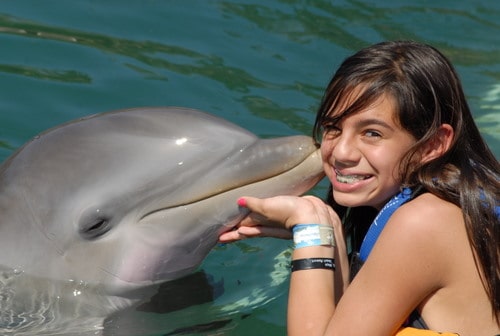 Overall, if I had to do it again, I would in a heartbeat. I would come in with much more realistic expectations for my experience and be thrilled to be in the prescience of such amazing mammals. Oh- and I would bring an extra $25 for that picture!
Disclosure: I visited the Riviera Maya this past spring as part of a press trip in order to write a story about the region. I fell in love with the region and felt it was incredibly family-friendly so my article has now turned into a series! All accommodations, meals, and activities were provided. The Riviera Maya did not request that I express any particular opinions and, as always, all opinions reflect my honest opinion.