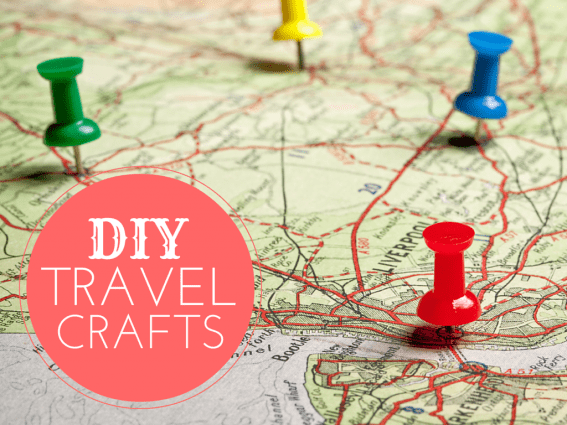 Even though I come from a long line of "crafty" women, I do not do crafts. I do not have the patience or the natural ability that crafting requires and generally have no interest in changing that. However, when I started looking at crafts on Pinterest that relate to travel, I found myself sitting in front of my computer, pinning madly and exclaiming out loud, "I could do that!" and, "What a fun way to remember a trip!" Whether you're a crafting novice like me, or a glue gun-wielding, long-time crafter, these fun and creative DIY travel craft ideas are sure to make you want to dig out your travel souvenirs and start creating!
Crafting with coins



I've come home with a wallet full of coins on many trips and haven't ever come up with anything to do with them, other than putting them in a bowl somewhere. But Pinterest knows what to do with them! How about making fridge magnets by gluing magnets to the back of the coins that you've picked up in foreign countries? Love jewelry? Consider turning those coins into charms for a DIY charm bracelet or a pendant for a necklace or earrings. If you're in search of an even simpler idea, how about putting the coins behind glass and displaying them in a picture frame? You can even add postcards, maps, or flags of the country the coins came from!
Fun with maps



There are so many fantastic craft ideas on Pinterest for ways to use maps from your travels. You could use the map as the matting around your favorite photo(s) from your trip to that destination. Or trace the shape of the country you visited onto corkboard, cut it out, and place pins on the locations that you visited. That craft doubles as a great way to teach geography to your kids!
For a fun way to display photos and remember your trips, just cut out photos from your trip in the shape of the state or country that you visited and glue the picture on top of the matching map location! Maps also make a great background for shadow boxes, which you can then fill with souvenirs from your trip! Other fun map crafts require no more than simple scissor skills- cut out the map of the state or country you visited and put it under glass. For a special touch, draw a heart or star on the cities that you went to! Or add glitter to make it really shine! Or you could cut out part of the map and glue it to cardboard for an easy, personalized Christmas tree ornament.
Great ways to display travel photos



We all have walls and shelves full of framed photos. But there are lots of other, out of the box ways to display all your great travel photography. I like this simple craft that just involves an empty picture frame, rows of twine, and clothespins to pin up those pictures. Use an old window frame for an even more unique look! Another super easy idea is picking up some magnetic strips at the store and gluing pictures to them to use as fridge magnets! For a fancier touch, modge podge and kitchen tiles can be used to create beautiful, personalized magnets with photos.
Sand, rocks, and more



One of my favorite keepsakes from many of my family's trips is my small collection of sand, rocks and other items that we collected on walks while traveling. I just bring my collected items home in a bag and pop the whole thing in a small jar, which I then label with the destination and date when we visited! Another similar craft on Pinterest involves collecting sand from destinations around the world and putting them in small bottles with tags. Super easy and cute. If you're a frequent beach traveler, you can make this unique collectible that consists of no more than layers of sand in a jar and stickers to indicate date and place!. What a conversation piece!
There are so many fun ways to remember your family's trips- What are your favorite travel-related craft ideas? Leave a comment and let us know!