2017 may have just begun but the fun is already in full swing at the Disneyland Resort. This year, Disney California Adventure is going all out in celebration of the Lunar New Year. The celebration of the Year of the Rooster takes place now through February 5th and includes plenty of amazing food and entertainment options reflecting Chinese, Korean, and Vietnamese culture.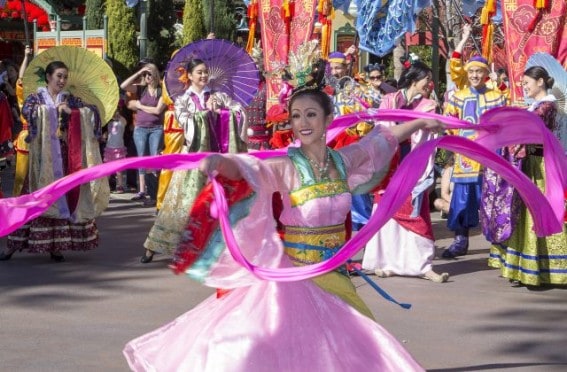 Photo by Disneyland Resort
Highlights of the Lunar New Year entertainment include:
– A special feature prior to the World of Color show called Hurry Home. It tells the story of Little Lantern as he makes his journey home for a New Year celebration using the lights, fountain, and projection animation that makes World of Color so captivating.
– Mulan's Lunar New Year Procession which features the Disney princess dancing alongside umbrella dancers, ribbon twirlers, martial artists to the sounds of thundering drums.
– The Acrobats of China performing amazing feats of balance and strength.
– Performances by authentic music artists of Korean, Chinese, and Vietnamese background including immensely talented Vietnamese concert guitarist Dat Nguyen.
– Mickey, Minnie, Chip 'n Dale, Mulan, and Mushu dressed in Lunar New Year attire and ready to take their picture with your family.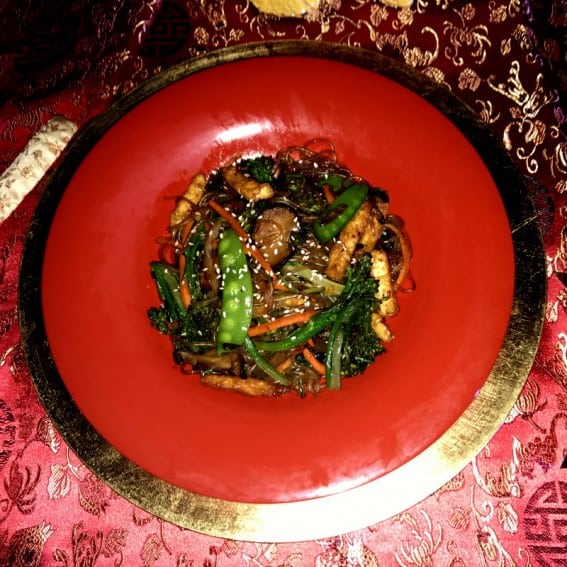 Another highlight of the celebration at Disney California Adventure is the food. Diverse options are available in both the Lunar New Year Marketplace that lines Paradise Pier as well as the Paradise Pier Grill. Many of the dishes were inspired by recipes that Disney Cast Members shared from their own homes. I had the opportunity to sample several of the dishes and some of my favorites were Kalbi beef short ribs, pork soup dumplings, Japchae (stir-fried vegetable noodles), mango pudding, and the mango green tea with popping bobas.
Main Street Electrical Parade
Photo by Disneyland Resort
At long last the Main Street Electrical Parade has returned home to the park where is all began. Since the parade's premier in 1972, it has been a hit with the millions of parkgoers who have listed to the famous "Baroque Hoedown" and watched 600,000 lights sparkle their way from Small World Mall to Town Square on Main Street, USA. The parade made its way down that route nearly 3,600 times before the original Disneyland run came to an end in 1996. Though it is very exciting that the parade is finally back where it belongs, it is unfortunately for just a limited time. The parade will run nightly now through June 18, 2017.
So what goes into the Main Street Electrical Parade? How about 22 floats- including an 18-foot clock tower and 5,600 lb dragon, 27 Disney characters, and 80 dazzling parade performers. Seven films are represented during the parade- Alice in Wonderland, Pinocchio, Peter Pan, Snow White and the Seven Dwarfs, Cinderella, Dumbo, and Pete's Dragon. If you want to make sure you have prime seating to enjoy every moment of the parade, consider the Delightful Dinner and Dazzling Diversion experience. It includes a 3-course meal at Blue Bayou Restaurant place admission to a preferred viewing area for the parade.
Want more Disney fun? Check Trekaroo's extensive Disneyland guides. 
Disclosure: The author was a guest of Disney at the premier of Disney's Lunar New Year celebration and Main Street Electrical Parade so that she could bring this story to Trekaroo readers.
Comments
comments