(Last Updated On: April 18, 2017)
Update 3/28/2013 – The first batch of Disney Rewards have been sent out.  If you have not received your Amazon gift card via email, please check your junk mail folder just in case the Amazon email got filtered out.  We are still processing claims that did not meet our review qualification criteria.  Please check your Trekaroo passport for messages (under the compliments tab) for edits requested by our editors.  You should also have received an email to notify you of the compliment/message awaiting you.
Update 3/31/2013] – Disney Rewards is now closed.  Thanks for participating.  It will take us about 4-6 weeks to process your claims.  You can help speed up the claim process by making sure that your reviews are excellent.  Give us every reason to check you off our list and send that gift card off to you immediately!
Update 3/30/2013 – A little over 24 hours and 22 claims spots left before Disney Rewards comes to a close.
Update 3/27/2013 – We still have budget for another 39 claims.  Will yours be one of them?
Update 3/19/2013 – You've knocked our socks off with your enthusiasm over our Disney Rewards.  So we've decided to put more cash towards this program.  The fund for this program has increased to $2000.  So, hurry submit your claims by filling out the form below.  There are still an unlimited number of Disney Reviews anyone can write and apply towards our Walt Disney World Giveaway and Disneyland Resorts Giveaway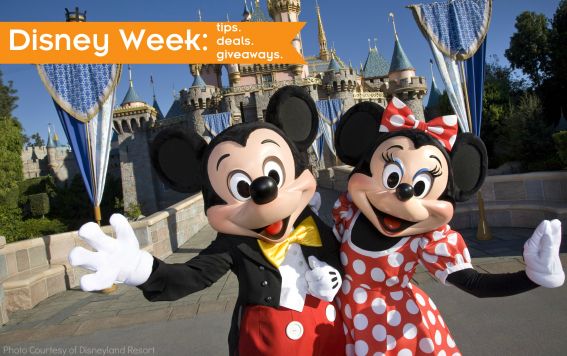 Welcome to Disney Week 2013!
What is your daughter's favorite ride at Disney World? Which hotel had the pool that your son just couldn't get enough of? Which character breakfast was the highlight of your family? Disney fans unite.
In addition to offering two fabulous giveaways, we are so excited to launch our Walt Disney World Resort Review Guide – your complete source for parent-approved reviews on every single attraction, restaurant, and hotel in every. single. park.  Guidebooks and expert advice are great, but simply stated, there is nothing that compares with having tips and been-there-done-that reviews from parents who've experienced Walt Disney World first hand.
Did your 3-year-old scream in panic and fright while riding Peter Pan?  Someone out there needs to know that advice.  Did your 6-year-old who barely was tall enough for Tower of Terror LOVE the ride and ask to never leave?  Recommend FASTPASS.  What should you do with your teens & tweens?  Or what about toddlers?  We've created lists to help you navigate this massive world.
Start exploring Walt Disney World in the Walt Disney World Resort Review Guide.
In honor of our 2013 Disney Week and the launch of our Walt Disney World Review Guide, we're giving away rewards for writing Disney Reviews.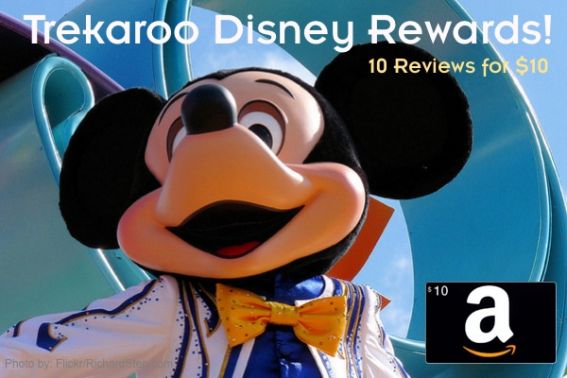 Earn an Amazon Gift Card
Write Disney Reviews, Get Rewarded.
Snag a $10 Amazon Gift Card by writing 10 new Disney reviews in the next two week (March 18- March 31,2013)
We've got $1000 $2000 to giveaway, so start writing and get your friends to join in too.  When the money runs out, this offer expires.
Get started:
Step 1: Join Trekaroo  It's easy & FREE
Step 2: Go to any of these Disney pages and write 10 reviews of Disney rides, show, hotels and restaurants listed on Trekaroo
              Disnelyand California Resort: Activities | Hotels | Restaurants
              Walt Disney World Resort: Activities | Hotels | Restaurants
              Click "We've Been Here" then click "Rate & Review"
Step 3:  Claim your reward by filling in the form at the bottom of this page.
Review Qualifications (Yes, we do look at all your reviews!): 
Disney rewards are open to existing and new members
Reviews must be written between March 18 and March 31, 2013 – hurry!!
Reviews must be original and based on your family's real experience visiting Disneyland or Walt Disney World with Kids
Only reviews of Disney hotels, attractions, restaurants, and entertainment are eligible for rewards
Reviews must be well written and offer valuable tips to parents.  Writing Tips
Restrictions and Limitations:
Rewards must be claimed by March 31, 2013 or before the $1000 $2000 budget is maxed out. (We will update this page daily when the $1000 budget is getting close to being maxed out.)
Trekaroo reserves the right to disqualify reviews that we deem to be poor quality
Each user account may only submit one claim with a maximum of two claims per household.  Creating multiple accounts in order to submit multiple claims will disqualify all claims.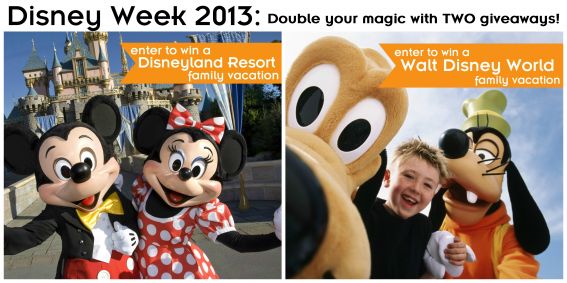 Don't forget to enter to win your choice of Disney Vacation: 
Enter to win a family vacation to Disneyland California Resort Family Vacation AND/OR Walt Disney World Resort Family Vacation!
Comments
comments