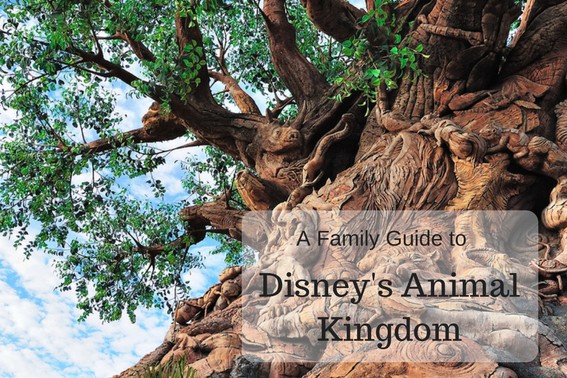 Photo by: bigstock/Songquan Deng
Some folks live for Disney. They take their kids EVERY year; I even know those who've continued the tradition into adulthood. Not so for us. In fact, until recently, I would have said you'd never get us to enter the gates of the Magic Kingdom or any of its brethren parks. Until we did. And you know what? We weren't wrong. Disney was hard! Let me share a little story with you about how two Disney skeptics found their park. Our personal story also doubles up as a family guide to Disney's Animal Kingdom.
The True Story of How We Found Our Park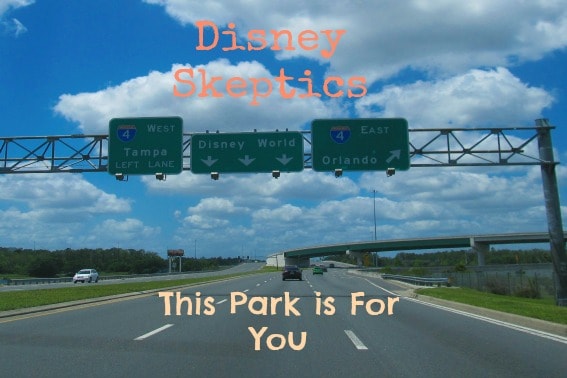 Once upon a time, in a Magic Kingdom in Florida, a once seemingly normal family fell apart. The mother, who usually doted upon her two sons, was sweaty and sunburned and had only one focus: getting the perfect family photo in front of Cinderella's castle. The father, coming off of two days alone with the children had little patience left at all.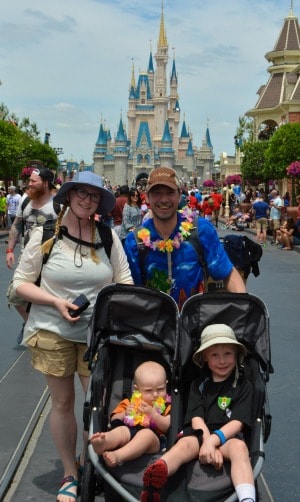 "Smile!" A PhotoPass photographer grinned and snapped away, capturing the Kodak moment: mom post meltdown, preschooler with authentically teary eyes, and father and younger son pasty white with the sunblock they failed to rub in. Yes, this was to be the magical moment captured for the Christmas card.
Mere steps inside the Kingdom and the B.O.B. Duallie stroller was on a collision course with trouble. The family tried to find a place to use their coveted FastPasses, but with a toddler in tow all the lines were too long in Fantasyland. It's a Small World had a line that would be no small feat. Peter Pan? Forget about it. I'd sooner take on Tic Tock Croc than that queue.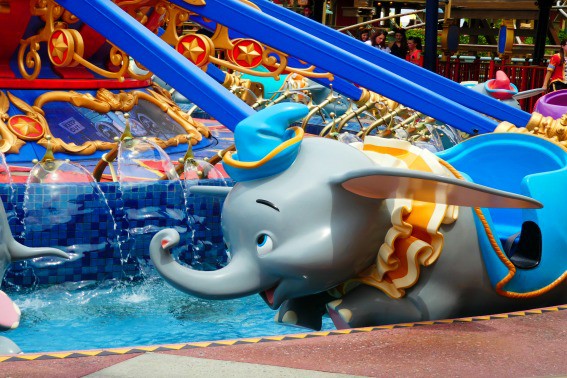 About two hours in and all the family had managed to do was take a few photos, enjoy a successful Dumbo ride, and walk around Space Mountain–twice–which turned out to be where all the smokers in the park conglomerated, making it feel like the sweat-soaked family was cast in Gorillas of the Stinky Mist.
At Tarzan's Treehouse, the mother, naive as she may be, had conjured an attraction in her mind that was stroller-friendly. This treehouse was a StairMaster, so sweaty mama held sweaty baby while father and older brother followed along with 27 other climbers. No time to take photos or marvel at the scenes from the story that were carefully, creatively laid out before them. Onward! March and shuffle like sheep being herded to the shearing shed!
"I'm done! That's it!" The heat of the afternoon had crushed her spirit and she wanted to retreat back to the Grand Floridian, take off the embroidered Mickey Mouse ears, and throw in the towel. After the mother gladly coughed up nearly $20 for a round of cold, instantly melting Mickey Premium ice cream bars, the family boarded the monorail and headed back to the comforts of their hotel. While that day was a bust, the good news is they truly did live happily ever after because the next day they headed for Animal Kingdom!
Animal Kingdom: Where the Real Magic is Found
I couldn't help wondering as I laid in bed that night, how people could be willing to spend so much money on something so perversely agonizing? Seriously…they could be spending that same hard-earned cash on a real adventure–even one under the same Disney umbrella!
After an easy time parking the Zipcar in the empty lot, 15 minutes shy of the park opening, I felt like summitting Everest and shouting at the top of my voice: "This is the best kept secret in this 40ish square mile labyrinth!" Perhaps I should keep my mouth shut and let everyone continue to believe Animal Kingdom is a "half day park" and a "glorified zoo." Let them think that! There will be more gloriously wide, open, shaded, and paved pathways for me! But, after the exceptionally bad time we endured in the Magic Kingdom, I could only think three things:
My parents were saints for ever bringing us there and sticking it out for a full day.
We'd be sending the boys with said grandparents for round two if they wanted anything to do with Magic Kingdom in the future.
Dole Whip.
So hang with me, Disney skeptics, if you have the same loathsome feelings about Magic Kingdom, this may just be your park! Animal Kingdom is great for all the reasons Magic Kingdom is not and here is my attempt to tell you from the bottom of my heart that I was a Disney skeptic that found a truly magical time at Animal Kingdom –and you can too!
Why Animal Kingdom is More Magical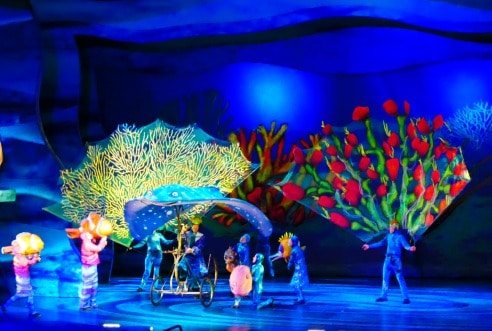 You can almost always get reservations for amazing, stress-free character meals (and they're typically cheaper too!). Granted, Be Our Guest gets a few points for serving beer and libations, but you'll have to work for reservations at most of the popular tables in Magic Kingdom. Fearing the same fate, I made Tusker House lunch reservations months in advance, the very day I was able to in fact! And, to my surprise, the morning of our reservation I looked online and found that we could still change our table time if we needed; they weren't booked up. We saw Donald, Daisy, Mickey, and Goofy up close with no wait and plenty of dedicated time at our table, resulting in endless photos and lots of fun.
There are tons of trees so you aren't constantly being beaten by the sun. Granted, my family looks like we stepped from the pages of Frozen and do better with blizzards than blinding rays, BUT shade keeps you cool which helps to keep your cool, which makes for a better day.
Dole Whip at Tamu Tamu (feel free to add rum!). 'Nuff said.
When you need to unwind, take in the animals. Stroll leisurely. Catch the Lion King or Finding Nemo, both musicals are great for kids, but if you must choose just one, go with Simba for the familiar music and Broadway caliber performance.
Africa and Asia are both interesting and aesthetically pleasing. There are shops but they have more of a community market feel than the storefronts of Magic Kingdom. Street performers include stilt-walkers, Tamu Tamu drummers, singers… Imagineers went the extra mile with the detailed construction of each scene and backdrop.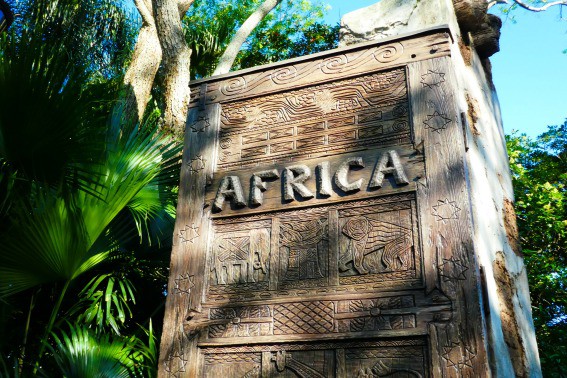 Everything feels immersive — not that I've got the street cred of having been to Africa, BUT it at least felt foreign walking the "streets" of Harambe and passing under the prayer flags in Asia as I moved ever closer to the looming peak of Everest!
You'll collect a book full of autographs without much stalking. We saw Dug and Russell just as they were taking a break and waving goodbye to everyone at the Wilderness Explorers outpost. We happened upon King Louis and Balou in the shadows of some overhanging trees and had the BEST character interaction ever with a minimal wait.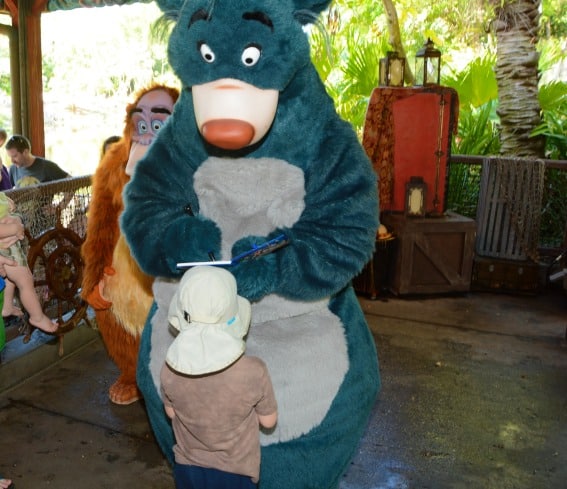 Take a safari ride. Travel back in time in a Time Rover to rescue an Iguanodon. Summit Everest. Get soaked on a fun river raft ride. See a yeti? Maybe. The rides in this park though fewer seem to be more WHOLE family-friendly. Again, just my opinion, but for our nature-loving, crowd-phobic family, Animal Kingdom was a FULL day park. We opened it up in the morning and were some of the last weary souls leaving that evening.
The Future of Disney's Animal Kingdom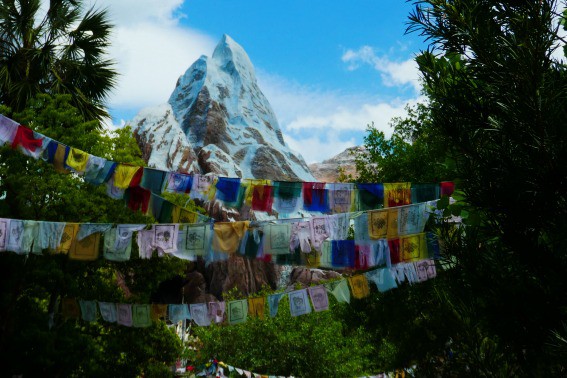 Animal Kingdom, while perfect in my eyes, has been in the process of a face lift for a while now. Animal Kingdom After Dark with new nighttime offerings at the park could be the harbinger of polishing an already lovely gem. Building Avatar's Pandora could just be opening Pandora's box in my mind — but Disney does do things SO well. I was thoroughly impressed by the previews of the Awaken Summer campaign, and just maybe this park will continue to impress those of us who can't seem to find our glass slipper within the Magic Kingdom but don't want to be left out from the ball!
All photos by the author Amanda Williams, unless noted.