For many families, a vacation  just isn't a vacation without a good dose of Disney.  As an Orange County resident and Disneyland season pass holder, I get the opportunity to frequently see friends from out of town during their holiday.   I wish I could pretend that they made a trip to see me, but in reality I know its because they can't live without their annual pilgrimage to the "happiest place on earth".  In a selfish effort to bring more friends out to the park, I scoped out the hottest deals Disneyland currently has to offer.  I was a woman on a mission and it wasn't long before I found some great deals for the Disney Cruise Line and Walt Disney World as well.  I certainly couldn't keep all this juicy information to myself and who better to share it with than the loyal readers of Trekaroo?  I hope these tips help you fulfill your family's Disney dreams this year.
DISNEYLAND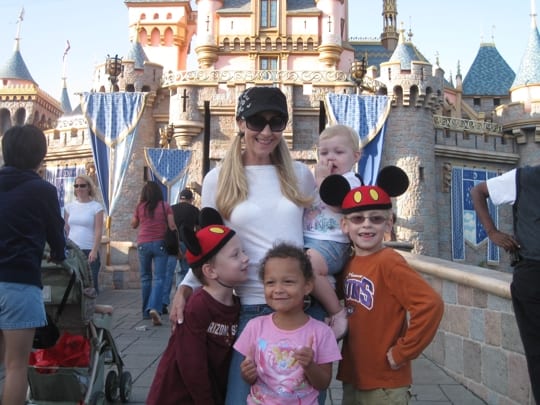 Getting there:  If you are planning on flying to visit Disneyland between now and April 15, 2011, be sure to take advantage of Alaska Airlines "kids fly free" package. Any adult flying on Alaska or Horizon Air into LAX or Orange County can bring one child aged 2-11 for free!!!!  Flights must be booked by 2/19/2011 so hurry up and make plans!
Buy 3 nights get the 4th free: Now through February 19, 2011, families can buy a 3 night Disneyland Resort package and receive a 4th night free along with $20 ESPN Zone Game Card.  Arrivals must be between now and April 11th.
Read Trekaroo reader reviews of  Disney's Grand Californian Hotel and Spa.
Park hopper discount:  I love to be able to go back and forth between Disneyland and California adventure is this 3 day park hopper is the way to do it!  For $169, guests can hop back and between the two parks for three days, and enter Disneyland before the general public on one "Magic Morning".
Active and retired military discounts:  From now until September 28, 2011, active and retired US military can purchase up to six 3-day park hoppers for only $99 per ticket to be used by family or friends!!!!  That's an incredible deal so grab a member of the military and head to Disneyland.
Southern California residents:  From now through May 14, 2011, Southern California residents can purchase a 2 day ticket for only $99.  This allows you to visit one park per day and the best part- the days do not have to be consecutive!  You can upgrade the 2-day ticket to a park hopper for just $10 more.
Read Trekaroo reader reviews of Disneyland and California Adventure.
DISNEY WORLD
Discount on Disney World Resort lodging: Families looking to visit Disney World between February 17th and April 16, 2011 can take advantage of some nice discounts being offered by Disney Resort hotels as long as they book by February 13th.  Disney hotels are discounting their rates from 15-30%.  See the Disney World website for more details.
Read Trekaroo reader reviews of Disney's Port Orleans Resort, Disney's Animal Kingdom Lodge and Villas,  Disney's Wilderness Lodge, Disney's Boardwalk Resort, Disney's Coronado Springs Resort, and Disney's Caribbean Beach Hotel.
Bring the little ones for free: Families who purchase a 4-night/4 day Magic Your Way room and ticket package at select Disney Resort hotels can bring their 3-9 year old children for free on select nights from February through October 2011. The Disney World website says that stays February 17- April 16 should be booked by February 13th and stays April 28- October 1st should be booked by March 27th to take advantage of this deal.

Active and retired military discounts:  From now until September 28, 2011, active and retired US military can purchase up to six 4-day tickets for $138.  You get to choose either "park hopper" tickets or "water park fun and more" tickets.  You can  also upgrade your tickets to cover both option (park hopper and water park fun) for $165. Members of the military can also save up to 40% at select Disney resort hotels. See Disney World website for more details.
Florida Residents: From now through May 22, 2011, Florida residents can purchase a 4 day Wild 4 Disney Pass for only $119.  This allows purchasers to visit one theme park per day for 4 days, and the days to not have to be consecutive. The week of 4/17-4/24/11 is blocked out from this promotion.
DISNEY CRUISE LINES
There is so much to look forward to with Disney Cruise Lines in 2011.  The Disney Dream is about to depart on it's inaugural sail to the Caribbean and Disney cruises will finally be offered on the West Coast to destinations such as Mexico and Alaska. Families can enjoy a 7-night Alaskan Cruise departing on May 17th, 2011 for as little as $139 per person per day (based on 2 adults/ 2 children for a total voyage fare of $3892).   Families looking to head to Europe on a Disney Cruise can embark on an 11-night itinerary which includes Malta, Tunisia, Corsica, Italy, and France for 139 per person per day as well.  See the Disney Cruise booking site for details.
– – – – – – – – – – – – – – –
Sharlene Earnshaw (aka doubleadventure) is Blogger-in-chief for Trekaroo and the blogger behind Double the Adventure.

Travel with kids to: CA |CO | DC | FL | HI | IL |MA | NC | NY | OR | PA | TN | TX | VA | WA