Last Updated on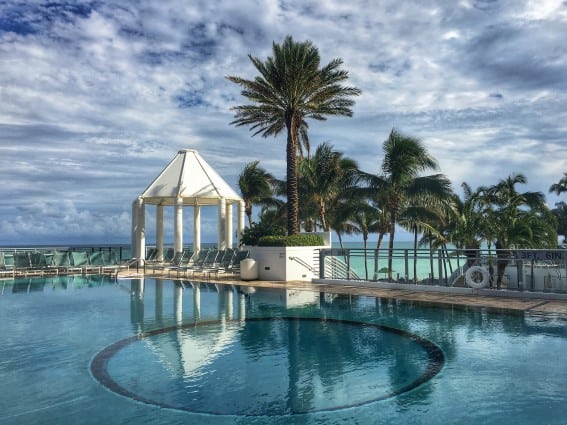 If the sunny Florida skies are calling you, and an attractive, family-friendly lodging option with great amenities is what you're shopping for, the newly remodeled Diplomat Beach Resort in Hollywood is just what you want to book. This 36-story beachfront resort, which is close to both Fort Lauderdale and Miami and offers views of both the Atlantic and the Intracoastal Waterway, has been serving the region for many years. Its recent $100 million renovation has made it a true playground by the sea as well as a relaxing and attractive place to make some memories. It has gone from functional to fantastic.
Now a part of Hilton's Curio Collection, The Diplomat Beach Resort is open and airy, beachy and comfortable. There are plenty of places to relax and take things in, to work, to visit with friends and family, or to get comfortable while you wait for your next adventure. The new atrium has soaring ceilings, soft, seaside colors, comfortable, functional seating, and is simply beautiful to look at or spend time in. Walk about the property here and you'll soon see how it lends itself to a great stay.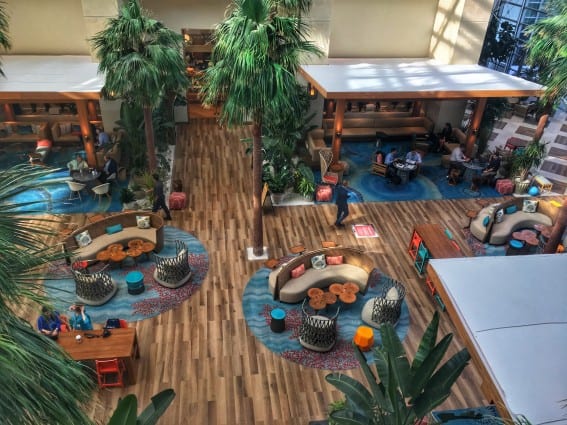 Lovely, Light-Filled Rooms & Common Areas
It's hard to be in a bad mood when you wake up to the beautiful Florida sunshine streaming into your room from large windows (should you not want that option, there are blackout shades to help you get your beauty sleep). Once you're up, however, you'll appreciate the well-appointed rooms which are simply decorated, yet tastefully appealing. The seaside decor is soothing with soft colors and muted tones. I found that there was plenty of room to get around and to store my bags without tripping over them. Drawers and a large walk-in closet in my suite helped to spread things out, and would work wonderfully for a family looking to get things out of the way. It was nice to have a living room area, small kitchen area with a table and refrigerator (though no microwave or cooking options), nice-sized bathroom with separate large soaking tub, shower and toilet area, and desk to work at should you need to get a few things done. There was plenty of room for a crib or play area for smaller kiddos, as well. All of the rooms offer pillowtop mattresses with triple sheeting, dual shower heads, curved shower rods, and bathrobes, as well as designer toiletries for that finishing touch.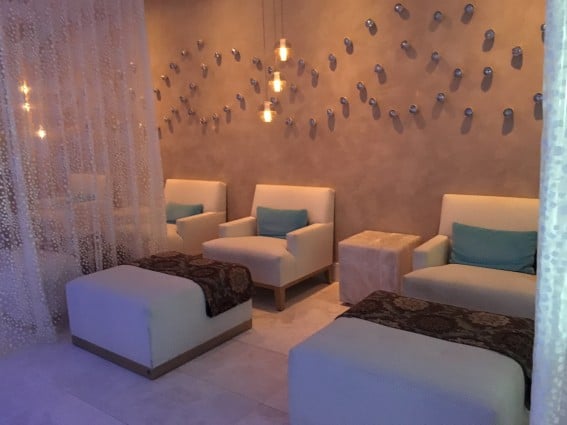 Revitalizing Spa
For parents, going on vacation can often be a lot of work. Fortunately, at the Diplomat, there's a spa to help you remember to treat yourself and to help you relax and recharge. Get a massage, a manicure, pedicure, a body wrap, body scrub, a facial or whatever your body needs. The spa itself has a private area for sitting and relaxing that is incredibly serene. Breathe in the scent of white tea, enjoy healthy bites or beverages, soothe yourself next to the beautiful water wall, look outside and see the ocean, and then head in for your treatment. It's nice to be able to stay right on site and treat yourself, and it makes it that much easier to include it on your agenda!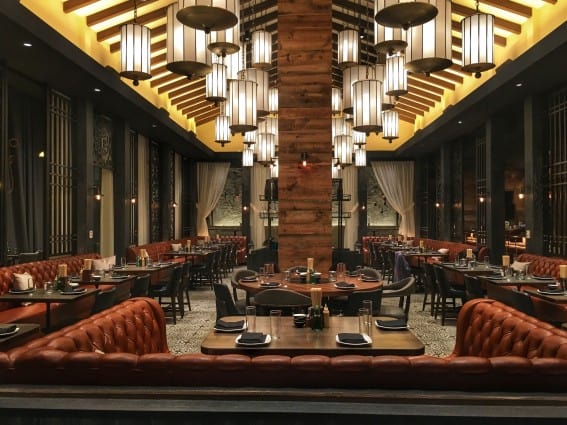 Award-Winning Dining Options
One of the most disappointing things about a resort stay can often be the food. When you go away and you don't have to cook (yay!) you certainly don't want the food to be lame. The Diplomat comes to the rescue with TEN different dining options to meet your family's needs. Should you just want a coffee and pastry, hit up Counter Point and you'll be on your way in no time. Feel like an ice cream after your day at the beach? Stop into Candy & Cones. Would your crowd like a sit-down breakfast with a buffet where everyone can find something that they like? You'll want to treat yourself to Port Royal where you will find exceptional options that both look and taste delicious. For lunch, you can dine outdoors near the ocean and the pool at Playa, a Neuvo Latino cafe and restaurant. When it comes time for dinner, there's a steakhouse for meat lovers, a burger joint with an arcade, and two upscale restaurants that feature chefs that have been recognized for their cuisine. Dine at Port Royal for a Coastal American experience with entrees from chef Geoffrey Zakarian, or reserve a table at Monkitail, a Japanese-inspired gem that offers craft cocktails and sharable plates from famed chef and restauranteur Michael Schulson. There are also happy hour specialties, drink options, and an oyster hour as well. Be sure to grab a guide to the restaurants when you check in so that you can take advantage of all of the options while you are here. You'll also want to grab a drink or watch a ballgame at the indoor/outdoor bar that's at the back of the atrium, as it's fun no matter which side you sit on.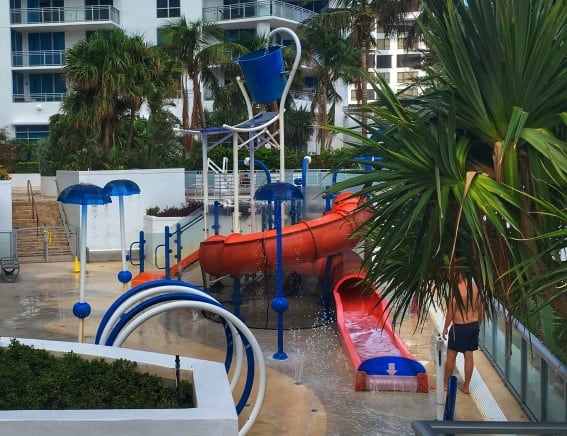 Family-Friendly On-Property Amenities
To take your stay from boring to much-more-fun, the Diplomat makes sure to offer you plenty of on-site options to occupy your time. The resort does charge a fee when checking in so that you can take advantage of some of these, so be aware of that fact before you go. Your family can kayak, paddle-board, ride a motorized watercraft, or use the pool and beach toys that are available. You can pay for a poolside cabana (several of which were decorated personally by designer Trina Turk). The prettiest part of the outdoors, however, is the spectacular oceanfront bridged pool. This pool is one of two on-site and features an infinity edge and see-through bottom complete with waterfalls flowing into the free-form lagoon pool beneath it. It'll make you think you're far away from your cares. Oceanfront on the upper deck by the infinity pool, you can sit under a roof on a lounger and watch the sea, read a book, or catch some quiet time. Poolside dining is available if you want it as well. The resort also has a kid-friendly section with a water slide and dump bucket for kids who want more action. There is an on-site kids club, a fitness center, golfing, and tennis lessons. The resort is connected via skywalk to Diplomat Landing, a waterfront marina on the Intracoastal Waterway where you'll find restaurants, boat docking, and another pretty view. Recently, the resort partnered with NSU Art Museum Fort Lauderdale in honor of its 60th anniversary, and offers an Art of Travel package that is worth looking into for an added bonus and a cool taste of art in the area. Check the website for specifics and to book.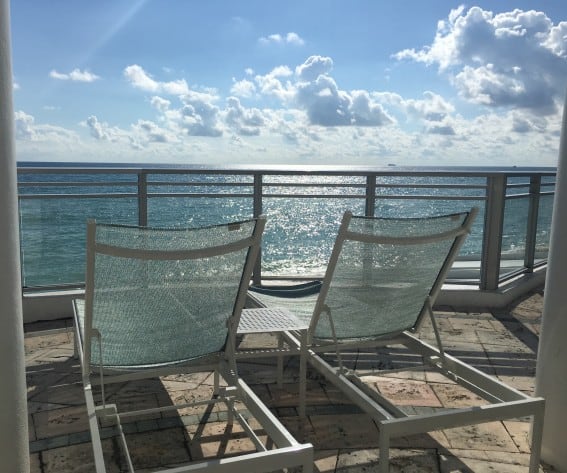 Should your family be headed to the Miami/Fort Lauderdale area, the Diplomat Beach Resort should be on your list of places to consider. With plenty of options to please your group, this resort beats the budget options and provides enough pampering to leave you feeling like you had a real vacation, which is a bargain any way you break it down.
Read full reviews of The Diplomat Beach Resort from parents who've been there.
Disclosure: I was provided a complimentary stay at the Diplomat Beach Resort in order to facilitate this review, The opinions stated herein, however, are entirely my own.
Photos are courtesy of the author.
Featured photo by: Sharon Rigney
SaveSave