Deer Valley, located in Park City, Utah,  is the Cadillac of ski resorts.  Its perfectly groomed runs act as the perfect coat of paint; its amenities, such ski valets and heated chair lifts, are the luxury package you have been day dreaming about; and its staff go above and beyond to keep everything moving like a well-oiled machine. Just like an Escalade, this resort has what it takes to keep the kids happy without sacrificing all the bells and whistles that mom and dad crave.
I had heard some interesting rumors about Deer Valley Resort online before my visit.  I saw a few Yelpers complain that "all the people who ski there are a bunch of rich and famous snobs" and "the food in the lodge is really expensive." I am convinced that these complainers were actually just disgruntled snowboarders (Deer Valley is one of the few resorts in the USA that only allows skiers) bitter because they aren't allowed on Deer Valley's manicured slopes. During my visit, I found myself surrounded by normal looking families on their Spring Break vacations, just like my own; not a Kardashian in site. The food was priced on par with most other resorts I have visited and the best I have had at any ski resort to date. The options were incredibly varied and those folks in the kitchen definitely know how to make an especially tasty plate of chili cheese fries!
Beyond the demographics and cuisine, Deer Valley continues to impress. We all know that there is some hassle involved in taking the whole family skiing. There is the packing of all the gear, the schlepping of the gear through the airport (or the game of packing Tetris that you have to play to get it all in your car's trunk), and the lugging of the ever-so-cumbersome gear back and forth to the slopes every day. While Deer Valley can't pack for your family, they do try very hard to remove the hassle once you arrive. Where else will you find friendly (and complimentary) ski valets waiting to help you unload your ski equipment from the car and carry it all up to the ski lodge for you? And, after a long day on the mountain, Deer Valley continues to go the extra mile by conveniently storing your family's skis onsite.
Even the snow is better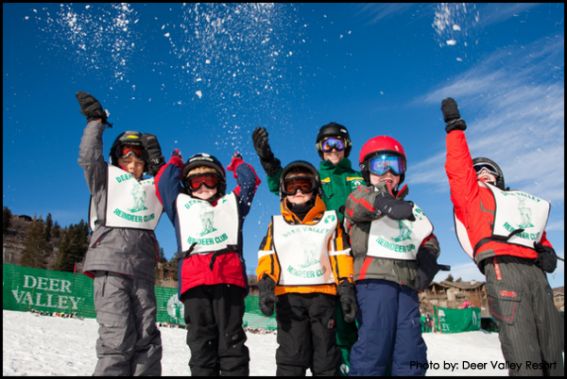 Of course, my kids were most happy in Deer Valley when they had a pair of skis strapped to their boots. Both the kids and I benefited from a half day of ski school- Deer Valley's instructors were full of energy and expertise – before attempting to join Daddy on the runs. Yes folks, I am the perpetual skiing newbie caught in a Groundhog Day-type scenario where every time I strap on a pair of skis I am gripped with paralyzing fear of the lift and forced to work my way from the practice area to brave the bunny slope.  The next morning, I was extremely grateful for the ample practice area- complete with several of those fabulous magic carpets- which allowed me to regain some confidence before braving the lifts again. Meanwhile, the kids and dad were busy tearing up the trails and taking in the never-ending views along the way.
Even though my ski skills are seriously lacking, I couldn't help but notice that the snow in Deer Valley was much different from any I had encountered in California or Colorado. Was it possible it could be fluffier? More powdery?  Why, yes, yes it was! Even my husband, who is quite accustomed to skiing the world-class slopes in Tahoe couldn't help but admit that the snow in Deer Valley is better. How do they do that?
Warm up the soul with fireside dining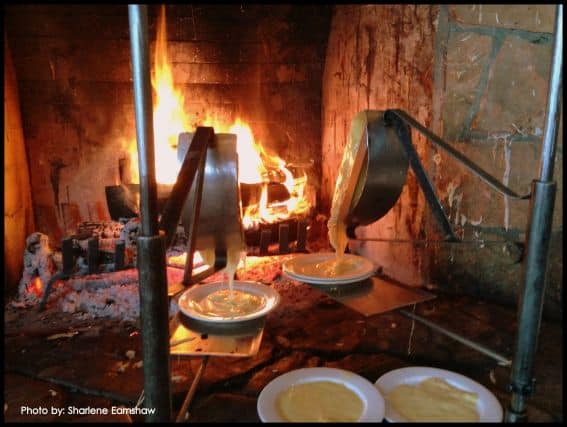 A special family vacation is deserving of a special family meal and Fireside Dining at Empire Canyon Lodge most certainly fits the bill. During the day, Empire Canyon Lodge serves as one of Deer Valley's ski lodges, warming up skiers as they traverse the 100+ trails that make up the resort.  After the lifts close for the day, the lodge transforms into a food experience reminiscent of something you might find in the Swiss Alps. Five crackling fireplaces serve as the centerpieces of the four-course experience, each ready to be explored at your own pace. My son couldn't get enough of the leg of lamb roasting over the Ontario Fireplace, while my heart belonged to the round medallion of Swiss raclette cheese which was warmed by the heat of the Empire Fireplace.  My daughter, however, pledged allegiance to the Lobby Fireplace which featured chocolate, caramel, and white chocolate Grand Marnier fondues with every sort of dipping accompaniment you could imagine.  My family found that being able to come and go to each food station as we pleased made for a much more relaxing experience then the typical hurry up and wait dining that seems to drain the life out of antsy children.  Want to take the magic of this winter meal to the next level? Then consider signing up for a sleigh ride in between courses.
Room to enjoy one another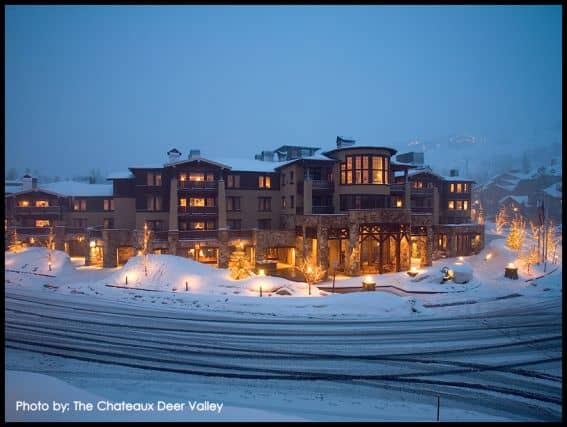 Lodging opportunities abound in sprawling Deer Valley, with famous luxury brands such as Montage and Stein Erikson making their presence. Luxury and Deer Valley are certainly one in the same, but any family that has gone on a ski vacation knows that location and room to spread out are top priorities. My family discovered all three at The Chateaux Deer Valley, a sister property to the Stein Erikson Lodge that is truly built for family and multi-generational travel. The Chateaux's rooms are brilliantly designed to convert based on your group's needs, with studios to four bedroom retreats available. My family enjoyed a spacious two bedroom suite which featured two master bedrooms, 3 bathrooms, 3 fireplaces, laundry facilities, full kitchen, dining area, living room, and balcony. The convenience of being able to prepare easy meals for my hungry skiers (or not. Cena Ristorante downstairs is fantastic.) combined with the luxury of having plenty of space to spread out after long days on the slopes was ideal. Skiers will enjoy the convenience of taking the lift from Silver Lake, hopping on one of the property's complimentary shuttles, or driving their own cars (heated underground parking is complimentary) to reach the main lodge at Deer Valley.
Read my full review of The Chateaux Deer Valley.
Disclosure: My family was hosted by Deer Valley Resort so that I could write this story for Trekaroo. I appreciated the hospitality but all of my reviews are unbiased and all opinions are my own.